---
Dreaming in Chinese: Mandarin Lessons In Life, Love, And Language
by Deborah Fallows is a beautifully designed and printed introduction to living in China and the Chinese language. The author has a Ph.D. in linguistics but wears her learning lightly.
Good preparation for the modern world
The author and her husband, James Fallows, a Cirrus pilot and Atlantic magazine author, move to China for the husband's job. As China's economy overtakes the U.S. (forecast to happen some time between 2017 and 2021), this is going to be an increasingly common situation for ambitious and skilled Americans.
Dreaming in Chinese is simultaneously an excellent introduction to the challenges of learning Mandarin and the challenges of living the expatriate life in Shanghai and Beijing.
Here's a sample:
My Chinese friends say that they notice Westerners use lots of pleases and thank yous when speaking Chinese. And actually, they say, we use way too many of them for Chinese taste. A Chinese linguist, Kaidi Zhan, says that using a please as in "Please pass the salt" actually has the opposite effect of politeness here in China. The Chinese way of being polite to each other with words is to shorten the social distance between you. And saying please serves to insert a kind of buffer or space that says, in effect, that we need some formality between us here. One of my tutors, a young guy named Danny, who straddles the line between being a Chinese nationalist and an edgey global youth, nodded his head enthusiastically when I asked him about this interpretation: "Good friends are so close, they are like part of you," Danny said. "Why would you say please or thank you to yourself? It doesn't make sense."
The book is almost certainly worth a read if you're heading to China for a short or long visit.
More
Photos
Some photos from my personal guide to China (from 2000 and therefore absurdly out of date given the explosive growth and improvement in the Chinese economy):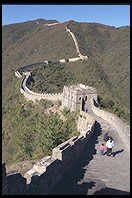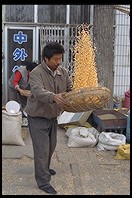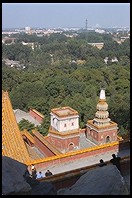 I'd like to go back. I have an idea for a photo essay juxtaposing pictures of Americans waiting in security lines (to get through airports, to get into office buildings, to be checked prior to sporting events, etc.) and pictures of Chinese people working.
---
Text and photos Copyright 2000-2011 Philip Greenspun.
---
philg@mit.edu