Home : Travel : China : One Part
---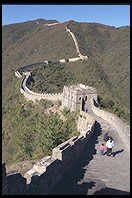 Capital of China since the Mongol Yuan dynasty of 1271, Beijing today is a city of somewhere between 11 and 20 million (the official data are unreliable). Beijing is dramatically situated close to the mountains through which the Great Wall runs.

Forbidden City
See The Last Emperor first to get an idea of the lifestyle and splendid isolation of the emperor, his family, and the eunuchs. Then go to the real live Forbidden City and take the tape tour with Roger Moore's narration.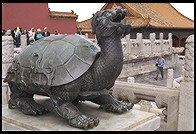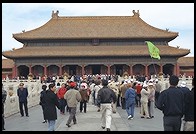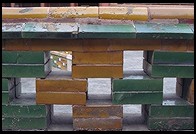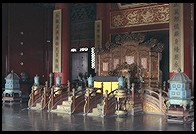 Temple of Heaven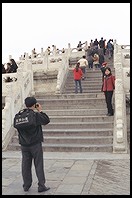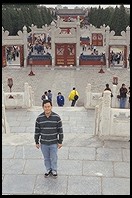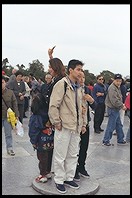 Bird and Flower Market
Just south of the Temple of Heaven...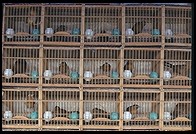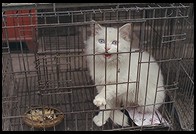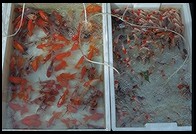 Old versus New
Beijing is constantly growing. The old streets (hutongs) are summarily replaced with concrete apartment hi-rises and freeways. Families are displaced by the thousands. The government found that giving people months of notice was bad; they had enough time to try to find uncles of friends of brothers with enough influence to put a stop to a project. Giving people two weeks of notice to move out resulted in despair. But if you give a family a month they'll start packing.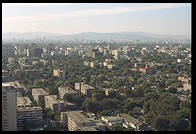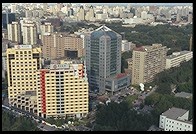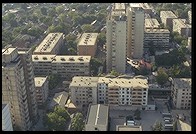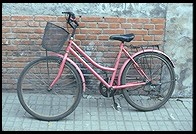 You can watch hutong life whizz by from a bicycle rickshaw...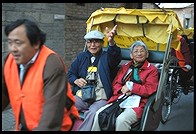 The standard tourist hutong visit starts at Prince Gong's Mansion. This is an interesting place if only to see the face of Chinese tourism: huge groups stepping out of buses, guides bossing around their charges with megaphones:
Summer Palace (new)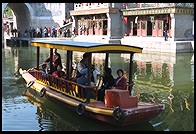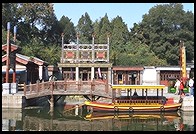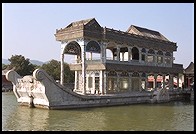 Summer Palace (old, ruined; a.k.a. "Yuanming Yuan")
The Chinese keep Yuanming Yuan in its ruined state to remind people of how bad the British and French were in 1860. The signage at the park details the destruction of the palace by European troops but doesn't explain that Anglo-French occupation followed the Chinese dynasty's execution of their envoys. Most of the park is simply for recreation: boating, fishing, looking at an exhibit of totem poles. The only intact historical section is a stone maze.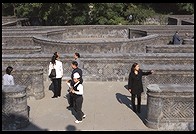 Great Wall (at Mutianyu)
According to the guidebooks, when Richard Nixon was here he said "It sure is a great wall." Also, the Chinese frequently say that the Great Wall is one of only two manmade objects that are visible from space. Reading this always gave Jin a good laugh. He is from Los Angeles and insists that a 12-lane Interstate freeway lit by arc lamps would be more visible than an unlit mist-shrouded stone wall just wide enough for four horses....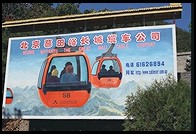 If you're going to visit the wall, Mutianyu is the best choice. It is about a 90-minute drive from Beijing, the last part of which goes through some interesting villages and countryside. There is a cable car up to the mountain ridge along which the wall is built. There is a separate chairlift and toboggan ride down the mountain slope for the kids. Mutianyu is less crowded than some other Great Wall sightseeing stops such as Ba Da Ling. You can get an ice-cold Diet Coke at the top of the cable car. You can make an international phone call from the wall itself.
China Aviation Museum
Instead of heading straight back to Beijing from Mutianyu, go west through the mountains. It is a beautiful ride along a river through an uninhabited forest. You're less than 50 miles from Beijing and the country contains 1.3 billion people but you'd never suspect it. Meet up with the main and drive straight past the Ming Tombs (boring and a lot of walking) to the China Aviation Museum. This has been built on an old air base and the main exhibits are in a tunnel hanger built through a mountain.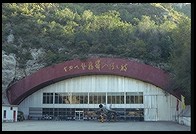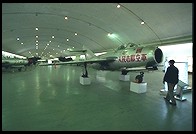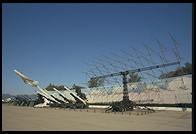 Transportation in Beijing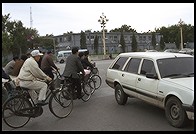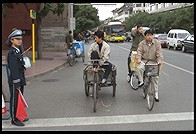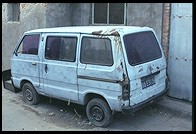 ---
Text and pictures Copyright 2000 Philip Greenspun.

PhotoCD scans by Advanced Digital Imaging.
---
philg@mit.edu