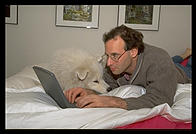 BIG
Programming Can be Fun (photo: Rob Silvers)

Canon EOS-5, 20-35/2.8L, 540EZ flash tilted up 45 degrees, +2/3 stop flash exposure compensation, Stofen Omni-bounce, Kodak E100 slide film

We wanted a boring flat illustrative light and we got it. This photo would have been ruined by standard on-camera flash. Standard bounce flash off the white ceiling would have been better, but probably it would have left unpleasant shadows under eyes and chin. The Omni-bounce worked beautifully here, casting light all around the room. Canon's auto flash exposure worked great too, though because of all the white in the image, it was a good thing that we dialed in +2/3 stop compensation.