Home : Travel : New York : One Vignette
---
Here's what I wrote to my friends after visiting New York with Alex...
Alex has met more friends in Manhattan in two days than in two months in Melrose. Don't ever feel sorry for a New York dog in a small apartment. They have a richer social life than any dogs you know. Every park is a dogfest before and after work and on weekends. Beautiful well-bred dogs, Rottweilers, and mutts. All the rolling around on the ground and biting is kind of tough of a white dog's appearance but Alex is having the time of his life.

Alex had his second swim ever, in the Central Park sailboat pond. A pair of attractive sisters had rescued an 80-lb Golden from a pound and they were throwing a rubber ball into the pond for him to retrieve. Alex would put his front legs in the water and then bark at the returning Golden. It was pathetic so I picked him up and hurled him into the water. He looks small, but a 40 lb puppy makes quite a splash. I threw him in a few more times but he never got interested in retrieving.

The subway is out but cabs are easy if you are a bit stealthy. My favorite trick is lurking on the sidewalk while a friend hails the cab and then jumping in at the last minute. Definitely everything is easier if you have a friend to hold the dog for forays into food shops, etc.
More: The New York Dog Owner's Guide or The New Yorker Book of Dog Cartoons .
NY Dog Photo Gallery
Of course, my own dog Alex gets top billing ...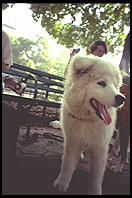 [BIG]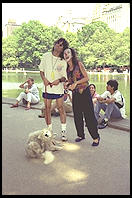 ... but sometimes other people have nice dogs too.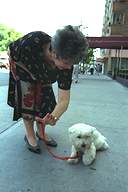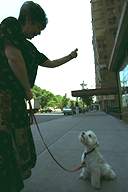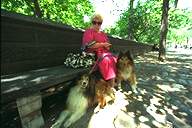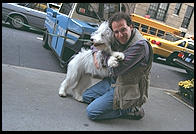 Here are a bunch of snapshots from a Gay Pride rally in Union Square back in June 1995. I focussed on the dogs and played around with my Canon EOS 14mm lens.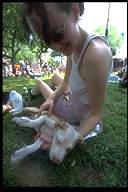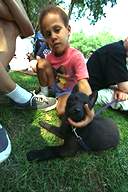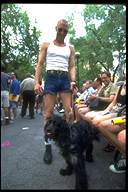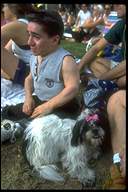 ---
Text and pictures copyright 1995 Philip Greenspun
---
philg@mit.edu