Elroy Amongst Jews
by Philip Greenspun.

Home : Travel : New York : One Vignette
---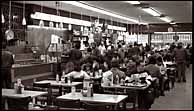 Real Jews eat here in the Lower East Side. This is Katz's where they still have a sign reading "Send a salami to your kid in the army" dating from World War II. Bart, however, grew up in Albuquerque and then went to WASPy Princeton for college. As a result, he'd never even had chopped liver. There was no way that Bart was ready for the Lower East Side.

Bruce, Bart, and I were partners in an ill-fated high-tech startup company some years ago. Although we didn't make any money, we found that working with MBAs and lawyers was really intellectually stimulating, so much so that Bruce married a Japanese woman and moved to Tokyo; Bart works out of his house now; I went back to graduate school.

Bruce flew in from Tokyo to visit his parents in Northern New Jersey so Bart and I converged on his house. Bruce really showed us the best of North Jersey. We started our sightseeing trip at a shopping mall in Rockaway, then moved on to the Parsippany Holiday Inn.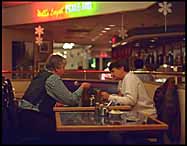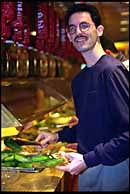 The restaurant in the Holiday Inn is called Harold's after a guy who used to work at the Carnegie Deli in Manhattan. We began to fill up at the World's Largest Pickle Bar.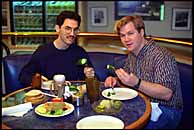 When we got back to our table, we discovered that our bowl of Matzo Ball soup had arrived. We were hungry, but Bruce said that one bowl of soup and one sandwich would be enough to feed all three of us (plus, of course, an order of chopped liver for Bart).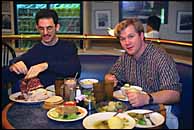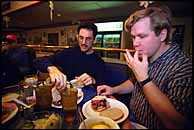 Bruce was right. We took home about a third of the food. (Note the basketball-sized object under Bruce's hands in the picture at left; that is the sandwich.)


---

Up to the Cover Page
---
Text and pictures copyright 1995 Philip Greenspun
---
philg@mit.edu