Hangouts
by Philip Greenspun.

Home : Travel : New York : One Vignette
---
Hotel Lounges
a subsection, by my secret New York correspondent Msnomer7@aol.com
One quintessential yet underindulged New York pastime is to linger in one of the City's distinctive hotel lounges. Minus the smoke and deafening noise of bars and the performance pressures of City restaurants, a lounge is just the place to settle in, people watch and chat while sipping a martini or hot chocolate.
The most enticing lounges, in this correspondent's opinion, have attained their unique ambiance through a studied décor and stereotypical clientele. Some lounges are best for a "see and be seen" happy hour, others for a late night unwinding. The lounge list below is far from comprehensive, but attempts to capture the vast array awaiting the experimental lounger.
The Carlyle – 35 E 76 (b/w Park and Madison Aves.)

My personal favorite for post-highbrow (opera, symphony) nights. The crowd is wealthy continental, quiet and discreet. Plush burgundy velvet upholstered chairs and kilm-covered setees line the recesses around the central hub that feeds into a lovely piano bar. The piano bar itself features the famous Bemelman murals (the artist who illustrated your childhood Madeleine books.) The lounge and bar are perfect spots for after-dinner liqueur and unhurried discussion of the night's events.

The Royalton – 44 W 44 (b/w 5th and 6th Aves.)

Perhaps best, if unintentionally, known for its funky urinals (water cascading down a mirrored backdrop …someone sneaked me in), the Royalton lounge is always jam-packed with snappy twenty-plus beautiful people and their hangers-on. The décor is minimalist-funky, with white, slip-covered art deco furniture and solitary goldfish in pristine glass bowls. If you can find a spare couch, it's easy to eavesdrop on the conversation one over, or just ogle the others who would be disappointed if you didn't.

SoHo Grand – 310 W Broadway (b/w Grand and Canal Sts.)

The understated downtown equivalent of the Royalton, this lounge always seems to sport a full cast of tortured artist types, dressed in the requisite "New York black." My architect friend criticizes the hotel design as austere and directionless, but it does attempt to capture a post-modern industrial look with its large photographs of the Brooklyn Bridge and rivets adorning the glass staircase. The chairs and couches are uncomfortable, but that's beside the point.

The Peninsula – 700 5th Ave. (at 55th St.): Note that the hotel is closed for renovation until late 1998

High atop a midtown tower, this lounge/bar attracts suits – both female and male – on warm nights for power happy hours on the terrace. Undaunted by the picnic ground furnishings, young execs recount the day's trials (legal and financial) over imported beer and peanuts. Try a little networking.

The Paramount – 235 W 46 (b/w Broadway and 8th Aves.)

Great after-theater hangout with tables that overlook the spacious, sparsely furnished lobby below. Greenish art deco décor featuring a curving, ever narrowing staircase best mounted sideways singing "Top Hat" a la Fred Astaire. A favorite of the fashion crowd, but also comfortable for those who just think they're cool because they can still stay awake past eleven.
OK.... that's all msnomer7 had to say so we'll go back to Greenpun's random thoughts...
Bar 89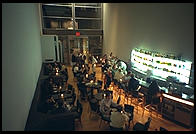 89 Mercer Street, between Spring and Broome (Soho), 274-0989

"You have to go to the toilet," Claire gushed as she sat back down to her grilled cheese sandwich. She was the victim of English boarding school and hasn't yet learned to say "bathroom" despite one year in NY. Bathroom or toilet, she refused to explain what was so fascinating, so I climbed the stairs from the main bar area to the balcony and ducked around an interesting sculpture/wall-divider to find myself looking at seven stainless steel toilets and sinks.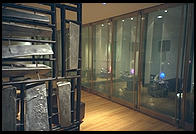 There was a clear glass door about 12 feet high in front of each bathroom cubicle. I entered and swung a little latch. The door instantly turned opaque. An LCD shutter?
The first new building in Soho in thirty years, Bar 89 is an airy space that is fairly quiet and uncrowded until about 9:00 pm when louder music and more people arrive. Bibi and Claire kept recognizing famous fashion designers at other tables; I ate my Cobb Salad and wished for a pepper grinder. Sandwiches and salads are all very NY and very good. Desserts are sinful. I managed to feed myself and the two women for $50 including two glasses of wine and dessert for Claire.


Kavehaz
123 Mercer Street (Soho), 343-0612

Just a block north from Bar 89 is a less crowded, quieter, coffee house that looks like an art gallery, with huge attractive oil paintings. It follows the NY model of tables if you want to feel like you've gone out and a living room if you want to feel that you have a living room.

Bibi, Claire, and I walked in because we wanted to look at the paintings, but the place was so pleasant that we were sorry we'd stuffed ourselves at Bar 89.
Coney Island
If you're in the Russian Mafia, you can always hang out around Coney Island. Getting there is half the fun whether by cab or subway...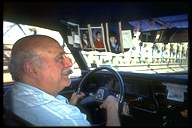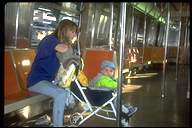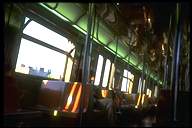 ---
Text and pictures copyright 1995 Philip Greenspun
---
philg@mit.edu