February 4, from Cambridge, MA
After suffering 19 hours of imprisonment in two separate howling aluminum cylinders, I am returned to my well-worn perch in Tech Square.

I finally did get to see the North Island in some detail. Here are a few highlights:

1) New Zealand cuisine. I stopped at a beautiful modern supermarket in a farm town and asked a girl in the deli section where one might find mozzarella cheese. She'd never heard of it. You can get good ingredients in NZ, but in general people don't use spices or sophisticated preparations. American cuisine has been influenced much more than one realizes by Italian, French, and Oriental traditions. You'll appreciate the variety and quality, if not the prices, of even a culinary backwater like Boston after visiting NZ.

2) Napier, a town levelled by an earthquake around 1931 and rebuilt immediately in Art Deco splendour by some rich farmers and commodity exporters. This town has gorgeous buildings, a nearly perfect dry climate, and a relaxed seaside setting very like Brighton, England. One could easily be happy here for a week.

3) Glow worms, which are found nowhere else in the world besides Australia or New Zealand. Imagine that you are a sandfly or mosquito going into a standard limestone cave with stalagtites (down) and stalagmites (up). After marvelling at the sights for awhile and thinking, "How very like Kentucky's Mammoth Cave National Park this is," you see a bit of green light. Aha, you think, this is a way out. But when you fly near it, you become entangled and paralyzed on a silky cord dangling down by a worm. Helpless, you are reeled in and eaten by the glow worm, whose head had been generating that optimistic green light. After burping politely, the glow worm lowers the "fishing line" down for another victim.

As a tourist, one experiences these caves by rafting silently through an underground river and looking up at thousands of the artificial lights. Everyone must be quiet so the worms don't get frightened and the feeling is very like being in the starlit wilderness.

4) Germans. The backpackers hotels were full of Germans and a typical conversation was the following:
Hans: I hate Americans. They are ignorant of other countries' current events.

Philip: Have you been to America?

Hans: No. I'd like to see the national parks, but don't want to meet any people. I want to rent a motor home and just drive around.

Philip: You consider yourself morally superior to Americans because you know more about American current events than Americans know about German current events?

Hans: Yes.

Philip: How much do you know about Costa Rica?

Hans: Almost nothing.

Philip: Yet it is fair to guess that a Costa Rican might know a lot about Germany today.

Hans: Of course, we are a much bigger country.

Philip: Then is the Costa Rican morally superior to you because he knows more about your country than you know about his?

...
I had this conversation time and time again. A lot of Germans are full of prejudice against Americans and absolutely confident that their way of living is the best and only morally sound way. My companions Klaus and Stefan were the easiest going, nicest guys in the world (and didn't want to meet any more Germans, by the way) so it isn't universal by any means, but I never found a group of people who were happier to condemn the population of a country they'd never visited.

5) Sea kayaking reprise. Bay of Islands National Park is a little bit of the Caribbean on the NE tip of the North Island. There are hundreds of little cays, numerous expensive sailboats plying the waters, an aquamarine sea, rocky coves, etc. OK, so the water is 20 degrees colder, but it is still a beautiful place to sea kayak. This time our guide was a 5'10" girl from a local sheep farm with powerful arms thicker than mine. Although well-educated and travelled (she was reading The Bone People, NZ's 1985 Booker Prize winner [one of the strangest books I've ever read], and had been all through the US after counselling at a Jewish summer camp in Wisconsin), she wasn't out to humiliate tourists.

Our crafts were more worthy this time, too. We had locally made proper sea kayaks with two water-tight compartments, neoprene spray skirts, the whole nine yards. An ounce of paddling effort went three times as far and the sea was calm as glass on the way out. We did about 9 km out to a little beach, stopping on the way to go through little cracks and back into a deep sea cave. The sea cave was terrifying inside, with a foreboding booming sound every time a wave hit the invisible back wall.

After some snorkelling and hiking to the top of our island for a panoramic view of the park, we headed back to our starting point. I wasn't really tired after 18km of paddling and completely changed my view of the sport. Need I add that there was not a cloud in the deep blue sky the whole day?

6) Last Days. I joined up with cool blonde Christine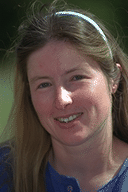 from the Flying Kiwi tour for a stroll around Mission Bay, a beautiful strip just north of Auckland. We stopped in a bike store and when I found that they didn't rent any good bikes, I sighed and explained that I'd hoped to spend my last day in NZ in the mountains. Ronald, the 20ish shop assistant, immediately said "I'll lend you my bike." After a really superb elegant meal in an Italian restaurant (entrees US$10) in the best part of town, I called Bruce Benson (b_benson@cs.auckland.ac.nz), an Internet friend from U of Auckland, and he said "I'll take the morning off and show you where to ride."
Bruce and I rode through the Riverhead forest, a collection of pines planted during the 1930's depression and now being logged and shipped to the Japanese. I didn't look much at the trees, though.
First of all, the single tracks were bordered by Scottish gorse, a prolific weed that happens to be sharp and nasty when green and even worse when dry. Thus, any deviation from the track would likely be remembered and even staying on the track involved frequent intimacy with the gorse. Second, the track was largely raw slippery clay with huge rocks. It isn't like biking back home where one can relax in between rocks and logs. Here, it was nonstop terror that you'd fall into a foot-deep rut. Bruce was man enough (and experienced enough with these tracks) that he went through at high speed, which is probably the only way to do it. I was never carrying enough momentum so got kicked off the bike numerous times and simple obstacles hung me up. Third, the trip involved continually losing then gaining altitude. At one point, we were rewarded with a nice view from the Trig Summit, but mostly we climbed for the sake of climbing.
At the end, I was covered from head to toe in mud and, after stuffing my face with hamburgers and chocolate fondue in Mission Bay, stopped off at a plush public swimming pool to wearily pound out 500 meters and shower. After a stopping at the University of Auckland to telnet, I went to Christine's house to find her dressed to the nines and serving an elegant dinner. My final moments were spent with Christine stuffing 200 lbs of luggage into five bags (two checked and three carryon) for the trip home.
---

Back to NZ home
---
philg@mit.edu