New Zealand Practical Information
from Philip Greenspun.

Home : Travel : New Zealand : One Article
---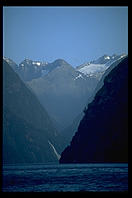 If you are short of time and hungry for scenery, skip the North Island and fly into Christchurch: you will need at least three weeks to explore the South Island. When you arrive at the airport, pick up brochures for backpackers hotels, especially that of the V.I.P. network. You'll want to stay in a V.I.P. hotel and get a $10 membership card, which is good for discounts at virtually every tourist attraction and even 50% off standby domestic fares on Air New Zealand.

Tourist information offices in every town and the comprehensive selection of brochures in hotels make guidebooks redundant much of the time. Furthermore, the guidebooks available in the U.S. do not have enough pictures to convey a sense of New Zealand. No guidebook will give you worthwhile hotel and restaurant recommendations-hotels are all good and your choice of restaurants will be limited in most towns. Despite these caveats, Jane King's The New Zealand Handbook isn't a bad book to have.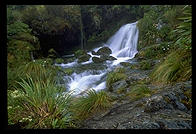 Bring Gore-Tex boots, parka and rainpants (or at least gaiters) if you plan to do even one hike. New Zealand hikes involve frequent stream crossings and sudden violent downpours. If you are staying in backpackers you needn't take much in the way of clothing because every hotel has a washer/dryer. Join AAA here and take advantage of the comprehensive services of the AA there-free maps, roadside service, free towing back to civilization if you need it, and travel assistance. If you are renting a car, prepare to spend $35-45/day for a new car from Avis without air conditioning, or $20/day for a used Japanese car (literally one that was used in Japan for 30,000 miles or so) with air conditioning from a local company.
American citizens don't need a visa and airfare is cheap: $600-800 from California, $900-1300 from the East Coast. Remembering that you'll get nearly enough frequent flyer miles for a free domestic round-trip may help soften the sticker shock. Also, you can often get a free stopover in Australia. However, if you are going in December and January, you must book at least two months in advance to be sure of the flight you want at the best price. If you want to go on frequent flyer miles, book at least four months in advance. A bike in a box counts as one of your two free pieces of luggage, if you can't fit everything else into one suitcase expect to pay $180 round-trip for your bike.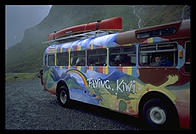 Flying Kiwi is at 2 Canterbury Street, Picton NEW ZEALAND, 011-64-3-573-8126 (voice or FAX), www.flyingkiwi.com.

---
philg@mit.edu
Add a comment | Add a link