Introduction
from the New Zealand Handbook by Jane King, which you can order right now.
---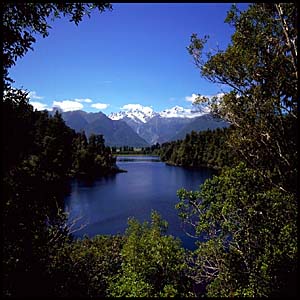 New Zealand lies between 34 and 47 degrees south latitude and consists of two long, narrow main islands, North Island (114,500 square km) and South Island (150,700 square km). North Island, with its golden beaches, ancient kauri forests, lakes, volcanos, thermal areas, and large cities (including Wellington, the capital), is the more densely populated. South Island, with its snowcapped mountains, glaciers, lush native bush, and fiords, is the larger of the two, proudly called "the mainland" by residents (though North Islanders are quick to disagree!). Tiny Stewart Island (1,750 square km), an unspoiled, bird-filled bush and beach paradise at the foot of the South Island, is the closest most people ever get to the Antarctic. Also within New Zealand's territorial jurisdiction lie several small island groups, including the Chatham, Kermadec, and Tokelau Islands, Campbell Island, Auckland, Antipodes, Snares, Solander, and Bounty Islands, and Ross Dependency, Antarctica.

Surrounded by the South Pacific Ocean on the east and the Tasman Sea on the west, New Zealand appears to be a mere speck on the globe, and yet it's about 1,770 km from top to bottom--similar in size to the British Isles or Japan. Australia, 2,092 km northwest, is New Zealand's closest neighbor, and because of this relative proximity the two countries are often mistakenly believed to be one. But beware! To innocently suggest this to "Kiwis" (as New Zealanders like to call themselves) is to risk running afoul of their good natures. New Zealand is an independent self-governing nation.

---
[ Back | Up to cover page | On to The Land ]