The Great Outdoors
from the New Zealand Handbook by Jane King, which you can order right now.
---
A multitude of exciting activities awaits you in the great New Zealand outdoors. Spectacular scenery lies around every bend, and action-packed adventures are more than likely to lure you off the beaten track into some of the most beautiful countryside you're ever likely to see. Whether you want to run wild whitewater rapids, ski the slopes of a smoldering volcano, skim the shallows in a high-speed jetboat, cast a fly-rod in an icy stream, or settle back to watch cricket, lawn bowls, or have a bet on "the trots," New Zealand offers it all.

CONSERVATION

Conservation and responsible ecotourism are at last recognized as extremely important issues. For travelers, this means self-education, an awareness of the natural environment, and a healthy respect for the land, flora and fauna, and one another. In New Zealand, the Department of Conservation (DOC) strives to conserve the natural and historic heritage of the country for future generations. Books, detailed maps, pamphlets, brochures, posters, and cards are available (at a minimal cost) at all offices (look in each chapter under "Information") covering all aspects of the great outdoors. The department also runs fascinating summer visitor programs (the cost varies with the type of trip) from DOC field centers.

In an effort to decrease the impact of tourism on the natural environment, the department has come up with a 10-point Environmental Care Code. Please abide by it. You'll be protecting the environment for yourself and others.

New Zealand is a member of the Convention of International Trade in Endangered Species of Wild Fauna and Flora (CITES, pronounced "SIGHT-ees,") which has banned trade in endangered species and set strict conditions for trade in other species. Under the Trade in Endangered Species Act passed by the New Zealand government in 1989, a special permit to import or export listed animals, plants, and their products is required. You can help by not supporting any trade in endangered species. Boycott meat, feathers, skins, bones, or items made from elephants, rhinoceros, whales, dolphins, cats, antelope, deer, bears, birds of prey, birds of paradise, parrots, cranes, pheasants, sea turtles, crocodiles, large snakes, lizards, and black coral, wild cacti, orchids, cycads, cyclamen, and many carnivorous plants.

Coastal Conservation

Pollution, garbage dumping, reclamation, and some coastal uses and developments are destroying New Zealand's spectacular coastline. You can help: support marine reserves; never dump garbage (including snagged line, holed nets, and damaged fishing gear) overboard; if you see trash floating at sea, try to take it back to shore for proper disposal in port bins; leave beaches cleaner than you found them; report injured or distressed marine mammals to the nearest Department of Conservation office; don't drive vehicles over estuaries and coastal dunes; be careful with fire near coastal vegetation and forest; know and observe all fishing regulations.

Conservation Holidays

The Department of Conservation has come up with a rather unusual way to get some necessary conservation work done: these holidays are designed to give volunteers a chance to work on constructive conservation projects, experiencing a variety of new work skills and good company. You're an unpaid volunteer worker, but you must be able to make a donation (usually from $60 to several hundred dollars) toward food and transportation. Accommodations (basic) and transportation are arranged. Food and cooking utensils (everybody helps prepare meals and provides personal eating utensils) and equipment and tools are usually provided. Most activities are outdoors; you need to be self-motivated and reasonably fit (able to hike with a pack from between four to 24 hours; ask how fit you need to be when applying). You're expected to provide your own sleeping bag and to wear old, warm, waterproof clothes, work gloves, and sturdy boots or shoes. These outdoor working holidays are offered on specific dates and require reservations; if interested, book as far ahead as possible. For details and costs, contact the coordinator, Conservation Volunteers, Department of Conservation at Nelson/Marlborough, Private Bag, Nelson (tel. 03-546-9335); or Private Bag, Christchurch (tel. 03-379-9758); or Otago and Southland, P.O. Box 743, Invercargill (tel. 03-214-4589); or Private Bag, Hokitika.

Worthwhile Organizations

To continue supporting environmental causes, consider joining or making a donation to Greenpeace (NZ) Inc., Private Bag, Wellesley St. Post Office, Auckland; or to The National Secretary, The Royal Forest and Bird Protection Society of N.Z. Inc., P.O. Box 631, Wellington. For $15 pp, children under 15 years old can join the Kiwi Conservation Club formed by the Royal Forest and Bird Protection Society, P.O. Box 631, Wellington--they'll learn all about conservation and taking care of animals, and receive a membership certificate, badge, sticker, and quarterly newsletter.

TRAMPING

A National Walkway Network

Also known as hiking, trekking, and backpacking, tramping is one of the favorite outdoor pursuits of New Zealanders and visitors alike. The small population, vast areas of wilderness (some still unexplored), diverse landscapes, and wide variety of terrain guarantee a good walking experience. Tramping is most popular Nov.-April when the weather is best.

A great way to really see New Zealand is through the use of the National Walkway Network. The idea of a national walkway was passed as an Act of Parliament in 1975, with the aim of providing a network of tracks eventually linking the farthest point north to the farthest point south; this.plan has been abandoned however. More than 65 walkways have been created, passing through public and private property to points of scenic or historic interest. Most tracks can generally be done within a day, and are classified as one of three types: walk--well-formed track suitable for the average family; track--well-defined track suitable for people of good average physical fitness; or route--lightly marked route for use only by well-equipped experienced trampers. Details on individual walks appear in each chapter, but be sure to pick up a copy of the New Zealand's Walkways booklet from any Department of Conservation office for the rundown on every walking track available. For info on tramping clubs, write to the Secretary, Federated Mountain Clubs of New Zealand Inc., P.O. Box 1604, Wellington.

Major Hiking Tracks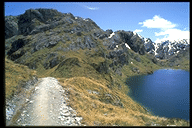 Many major tracks throughout New Zealand are famous for outstanding scenery; each takes several days to complete. They all require a knowledge of bushcraft, tramping experience, and appropriate equipment. In the North Island, the Waikaremoana Track wanders around Lake Waikaremoana in Te Urewera National Park, the Tongariro Crossing track in Tongariro National Park is one of the country's best day hikes, and the Round The Mountain Track encircles Mt. Egmont/Taranaki in Egmont National Park. The Heaphy Track in Kahurangi National Park and the Abel Tasman Coastal Track meander across the northern tip of the South Island, and the Hollyford Track, Milford Track (through Fiordland National Park), Routeburn Track (through Fiordland and Mt. Aspiring national parks), and Caples and Greenstone tracks all lie in the southwest corner of the South Island. Stewart Island offers a multitude of short bush walks and a seven- to 10-day track that meanders along the coast and in and out of lush native forest.
All tracks are extremely popular during the summer; huts are spaced at regular intervals (approximately a six-hour walk between each) but in peak periods, especially January, they can become overcrowded and you need to carry your own tent and stove (huts range from $4-16 pp per night). The Milford Track is the most well known, and because of its popularity, booking (up to one year ahead) is required by the Department of Conservation (for independent walkers) or the Te Anau Travelodge (guided walkers); you can also hike it as part of a guided group (expensive) Nov.-March. Get all the facts and options (most can be done independently or with a guiding company) well in advance to avoid disappointment (more details in the appropriate chapters).
Commercial Operators
Many commercially operated trekking tours cover both North and South islands. You can book these through travel agencies, any New Zealand Tourism Board offices, and Visitor Information Centre offices. They offer straight hiking trips, or hiking combined with mountain climbing, canoeing, jetboating, or river rafting. Overnight or several-day trips generally include a combination of activities, camping gear or cabin accommodations, all meals, equipment, and transportation. Most are offered only during the summer; at least one experienced guide takes each tour.
Parks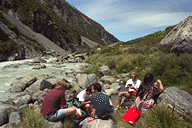 In the 13 beautiful national parks and many forest parks scattered throughout New Zealand you can find everything from a short gentle stroll to a hard, adventurous, several-day hike, with huts ($8-16 pp per night) provided along the tracks for overnight stays. Department of Conservation officers have all the info on what to see and do, including hiking track and hut info, and you can buy detailed maps for a relatively small price. (See individual chapters.)
MOUNTAINEERING
Of many first-class climbing areas, the main ones are Mt. Egmont/Taranaki (2,517 meters) and Mt. Ruapehu (2,796 meters) in the North Island, and a multitude of climbs in the skyscraper peaks of the Southern Alps in the South Island. Eight out of the 13 national parks are mountainous, providing reasonably good access and well-equipped huts. All park visitor centers have climbing and tramping info and weather forecasts. Mt. Cook (3,744 meters), Mt. Tasman (3,497 meters), La Perouse (3,078 meters), and Mt. Sefton (3,157 meters) in Mt. Cook and Westland national parks are very popular with experienced climbers--but only when weather conditions are just right. Many routes are long and difficult, demanding experience and appropriate equipment, and most of the mountains have glaciers, demanding ice- and rock-climbing ability. You'll find few solid-rock climbs in New Zealand--the best is on the firm granite of the Darran Mountains in Fiordland National Park.
The climbing season is Nov.-April, but mountaineers attempt more and more winter climbing each year and are always discovering new routes. Several guiding companies offer climbs, walks, and various levels of instruction. Bring your own equipment to New Zealand, it's expensive to buy; however, the latest equipment is available should you need it. The Department of Survey and Lands publishes excellent topographical maps of most areas; buy them at any of its offices in all major cities, or in the larger bookshops. For more mountaineering info, write to the Secretary, New Zealand Alpine Club, P.O. Box 41-038, Eastbourne, Wellington; the Federated Mountain Clubs of New Zealand Inc., P.O. Box 1604, Wellington; or the New Zealand Mountain Guides Association Inc., P.O. Box 22-590, Christchurch.
RIVER RAFTING
If you seek the adrenaline high that apprehension, panic, and sheer fear give, look no further. Whether you're a professional rafter or a total beginner looking for instant thrills, New Zealand has a river to suit. Both islands are crisscrossed with rivers that offer the rafter everything from the peaceful pleasure of drifting with the current through spectacular scenery to wild, churning, whitewater rapids where you cling on with all your strength and pray--between icy-cold dunkings! Soaking wet, feet like blocks of ice, heart pounding, poised at the top of a fearsome rapid, you may wonder for a moment why you're doing this--but when it's all over, you know you'll be back for more.
The Rivers
The Wairoa, a rapid-filled river meandering down from the Kaimai Ranges to meet the ocean near Tauranga, provides both quiet water and short bursts of raging, grade three to five rapids. The highlights are aptly named "Waterfall" and "Rollercoaster." The nearby Rangitaiki River (not as wild) comes down from the Ahimanawa Ranges to meet the ocean just north of Whakatane. The Motu River provides quiet-water stretches through breathtaking scenery and several exciting rapids as it winds through the Raukumara Range (East Cape) to come out at Haupoto. Hydro-development has tamed much of the Tongariro River but a few sections still offer exciting rafting action. The Mohaka (near Gisborne), Ngaruroro (between Napier and Hastings), and Rangitikei rivers (south of Wanganui) offer combinations of quiet water and rugged scenery, and wild, heart-stopping rapids that can raise the hair on the neck of even the experienced rafter. In the South Island, the most popular rafting is on the Kawarau and Shotover rivers near Queenstown (a large choice of companies offers grade three to five rapids), the Rakaia River near Christchurch, and the wild Landsborough River. Generally the best months for rafting are Oct.-Jan., though most operators run the rivers till April, depending on water levels and weather conditions. The high-water levels on all rivers are usually Oct.-Dec. and sometimes January. The low water levels are February and March.
Equipment
Low-grade rivers (three and below) introduce you to rafting, let you employ basic rafting techniques, and at the same time, give you a few thrills. Advanced rafters head for grade four and five rivers. Life jackets are mandatory, and on some trips, crash hats are also provided. Keep in mind that it's always possible to find yourself unexpectedly body-surfing the rapids. Before you start out, you're taught basic paddling skills, how to stay afloat and ride the rapids if you're ejected, and how to get back to the raft or shore. A minimum age is often set depending on the kind of river being run.
Wear a bathing suit, shirt, shorts, wool sweater, waterproof jacket, thick wool socks, and tennis shoes or sneakers (essential)--take a change of clothes for later. Leave your camera behind unless you're doing a float trip or one of the mildest grade rivers (or have a waterproof camera that you can firmly attach to yourself)--you generally don't have much time between rapids to take photos.
Commercial Operators
Many commercial river-rafting companies operate in both the North and South islands (more in the south), and more spring up each rafting season. They offer trips varying from a couple of hours to 12 days, including tent or hut accommodations, meals, and transportation. Trips generally go between October and April, dependent on water levels and weather, and most companies hire full- or part-length wetsuits, and provide the mandatory life jackets; before you save pennies, remember that the rivers are icy cold! Choose a good and safe operator--avoid trips that have a reputation for fooling around, falling into the rapids for fun, etc.--they usually employ the least experienced guides. Ask around about safety records; check with the local info center, and make sure the company is a member of the New Zealand Professional Rafting Association (P.O. Box 26, Nelson). In the North Island: tours operate out of Rotorua rafting the Rangitaiki River, out of Taupo and Turangi rafting the Tongariro, Mohaka, and Rangitikei rivers, and out of Tauranga rafting the Wairoa. In the South Island: tours operate out of Christchurch rafting the Waimakariri River, out of Westport rafting the Buller, Karamea, and Mohikinui rivers, and out of Queenstown (lots of companies) rafting the Shotover, Dart, Waiatoto, and Kawarau rivers. If you want to learn how to raft, improve your whitewater skills, or become a professional boatman, rafting schools are available between November and March. These vary from two-day introductory courses to intensive seven-day courses; for more info, write to Danes, P.O. Box 230, Queenstown; tel. (03) 442-7318. The newest rage is whitewater sledging--flying down the rapids on boogie board, wearing flippers on your feet--on rivers around Queenstown and Wanaka.
JETBOATING
The world-famous Hamilton jetboats were invented in New Zealand and are very popular. Commercial jetboat companies operate tours throughout both islands, providing trips of varying lengths through spectacular scenery. Jetboating is particularly popular on the Shotover River in the Queenstown area. Experienced boatmen operate the jetboats and provide thrilling rides ranging from a short ride skimming the shallows to combination trips including jetboating, whitewater rafting, and a helicopter ride. Jetboating tends to be expensive, but if you like whizzing across rapids only centimeters deep, twisting and churning to just miss overhanging branches and the occasional bridge pylon, whirling 180 degrees on the spot at high speed, this activity is a must! The scenery is always spectacular--on the Shotover River you see abandoned gold mines and equipment along the way. Expect to get wet, particularly if you're selected to sit in the back seat. Take your camera in a waterproof container and firmly attach it to yourself. Mandatory life jackets are supplied, and some operators also provide light waterproof jackets.
CANOEING AND KAYAKING
Several tour companies offer canoe or kayak trips; you can also hire canoes without guides for a few hours or for an entire river camping trip. In the North Island, canoe tours operate out of Palmerston North using the Whanganui River or Lake Tarawera. In the South Island, you can canoe the Kawarau River; tours operate out of Queenstown. Because of the nature of the rivers, life jackets, crash helmets, and wetsuits are essential; most equipment can be hired. For more remote areas, helicopter services are available to fly you in to the rivers. For more info, write to the New Zealand Canoeing Association, P.O. Box 5125, Auckland, or P.O. Box 3768, Wellington. Its nine detailed guidebooks cover about 1,500 rivers. Written for the canoe or kayak enthusiast, they sell for $3 each plus postage and handling. Kayak clinics are also offered during the summer for both introductory and advanced levels; for more info, write to Danes, P.O. Box 230, Queenstown.
RIVER AND LAKE FISHING
Often called a fisherman's paradise, New Zealand fishing is world famous. Some of the friendliest New Zealanders are found congregating around rivermouths and lakeshores, fishing rods in hand, hats covered in assorted flies and lures. Originally, brown trout ova from the U.K. via Tasmania (Australia) and rainbow trout ova from the Russian River in California were introduced to New Zealand waters in the late 1860s. Streams and rivers providing both fast- and slow-flowing water, crystal-clear lakes, and an abundant supply of food all helped the fish thrive in their new environment, and modern hatcheries and good conservation methods ensure that New Zealand's good fishing continues.
Fishing Spots
In general the north is known for large rainbow trout, the south for large brown trout, and Quinnat salmon run in many of the rivers of the North Island's lower west coast and the South Island's east coast.
North Island: all the lakes, particularly Lake Taupo (New Zealand's largest) and Lake Tarawera, are well stocked with rainbow trout, but the rivers seem to attract the larger rainbows and browns. The finest fishing is naturally found at off-the-beaten-track locations; boats are often necessary to get to the best stream mouths. Fly-fishing is at its best in rivers and streams that flow into lakes during April through June when the fish swim upstream to spawn, and in November and December when they return to the lake. Use a wet lure fly and fast-sinking line downstream, and a weighted nymph on floating line upstream.
South Island: most lakes are stocked with brown trout, some with rainbow trout and land-locked salmon. The fishing is good, at times similar to prime times on the North Island lakes, but anglers use a dry fly and floating line. Spinning is popular from the shore, as is trolling with weighted lines from a boat. Dry flies (or lures) mainly snag brown trout in the rivers, and in some eastern rivers, Pacific salmon. In South Westland, brown trout come in from the sea in late summer and are caught on both wet and dry fly and spinners. The rivers of the East coast are great for salmon fishing. Try the Ashburton, Rakaia, Rangitata, Waimakariri, and Waitaki rivers October-April (Jan.-March are the best months). For fishing info and beautiful photography, pick up a copy of the New Zealand magazine, Flyfisher. If you're going to New Zealand mainly for the fishing, write to Club Pacific, 790 27th Ave., San Francisco, CA 94121, for details on its unique, personal, "Angler-To-Angler Holidays"; tel. (415) 752-0192.
Equipment
Bringing your own fishing gear into New Zealand is permitted but it may be fumigated. Renting fishing tackle and waders is difficult--it's better to bring your own. Thigh waders are suggested for South Island fishing, chest waders for North Island. For all types of trout fishing, the experts suggest you have one reel with five replaceable spools and the following lines: a floating line of 5-7 weight, A.H.D. fast-sink line of 8-10, a shooting head line (preferably number 10), a floating line with sink tip for nymphing, and a medium sinking line of 8-9. Dry flies and nymphs such as the Red Tipped Governor, Royal Wulff, Adams, Blue Dun, Hare, and Copper all work well in New Zealand. Streamer or lure flies representing smelt are best bought locally. Imported ready-made trout flies can be brought into the country without fumigation, but certain fly-tying materials such as loose feathers have to be fumigated.
Regulations
Most anglers fly-fish or troll. Spinning or lure fishing is fairly uncommon--most of the best fishing areas are designated for fly-fishing only. Each local district has its own fishing rules, and fishing seasons vary area by area. You can get copies of all the regulations from the Government Printer in Wellington or from any Department of Internal Affairs wildlife offices in major cities, and all the fishing info you need from the local sporting goods store. Or write to the Hunting and Fishing Officer, Travel Office, 67 Fenton St., Rotorua.
Licenses: Each district requires a fishing license; they cost from about $6 per day to $16 per week. If you're planning to fish throughout the country, you can buy a special tourist license before you start out--valid for one month anywhere in the country. At $56 per adult, $11 per junior under 16 years, unless you're fishing in a different area every day of the month, it's cheaper to buy district licenses as you need them. A fishing license allows a 20-meter public right-of-way along the banks of fishing rivers and lakeshores; however, permission is required from the owner if you need to cross private land to reach the water.
Limits: These vary according to each district, ranging anywhere from four to 50 per day. In the Rotorua and Taupo districts in the North Island the limit is usually eight a day; in the South Island the limit ranges from four to 20 per day and there are extra limitations on salmon.
Size: The sizes of New Zealand trout vary from district to district depending on environment, available food, climate, and angling pressure. In most areas the trout must be at least 356 mm long to keep, in a few districts at least 304 mm.
Guides
For info on fishing guides, contact the New Zealand Professional Fishing Guides Association, at P.O. Box 16, Motu, Gisborne, New Zealand.
BIG-GAME FISHING
Big-game fishing is a very popular (and expensive) sport concentrated along 500 km of the northeast coast of the North Island from Cape Runaway to North Cape. The season is generally Jan.-April, attracting flocks of overseas visitors eager to haul in a trophy from the sea. A fishing license is not required. Broadbill, striped, black, and blue marlin, hammerhead, mako, and thresher shark, yellowtail, kingfish, and tuna are the main game fish species; the best months in the Bay of Islands are usually February and March. The most prolific, fighting, big-game fish is the striped marlin--the most successful months are Dec.-June; catch sharks Nov.-May and tuna Dec.-March. Big-game fishing clubs abound from Whangarei to the Bay of Islands, competition is tough, and international tournaments are held each year. To try your luck, head up to the Bay of Islands via the coastal route, comparing charter prices at the deep-sea fishing resorts as you head north. If you join the prestigious Bay of Islands Swordfish Club in Russell ($5 plus GST per day) and catch something worthwhile, the fish is officially weighed in, you're issued a certificate, and become eligible for most club trophies. Charter boats (gear provided) and experienced crews are always available, but from $500 per day, unless you have a large budget, you need to find several other people willing to share costs.
SCUBA DIVING
Coral reefs, caves, multicolored sponges, various large brown kelps, friendly fish, and a large number of shipwrecks lure the scuba diver and underwater photographer to New Zealand shores. When the weather is suitable, underwater visibility is about nine to 12 meters along the coast, but around the offshore islands it's usually 18-24 meters and on good days exceeds 45 meters. The Bay of Islands, Hauraki Gulf, Coromandel Peninsula, Cook Strait, and Milford Sound all offer good diving. The Poor Knights Islands, a small island group off the northeast coast of the North Island, are "a diver's dream," offering turn-of-the-century sunken ships as an added feature. Water temperatures vary from 14-22deg. C, lower in the far south; locals recommend wetsuits. Summer usually provides the calmest weather; diving conditions are at their best Jan.-April. Some years a plankton bloom occurs in spring and early summer, clouding the coastal waters. No underwater flora or fauna are dangerous to divers apart from sharks--and they're rarely seen. Gear can be hired with at least a PADI Diver's Certificate or equivalent; no permits needed. For more info, write to the New Zealand Underwater Association, (Box 8), Auckland 1, or The Diving Network, Box 38203, Auckland.
SAILING
New Zealanders are water people--if they're not in the water, they're on it! Most people seem to have a yacht or boat of some sort (Auckland is "The City of Sails"), and all kinds and sizes are available for hire--however, you need a substantial budget or several people to share costs. Charter yachts are very popular Nov.-May (the yachting season), and you have the choice of hiring a crew or sailing it yourself (previous sailing experience is necessary). Some companies also offer crews that give instruction; most supply all the necessary equipment minus bedding and food. Premier sailing locations are liberally dotted around the country's coastline; the major operators in the North Island are found in the Bay of Islands, Auckland, Paihia, Taupo, Wellington, Marlborough Sounds, and in the South Island at Picton. Prices are not cheap, about $60-350 per day (the more expensive sleep up to six people), but special rates are offered for longer hire periods. New Zealand Tourism Board offices have all the details and arrange sailing and yacht charters. For more info, write to Rainbow Moorings, P.O. Box 8327, Auckland.
SURFING
You can find surf throughout the year along the entire New Zealand coastline. The most popular North Island areas are Northland, the west coast, New Plymouth, Bay of Plenty, Gisborne, and Wellington. The favorite surf beach is Raglan on the west coast, 56 km from Hamilton--it's considered New Zealand's premier point break, with three left-breaking points in a row. It's rarely flat and has powerful and often large waves typical of the North Island's rugged west coast. In the South Island, surfing beaches are most accessible on the east coast. A large variety of beach breaks, river bars, and reef points lie along the coastline; however, quality surf over three to four meters is fairly hard to find. Wetsuits are necessary from autumn through spring. You can hire surfboards at some of the most popular beaches during summer. For more detailed info, contact the New Zealand Surfriders Association, P.O. Box 1026, Gisborne.
CYCLING
New Zealand is an ideal place for a bicycling vacation if you're reasonably fit. Temperate climate, excellent roads, low traffic density, and a wide variety of terrain and scenery appeal to those with enough time to see the country at a slower pace. However, a beginner cyclist may find the terrain too steep and demanding to be pleasurable, particularly in the mountainous South Island, and the traffic rather frightening on narrow roads. Talk to experienced cyclists before you commit yourself to a cycling tour of the country. One way of dealing with carrying your gear is to pack up everything you don't need for a few days in cardboard boxes, then mail them to your next destination a few days down the road. This way you always have clean clothes and other basic necessities to look forward to as a reward at the end of a few days' hard work!
Or take a tour. The Bicycle Touring Company in Wellington offers a wide variety of tours on both North and South islands ranging from seven to 24 days. The tours include a leader, chef, accommodation (from hostels to first-class hotels depending on prearranged price), use of a touring cycle, and an accompanying "sag wagon" for equipment, luggage, even weary bicyclists.
If you haven't cycled before, a reasonably priced tour is a good way to start. If you're taking your own bicycle over to New Zealand, buy a bike box and wash the tires well--New Zealand is strict on pest control and your entire bike will be washed if there's a speck of foreign dirt on the tires (same goes for tents and hiking boots). Touring maps are available from overseas New Zealand Tourism Board offices, and from Department of Conservation offices in all New Zealand's large cities. When in New Zealand, be sure to pick up Cycle Touring in New Zealand--Including both North and South Islands by Bruce Ringer, published by The Mountaineers in 1989. Cycle Touring in the South Island (third edition) by Helen Crabb, published by the Canterbury Cyclists' Association (P.O. Box 2547, Christchurch), is also recommended. For more info, write to the Bicycle Association of New Zealand, P.O. Box 1454, Wellington.
SKIING
New Zealand skifields provide some of the best skiing in the world. International ski teams and skiing fanatics of all standards are lured from the Northern Hemisphere for excellent skiing on uncrowded treeless slopes from June-Oct. (sometimes November in the North Island). There's always plenty of good snow somewhere in New Zealand, even during a mild winter. Reputable ski schools, fine weather, magnificent scenery, and reasonable costs (by international standards) complete the picture. Facilities range from simple rope tows in club-operated fields to a full range of chairlifts, pomas, and T-bars, and heli-skiing is available or can be arranged. Most fields have cafeterias or snack bars, and ski equipment is available for hire on-field or at sports stores in nearby urban centers.
Apart from numerous conventional skifields, you can fly up to the mountaintops for an exhilarating heli-skiing, glacier skiing (ski-plane), or ski-touring adventure in virgin powder. Heli-skiing is particularly good in the Harris Mountains near Wanaka (South Island), offering more than 60 different runs (600-1,200 vertical meters) on 35 mountains. Although New Zealand slopes never seem to get crowded, the best time to ski is still midweek; most New Zealanders are weekend skiers, but August is usually busy all month when families with school-age children take their skiing vacations.
Call the New Zealand Tourism Board (overseas) or Visitor Information Centres (throughout New Zealand) for the latest New Zealand Ski and Snowboard Guide--it contains all the details you need to know, and it's free!
The Skifields
Of the more than 20 recognized skiing areas in the country, most are in the Southern Alps--many are club skifields with limited facilities and a friendly atmosphere. In the North Island the two major commercial skifields, Whakapapa and Turoa, are both situated on the volcanic slopes of Mt. Ruapehu in Tongariro National Park. Other fields are operated by ski clubs in both Tongariro and Egmont national parks. In the South Island the major commercial skifields are Coronet Peak at Queenstown, and Mt. Hutt at Methven. Smaller commercial skifields, with a variety of lifts, cafeterias, ski equipment rental, but limited adjacent accommodations, are found at Rainbow Valley near St. Arnaud, Porter Heights near Christchurch, Erewhon, Mt. Dobson and Fox Peak in central South Island, Lake Ohau near Mt. Cook National Park, and Treble Cone and Cardrona near Wanaka. Most larger fields offer varying ski packages--New Zealand Tourism Board offices throughout the country have all the details and can arrange complete ski vacations. Many private fields operated by ski clubs (day visitors are welcome at cost) are conveniently situated near major cities. The Southern Alps also provide plenty of scope for heli-skiing, ski-touring, and ski-mountaineering. For more info, write to the New Zealand Ski Association, P.O. Box 2213, Wellington.
HUNTING
Several species of deer--red, white-tailed, fallow, wapiti, sika, sambur, and rusa--are well established in New Zealand. Red deer are the most widespread in both North and South islands, fallow are also found in both islands, white-tailed in restricted areas of the South Island and Stewart Island, wapiti in Fiordland National Park (restricted to seasonal hunting), and sika, sambur, and rusa are found only in the North Island; deer-stalking is the most popular form of hunting. All deer (other than wapiti), chamois, tahr, pigs, and goats may be killed at any time of the year with no restrictions, and no limits, licenses, fees, or "male only" laws; these animals are considered "pests" in New Zealand. Chamois and Himalayan tahr inhabit the tussock country of the Southern Alps above 915 meters, and wild pigs, goats, wallabies, hares, rabbits, and opossums live in both islands; all can be hunted without a license. Native birds are protected at all times, but there is limited hunting for ducks, Canada geese, swans, pheasants, and quail; the season (and limits) varies but generally opens in May; licenses (from sporting stores) are required.
Big-game hunting in New Zealand is not easy for the overseas visitor; the extremely rugged terrain requires a high degree of physical fitness, and competition with local hunters who know the conditions, hunting techniques, and animal habits is tough. Professional hunting guides are available for hunting in the wilds or on their own protected lands; the rates vary widely (generally expensive). The Department of Conservation is in charge of the recreational hunting areas; permits are required in national parks. Fully automatic firearms and pistols are illegal--.030, .270, and 30.06 calibers are adequate for general shooting. Firearms and ammunition are readily available in sports stores; if you bring your own gun into New Zealand, you must obtain an import license from New Zealand police. Declare it to customs on entering the country and it will refer you to the police, where a permit will usually be issued straight away (small fee). For more hunting info, write to the Firearms Advisory Officer, Police National HQ, Box 3017, Wellington; New Zealand Deerstalkers Association, P.O. Box 6514, Te Aro, Wellington; New Zealand Big Game Hunters Association, Box 46, Tuakau; New Zealand Bowhunters Society, 17 Berkley Ave., Hillcrest, Hamilton.
BUNGY JUMPING
This is one of the most popular ways to get an adrenaline rush in New Zealand. Imagine standing on a high bridge spanning a river-filled canyon, your ankles securely tied together with a towel and bungy cord, the river far below. And then, in front of a large audience who enthusiastically do a "countdown," you dive off for a long, long freefall! At the end of the fall, just before you hit the water or after you are momentarily submerged to your waist (you choose between a wet or dry fall), the elastic rope rebounds and you're flying upward toward the bridge again. This continues until you run out of momentum, and then you're rescued by boat and taken to shore. To experience this you have to cough up $70-95, but those who have taken the plunge proudly swagger around the countryside in a specially designed bungy-jumping T-shirt--and you have to do it to get the shirt. If this sounds like something you'd like to try, head for Queenstown, where the operators are the most experienced in the country--they started it all. The latest craze in the search for the ultimate adrenaline rush is to bungy jump more than 300 meters from a helicopter!
FLYING
One of the most visually exciting ways to experience New Zealand is from the air. If you have your private pilot's license and want to fly in New Zealand, you must get it validated before taking to the air--that is if you plan on being behind the controls. To do this have your current license, medical certificate, radio operator's license, and log book with you. Then get your hands on a copy of the New Zealand Visual Flight Guide (borrow it if you can--it costs about $80!) and learn the Flight Rules and Regulations section. All applicants must pass a multiple-choice exam--Part 1 is on flight rules, Part 2 is an open-book VFG test; one hour and 10 minutes is allowed--in Auckland, Wellington, or Christchurch. Then, voilà, your license is validated indefinitely.
Make an appointment to take the test by contacting the Department of Transportation (in Wellington call 04-560-0400). Each time you return to New Zealand your license must be revalidated, but you don't need to re-take the exam. Before hiring an airplane you'll be asked to take a flight check with an instructor. Prove you're safe and the sky's the limit.
---
[ Back | Up to cover page | On to Arts and Entertainment ]

Add a comment | Add a link