Practicalities
from the New Zealand Handbook by Jane King, which you can order right now.
---
ACCOMMODATIONS
Forest huts, free campsites, inexpensive motor camps, hostels, cozy bed-and-breakfast guesthouses, farmstays, holiday homes, first-class motels, hotels, and luxury lodges--New Zealand provides accommodations of international standards with a wide price range to suit all budgets. Use the prices throughout this book as an approximate guide. At present, prices in general are increasing at a rapid rate, and the goods and services tax (GST) of 12.5% has added to the confusion! Save yourself time and money by letting your fingers do the walking--telephone ahead to compare and confirm current rates, and always ask if any off-peak concessions are available.
BUDGET
Free, or Almost Free
If you enjoy camping out and have a tent and stove, New Zealand is a camper's paradise. You can put up a tent pretty much anywhere off the beaten track--but avoid camping close to tramping tracks and areas designated as "reserves." "No Camping" signs are only too obvious in areas where you're not permitted to camp--those who camp there anyway may be asked to move on or fined. In remote but popular areas (such as along the road to Milford Sound), campsites with limited facilities and a source of drinking water have been provided, at minimal charge ($2-8 pp per night). Serviced Department of Conservation campgrounds (flush toilets, hot showers, kitchen, laundry) are $6-9 pp per night. Forest Service huts are scattered throughout the forests of New Zealand; Department of Conservation staff have first option, but if they're not full you can stay in the huts for free or for a few dollars. Some have stoves, others open fireplaces--some have no cooking facilities. The maximum stay is three nights and you can't book them; in peak periods they fill up rapidly--take camping and cooking gear just in case.
National Park Huts
All the national parks provide comfortable huts along major hiking tracks and climbing routes. Backcountry huts are classed according to the facilities provided. Payment is through a ticket system; buy the tickets (from $4-20 each, children under 11 free, youths half adult rate) in advance from Department of Conservation offices, visitor centers, outdoor recreation clubs, or places displaying the "Backcountry Huts Tickets Sold Here" sign. Ask for Department of Conservation's very handy Back Country Huts at any Conservation office; it lists all the national, maritime, forest park, and scenic reserve huts throughout the country, their locations and facilities. Date the ticket when you reach the hut, deposit one section of each ticket there, and display the other section the following day (to prove you've paid your fee).
All huts have bunks with mattresses or sleeping platforms. Category 1 (fully serviced) huts have stoves, fuel, toilets, and water supplies. They may also have lighting, heating, radio communications, drying facilities, and hut wardens; $14 a night. Category 2 (intermediate) huts have toilets and water supplies. They may also have cooking and heating facilities; $8 a night. Category 3 (basic) huts have toilets and water supplies; $4 a night. A seasonal hut pass is $60 pp. Category 4 shelters are free. If you camp beside a category one or two hut, your campsite costs $4 a night. As in the forest huts, you can stay in each for only a couple of nights, and you can't book them; take a tent and stove in peak periods as the huts are more than likely to be crowded.
Motor Camps/Holiday Parks
Motor camps are one of New Zealand's best accommodation values, and great places to meet fellow travelers--particularly vacationing New Zealanders. They provide tent sites (from $6 pp) and caravan sites (from $8 pp) or have on-site caravans for hire (from $18 d), sparsely furnished cabins (from $22 d, provide your own sleeping bag or linen), and tourist flats with or without private facilities (from $30 d, provide your own linen). Usually containing bunk beds, pillows, table and chairs, and heater, the cabins and flats vary in price according to the number sharing and the facilities provided; for the price they're very reasonable--and especially appreciated when you're tired of camping out or when it's raining cats and dogs and all your belongings are wet. All motor camps provide communal bathroom, kitchen, and laundry, and some have a TV and/or game room, pool, sauna, and playground for the kids. Many of the kitchen blocks also provide boiling water on tap and a refrigerator for communal use, but you need to provide your own crockery, utensils, pots and pans. In the resorts during peak periods and school holidays, cabins and tourist flats may be booked, but you can usually find a bed at motor camps on the outskirts of town; finding tent and caravan sites is usually no problem.
If you're an Automobile Association member, stop by any AA office in New Zealand and collect its invaluable AA North Island Outdoor Guide and South Island Guide (free to members). Also pick up the Top 10 Holiday Parks Accommodation Directory and Touring Map, the New Zealand Camp, Cabin and Caravan Accommodation Guide, and Kiwi Camps of New Zealand touring map, available free from Visitor Information Centres. If you become a Top 10 member by buying a membership card, you get a 10% discount to a maximum of $10 at each park each time of stay, and special discounts for goods and services at selected local outlets--ask for a list to see if you can use these services. All those motor camps and holiday parks that have become part of a chain (for advertising purposes) offer a standard of service common to all and incentives to keep you looking for member campgrounds as you travel throughout the country. Keep in mind that non-associated campgrounds can be just as good--first choose the location, then look for the services and standards you require.
YHA Hostels
New Zealand has 55 affiliated hostels situated throughout the country, offering inexpensive comfortable lodging and plenty of good company. Many of the hostels, ranging from cozy little farmhouses to wonders of modern architecture, are in prime locations--often not far from the luxury hotels, and they're great places to meet Kiwis and overseas travelers. Sleeping in bunk beds in single-sex dorms (a few hostels have "family rooms"), members share communal bathroom, kitchen, living room, and laundry; rates from $8-16 pp per night depending on the facilities provided. You have to be a member of the YHA/Hostelling International, and it's a good idea to have your own pillowcase and sleeping bag, crockery, and cooking utensils. You can also hire bed linen for a small fee.
Once a group of "youth hostels," the association has undergone a worldwide image change. You don't have to be a youth to stay in a hostel; in fact people of all ages are welcome! You can obtain your membership overseas (it's less expensive to join in your home country), or in New Zealand from any YHA office (New Zealanders can also join at any Westpac Bank); $34 for a senior membership (over 18) plus an initial $15 joining fee, $14 for a junior membership with no joining fee, valid internationally. Once you're in New Zealand, you can buy a discount card from offices in Christchurch, Auckland, and Wellington, or hostel managers. The 20/230 card gives you 20 nights for $230, and the 8/98 card gives you eight nights for $89; with a "Go as you please" card you collect 12 hostel stamps and get the 13th night for free. If you join in New Zealand, the handy YHA Accommodation Guide is issued free with membership; it tells you where all the hostels are, what each hostel is like, and lists local activities and attractions. If you're traveling light, ask for The Good Bed Guide pamphlet instead.
Maximum stay is three nights, and you're expected to help with the clean-up each morning. Hostels fill up rapidly during vacation periods and school holidays, but you can book a bunk--a good idea if the hostel is in a popular tourist resort or major city. Write to the individual hostel warden, or to the National Reservation Centre, P.O. Box 68-149, Auckland, including a money order or bank draft for the first night and an International Reply coupon. Reach the organization's main office by writing to P.O. Box 436, Christchurch, or by calling (03) 379-9970. You'll find YHA Travel Centres in Auckland at 36 Customs St., tel. (09) 379-4224, and in Christchurch at the corner of Gloucester and Manchester streets, tel. (03) 379-8046. Other benefits come with membership--discount car rental, discounts on rail and ferry rides and some attraction admissions, special package holidays (ski packages), and discounts on some commercially operated activities (rafting). The organization also offers many reasonably priced Hostelling Holidays (package tours), including all scheduled land or air transportation within New Zealand, accommodation at hostels, sightseeing, and the YHA Accommodation Guide--book through any travel office.
Backpacker Lodges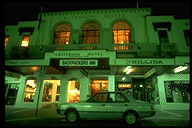 You can find budget lodges in most of the major cities and resorts throughout the country. These lodges, primarily catering to backpackers and those traveling on a small budget, provide bunk-bed dorms (many have private single and double rooms), shared bathroom, kitchen, and laundry, a common room, and a laid-back atmosphere where it's usually a breeze to make new friends. Some of the best have extras, such as a shop selling all the basics, barbecue area, bicycle and outdoor recreational equipment hire, transportation service, and more. And some motor camps make dorm rooms or shared cabins available at backpacker prices if you're willing to share a room with others. In general you can expect to pay from $10-17.50 pp per night.
Pick up the latest blue and white, "New Zealand Budget and Backpackers Accommodation" brochure (free) at visitor info centers; it lists many of the best lodges, along with their addresses, facilities, and the price per night, and the brochure is paper-light (handy for cyclists).
YMCAs and YWCAs
These are generally found in the larger towns and cities. Usually full of students and temporary workers, they're considerably less packed than YHs during peak vacation periods and are a little more private. From about $22 pp, they offer similar accommodations to those at YHs but you have a private room or share with only one other person, linen is provided, and breakfast and dinner are usually provided as part of the overnight rate. Some Ys serve three meals a day.
Private Budget Hotels
Some budget hotels provide breakfast, some don't. If the budget hotel you choose is full, most managers will tell you where to find similarly priced accommodations, and some have lists of all the budget hotels around the country available for the asking.
MODERATE
Bed and Breakfast Guesthouses
B&Bs, most very comfortable and full of character, run about $35-100 pp per night depending on the locality and facilities provided, and the breakfasts are usually hearty enough to last you till dinner! They're yet another good way to meet New Zealanders and are very popular, especially in the larger cities--if you have some idea of where you want to stay and if you'll be there during a vacation period, book a room.
The New Zealand Bed and Breakfast Book, available at most bookstores, lists farmstays and homestays throughout the country, and is invaluable for those visitors who enjoy the personal feel of staying in private homes.
Holiday Homes
Many holiday homes, or "baches," throughout New Zealand are available for rent when the owners are not occupying them. The best way to find out what's available and where is to buy a copy of Baches and Holiday Homes to Rent by Mark and Elizabeth Greening. Write to them at P.O. Box 3107 Richmond, Nelson, N.Z. or tel./fax (03) 544-4799. The book describes each home, availability, and tariff.
Motels
For the most part, New Zealand motels are very different from the usual motels of other countries. There are two types: motel flats and serviced motels. Motel flats are complete apartments--great value for the price! For about $40-100 d, you get several rooms--often two bedrooms with two single beds or a double bed in each, a living room with TV, a fully equipped kitchen including utensils, pots and pans, toaster (occasionally even a blender), a bathroom with shower, and sometimes even your own washer and drier. They usually also provide a swimming pool, spa, playground, and/or other facilities. Many motels are part of major chains but privately run, and the owners are friendly and eager to suggest places to see, things to do, and good local restaurants. Best Western Motels, Hotels, and Motor Inns are always good value; book by calling the Central Reservations Office in Auckland at tel. (09) 379-2854 (it accepts all major credit cards) or through any travel agent. Serviced motels are like standard motels, offering a sparsely furnished room (linen provided) with a private bathroom, kettle or hot water jug, coffee and tea bags, and usually a bottle of milk. The prices are a little less or comparable to motel flats, but not as good value.
Before you leave home, have your travel agent check for special package deals; some (such as Best Western) occasionally offer a package containing both accommodation and car rental vouchers for a very reasonable price. To get the savings, you must buy the package overseas. The drawback is that you have to specify a date to start the deal and use the vouchers up consecutively every night. The vouchers cover accommodation in motel flats and top-class hotels all around New Zealand--you usually get the least fancy rooms but they're still very comfortable. A list of applicable motels comes with the vouchers, and booking is not absolutely necessary--unless you're traveling around the country during peak vacation periods. Flag International offers motel/hotel vouchers. Prepay and make confirmed reservations in major cities. If you use more than half of them you can get a refund on the rest, less a service charge.
FARMSTAY AND HOMESTAY
Farm Holidays
Many farm properties throughout New Zealand offer you the opportunity to either join in farm activities or just stay there and do your own thing. Most offer extras such as a pool, tennis court, horseback riding, golf, hunting, and fishing. Some accommodation is in the family home, sharing facilities; some may be in separate houses. A stay can range from one night with breakfast to several weeks full board, and prices vary accordingly from about $70-150 d per night, depending on the activities offered.
Many organizations offer a large range of farms to choose from: Farmhouse Holidays, 83 Kitchener Rd., Milford, Auckland 9, sponsors go-as-you-please farm holidays with no set itinerary and very reasonable full-board rates. The Friendly Kiwi Home Hosting Service, P.O. Box 5049, Port Nelson, provides farm stays specializing in outdoor activities. Farmstay Limited, P.O. Box 630, Rotorua, offers farm accommodation that includes all meals and transfers by private car. NZ Home Hospitality Ltd., P.O. Box 309, Nelson, offers B&B, farm holidays, and self-drive tours. Farm Holidays Ltd., P.O. Box 1436, Wellington, provides accommodation at working farms in homesteads or in separate farmhouses; kitchen utensils provided, you provide linen and food. Rural Tours, P.O. Box 228, Cambridge, features homestead holidays in the Cambridge area of the North Island. For more details on any of the above, a larger selection, or bookings, contact any Visitor Information Centre in New Zealand, or New Zealand Tourism Board offices, overseas.
Host Family Accommodations
Several organizations offer accommodation with families throughout New Zealand--an excellent chance to meet Kiwis and make everlasting friends! Both city and country locations are offered, and prices vary accordingly. Rates start at about $40 s or $70 d B&B; most places also provide dinner or full board at extra cost.
New Zealand Home Hospitality Ltd., P.O. Box 309, Nelson, provides homes throughout both islands and all meals; reservations and pre-payment required. The Friendly Kiwi Home Hospitality Box 5049, Port Nelson, is only for Nelson City and district, reservations not necessary but desirable. Homestay Ltd. Farmstay Ltd., P.O. Box 25-115, Auckland, offers properties nationwide, as does New Zealand Home Hospitality Ltd., P.O. Box 309, Nelson.
HIGHER END
New Zealand has plenty of first-class hotels (more are blossoming everywhere because of the rapidly growing tourist industry), widely recognized international hotel chains (such as Best Western, Flag Inns, Quality Resorts, Regency, Regent, Sheraton, and TraveLodge), and private lodges catering to sportsmen of all kinds. Many of the most ritzy lodges specifically cater to fishing and hunting enthusiasts, and provide all kinds of facilities and experienced guides at extra cost; prices vary greatly but you can expect to pay anything from $95-400 pp per night for full board. The Tourist Hotel Corporation of New Zealand (THC) once operated a string of first-class hotels throughout the country, but many have been sold (some are still called THCs). Most of the buildings have retained their former glory and are in the most beautiful areas, have the best views, and are often the center of activities in remote areas. Even if you're camping down the road, you'll probably visit a THC during your trip--to buy tour tickets, eat (some have reasonable cafes as well as first-class restaurants), be entertained, or just admire the architecture (e.g., the Grand Chateau in Tongariro National Park); prices start at about $90 d and go all the way up!
FOOD
New Zealand is a land of plenty. Rich, creamy, dairy products, lamb "fed on lush meadow grass and mother's milk," and the brown furry kiwifruit (brought over from central China almost a century ago, it was called a Chinese gooseberry and renamed for export), are just a few of the many delicious items New Zealand produces. Most of the food should be familiar to visitors; New Zealand boasts French, Greek, Chinese, Mexican, Japanese, Italian, Indian, American, Vietnamese, and vegetarian, as well as traditional New Zealand and Polynesian restaurants. A Maori hangi (feast), featuring Maori specialties steamed to perfection in an underground oven, is an eating experience that shouldn't be missed (see "The Maori Hargi" under "Food and Entertainment" in the Rotarua chapter).
WHAT TO EAT
Meats
Lamb is naturally one of the most popular traditional dishes. Often cooked as a juicy roast with garlic and rosemary and served slightly pink with a tangy mint sauce, lamb is generally on the menu of almost every restaurant in the country. Hogget, or one-year-old lamb, is more tasty than younger lamb but not as strong as mutton. Beef is excellent and reasonably priced in restaurants--and nothing beats sizzling, thick juicy steaks and sausages, crisp salads, chilled wine or beer, good company, and cicadas singing from the trees at a traditional New Zealand "barby." Chicken or "chook" is another favorite; sausages or "bangers" come in all shapes and sizes and are most frequently served battered and deep fried at takeaways. New Zealanders are also partial to farm-raised or "home-grown" venison (expensive unless bought patty-form in a venison burger), veal, duck and pheasant (some of the sporting lodge restaurants specialize in game), and wild pork. If you like experimenting with different tastes, try muttonbird--it's a Maori delicacy that tastes like fish-flavored chicken!
Hot meat pies loaded with lamb or beef and gravy enclosed in flaky pastry, commonly served warm (from takeaways) with potato chips or pub-style with mashed potatoes, peas, and gravy, are virtually a national dish. If you're a pie fancier, try the many kinds of savory pies--egg and bacon, pork, and mincemeat; they make a quick and filling, inexpensive lunch. When you're in the mood for potato chips, try salt and vinegar flavor.
Seafood
New Zealand's bountiful variety of shellfish ranges from toheroa, tuatua, pipi, paua, cockles, and oysters (several varieties), to lobsters, scallops (great in Marlborough, season Aug.-Feb.), and crayfish (also called spiny lobster or rock lobster). Toheroa, found along the northwest beaches of the North Island, make one of the best shellfish soups in the world, but unfortunately it's seldom available fresh because of strict conservation measures--if you get the chance, take it (otherwise find it canned in supermarkets). Other seafood, such as cod, flounder, hapuka, kingfish, John Dory, snapper, squid, and terekihi, are all good tasting and widely available. Bluff oysters (try them fresh during the winter in the south of the South Island) and marinated mussels are very popular with connoisseurs--if you can't get fresh, look for them canned in the supermarket. Freshwater-fish lovers can easily find salmon (fresh and smoked), whitebait (tiny transparent fish fried in batter or cooked in fritters--another New Zealand delicacy), and eels. To sample a rainbow or brown trout fresh from a crystal-clear stream is a real treat--both are superb. Trout are not sold commercially, but if you catch one yourself (it's not too difficult!), most restaurants will prepare it for you on request. Fish and chips, wrapped in paper and newspaper from the local takeaway or fish and chip shop, are one of the best and least expensive ways to sample a wide variety of New Zealand seafood.
Fruit and Veggies
Fresh fruit and vegetables are abundant throughout the year. Try some of the more exotic ones if you have the chance. A few you may not recognize are aubergines (eggplants), beetroot (red beets), bilberries (blueberries), courgettes (small zucchinis), feijoas (an exotic-tasting fruit available April and May), Chinese gooseberries or kiwifruit (high in vitamin C, best from May-Dec.), kumara (a root vegetable similar to a sweet potato), rock melon (a small, sweet melon), and tamarilloes or tree tomatoes--red jelly-like fruit found May to December. Strawberries, raspberries, boysenberries, and loganberries are best in January and February, melons and avocados after Christmas, passionfruit in March and April, and asparagus in September.
Dairy Foods
New Zealand's rich dairy foods are lethal to the waistline but oh-so-good! Ice cream, especially the fruit-flavored ice creams loaded with chunks of real fruit, takes top place for any sweet tooth. Creamy milk is still delivered in glass bottles (New Zealanders generally prefer glass to cartons, though both are available), and a wide variety of tasty cheeses, including local Camembert, feta, Gouda, Romano, Gruyère, New Zealand blue vein, Brie, and cheddar, are readily available.
Desserts
Every tearoom in the country offers a variety of cakes filled with fresh cream, custard- or fruit-filled tarts, and cream buns. The famous and traditional dessert, pavlova, is made of meringue, crunchy on the outside and gooey inside, filled with whipped cream and fresh fruit--traditionally strawberries and kiwifruit, dribbled with passionfruit. Both New Zealand and Australia take pride in the invention of this dessert (natives of each argue over where it was created) in honor of dancer Anna Pavlova, who visited New Zealand in the 1920s. Feeling peckish yet?!
MEALS
Breakfast
One of the things New Zealand lacks is chain-type restaurants serving cheap breakfasts at breakfast-time and all hours. The best breakfasts are provided by bed-and-breakfast guesthouses, usually either continental--O.J., rolls or croissants, and coffee--or cooked breakfasts ("a grill")--eggs, bacon or sausages, grilled tomatoes, toast and marmalade. A cooked breakfast usually lasts you till dinner. Vegemite or Marmite, salty spreads made from yeast extract, are almost always provided for serious toast spreading, as well as jam or jelly--New Zealander, Australian, and British children grow up on Vegemite or Marmite sandwiches and seem to experience withdrawals if deprived for some length of time. An alternative is to have a reasonably priced brunch (from about 10 a.m.) in one of the many tearooms scattered across the land.
Lunch
The least expensive and most delicious way to have lunch is to stop at a deli and buy a loaf of bread, butter, and a variety of cheeses, fresh fruit, etc. Hot pies are also tasty and cheap, and numerous takeaways sell fish and chips, sausages, pies, battered and deep-fried goods, and of course hamburgers. Another alternative is the tearoom. You'll find tearooms in just about every town in New Zealand. They start with morning teas at about 10 a.m.-11 a.m., progress to lunch, followed by afternoon teas--but eating in a tearoom can often end up costing you more because you can't resist trying something new! They sell all sorts of hot pies, sandwiches, and filled rolls (typically meat and salad, just salad, or egg salad and cheese), and other intriguing morsels such as baked beans and melted cheese on toast and fat sausages filled with mashed potato and cheese. All sorts of desserts are also available. Tipping is neither required nor expected.
Dinner
Dinner is often called "tea" by New Zealanders. Cooking your own dinner is the least-expensive method, but reasonably priced takeaways are everywhere--Chinese is one of the most popular. Pubs offer good deals on dinners, and some chain restaurants (such as Cobb & Co., attached to pubs) offer substantial meals at a fairly reasonable price. Many restaurants have a special BYO (bring your own) license that lets you carry your own wine in. This means they don't need a liquor or wine license so the food is generally less expensive; it also lets you buy wine within your budget. Some of the fanciest restaurants have a strict dress code requiring men to wear jacket and tie (almost phased out) and women to be "smartly dressed"; all restaurants require decent attire and you may not enter without a shirt and shoes. If you think you want to splurge on a meal or entertainment sometime during your stay, take a good jacket, dressy dress, and appropriate shoes, in case--old battered tennis shoes and jeans are somewhat frowned upon! Tipping is neither required nor expected, but is appreciated if extra good service is given
WHAT TO DRINK
New Zealand has excellent public water supplies and tap (faucet) water is safe to drink throughout the country. All the usual fruit juices, mineral waters, and soft drinks are available--try "Lemon and Paeroa," lemon-flavored mineral water from Paeroa in the North Island. A wide range of beer and wine, both local and imported, is available from licensed hotels or pubs, bottle shops (often attached to the hotel), or discount bottle stores. Licensed hotels serve alcohol 11 a.m.-10 p.m. Mon.-Fri., till 11 p.m. on Saturday nights, and are closed on Sundays. Licensed restaurants can serve alcohol with meals any hour. For the best deals and choices, pick out something at the discount bottle store, and then take it to a BYO restaurant; a small corkage fee is generally charged for opening the bottle. Discount bottle stores offer alcohol at bargain prices but you have to buy at least two gallons.
GETTING THERE AND AWAY
BY AIR
The only practical way to get to New Zealand is by air. In today's crazy competitive world, airlines come and go, buy each other out, swap routes, and raise and lower prices on what seems like a daily basis. One way to keep up with what's happening is to find yourself a reputable travel agent willing to do the ground work required to suit your desires and budget. If you can't find one, or are a do-it-yourselfer, call the airlines directly: compare air fares, ask if they're offering any special promotions (such as a two-for-one ticket), advance-purchase fares, student discounts, or standby flights. Before you buy your ticket, check the prices on special passes for internal transportation within New Zealand--some passes are valid only if bought overseas (see "Getting Around" below).
All the airlines offer a variety of fares--economy, business, and first-class, advance-purchase excursions (APEX), which require ticketing and payment 14 days before departure date, and special promotional fares (often the cheapest way to go), which have catchy names and are usually plastered across newspapers or advertised on TV. The cheaper fares generally require a minimum of five to seven days and a maximum of one to six months in New Zealand, and include penalties (25% of the ticket price is non-refundable, for example, if you cancel within 14 days of departure). Some tickets allow you to change the date of return within a certain time limit, others don't--always check the limitations and penalties in the fine print before you buy a special-rate ticket. The other major thing to consider before buying your ticket is the time of year; low season (also called "off peak" or "basic") in the Northern Hemisphere is high season in the Southern. To benefit from departing at low-season prices, you must leave the Northern Hemisphere between 1 April and 30 November. If you head for New Zealand between 1 Dec. and 31 March, you pay high season (also called "peak") prices, generally considerably higher. However, high, shoulder, and low-season fares are not standardized throughout all airlines--call them and find out their seasons! If you're a student, check with a student-oriented travel agent; they can generally offer much better prices than anyone else (see below).
International Carriers from North America
Air New Zealand, United Airlines, Qantas Airways, and Air France (UTA), all fly from the U.S. to Auckland via a variety of routes. The prices below are the least expensive quoted for travel from the West Coast (San Francisco or Los Angeles) to Auckland (flights to Wellington or Christchurch are generally more expensive). In the U.S., the farther you live from the West Coast, the more expensive the fare will be. Keep in mind that the names of promotional flights change, as do the prices--use this info only as a guide.
The less expensive the flight (e.g. special promotional fares), the less likely you are to get a free stopover. Ask about stopovers when you first make inquiries. Also ask if taxes (domestic departure, foreign departure, surcharges, and U.S. customs fees) are included in the quote. From Los Angeles on the West Coast to Auckland, you can expect to pay about US$1050 RT in low season, and US $1320 RT in high season for up to a one-month stay. Advance-purchase fares are usually less expensive.
Whether or not you're a student, contact one of the Council Travel Services offices for their fares. Starting about US$915 pp RT during low/shoulder seasons from L.A. to Auckland and US$1190 pp RT in high season for a two-month stay, they offer fewer restrictions than the "specials" offered by the airlines through travel agents and the possibility of stopovers in the South Pacific on longer stays. The actual fare depends on the date of departure, weekend travel, length of stay, student status and/or age. To qualify for these prices, you may have to prove you're a "degree-seeking student." You need an International Student I.D. card (US$18 from CTS), a valid student I.D., and a letter from the registrar or a list of classes (at least eight units). Once in New Zealand, your international student I.D. gets you discounts on all sorts of things--check with your CTS office before departure. CTS also offers non-students the same fare; the student fares may have more stops or fewer restrictions, but the same restrictions and penalties for all APEX tickets apply. For a list of CTS offices, seechart "Some Council Travel Services Offices."
STA also provides excellent deals for students and non-students. No advance purchase necessary; low-season tickets begin about US$915 RT, shoulder-season $1005 RT, or high-season $1190 RT for a two-month stay; longer stays include a free stopover in the Pacific Islands. You need an International Student I.D. card (US$18 from STA), proof of attendance at a school or a list of classes (at least eight units), proof of birthdate, and a passport photo. Once in New Zealand, you can get student standby fares on almost all domestic airlines, fare concessions on Auckland bus transportation, discount accommodations (only at certain places), discount prices at galleries, concerts, community theaters and independently operated cinemas in Wellington, Christchurch, and Dunedin, and discounts at a range of shops. Once in New Zealand, pick up a copy of the discount listings at any STA office: in Auckland at 10 High St., tel. (09) 309-0458; in Wellington at 233 Cuba St., tel. (04) 385-0561; in Christchurch at 90 Cashel St., tel. (03) 379-9098; in Dunedin at 32 Albany St., tel. (03) 474-0146. For a list of overseas STA offices, see chart "Some STA Offices."
International Carriers from the Rest of the World
Airlines come and go, buy each other out, and take over different routes. Contact a reputable travel agent, or call the airlines directly for the latest flight information, current fares, and reservations.
From Canada: Air New Zealand and Canadian Airlines are the major international air carriers to New Zealand. From South America: Aerolineas Argentinas and Lan Chile. From Australia: Air New Zealand, British Airways, Qantas, United, and Polynesian Airlines. From Asia (with connections from Australia): Air India, Air New Zealand (direct services from Singapore, Hong Kong, and Tokyo), Alitalia, All Nippon Airways, British Airways, Cathay Pacific Airways, Garuda Indonesian Airways, Japan Airlines (direct from Tokyo), KLM Royal Dutch Airlines, Lufthansa, Malaysian Airline System, Philippine Airlines, Singapore Airlines (direct from Singapore), Thai International, United Airlines, and UTA French Airlines. From Britain and Europe (direct): Air New Zealand, British Airways, Cathay Pacific, Qantas, Singapore Airlines, United Airlines, and UTA; from Britain and Europe (with connections in Australia): Air India, Alitalia, Garuda Indonesia, KLM, Lufthansa, Malaysian, Singapore Airlines, and Thai International.
GETTING AROUND
New Zealand is one of the easiest countries in the world to get around--good roads and an excellent public transportation system get you anywhere you want to go. For all your internal transportation info, stop by any Visitor Information Centre for details--they have all the latest info on the various forms of transportation, routes, fares, and special passes; many larger centers act as booking agents for bus, domestic air, rail, and ferry transportation. These centers are listed under "Information" in each chapter. Also see the "Transportation" section at the end of each chapter.
PUBLIC TRANSPORTATION
By Air
Three major airlines, Air New Zealand, Mount Cook Airline, and Ansett New Zealand, plus a myriad of smaller scheduled airlines, make up New Zealand's internal air services between all major cities, resorts, and large provincial towns. Air New Zealand offers an "Explore New Zealand Air Pass" for three to eight flight sectors (each sector requires at least one coupon) on domestic flights, valid for 60 days, but you must buy it overseas in conjunction with an incoming Air New Zealand ticket. Another alternative to consider is the "Kiwi Air Pass," valid for 30 days, which allows travel on any Mount Cook Airline scheduled service (only once in each direction); $999 pp. This pass is available only to overseas visitors and is issued at Air New Zealand offices. You can buy it in New Zealand, Australia, U.S.A., Canada, U.K., Singapore, and Pacific Islands.
By Train
New Zealand Rail offers a few main lines. The line that runs from Auckland to Wellington via Rotorua with a spur line to the Bay of Plenty is the most popular. On the South Island, a line follows the east coast from Picton to Christchurch and then on to Invercargill. From Christchurch, the famous TranzAlpine line crosses the spectacular Southern Alps to terminate at Greymouth on the west coast. The cost of rail travel is slightly higher than by bus, but a variety of discounts are available by traveling at certain times of day and by reservation. The central reservations number is tel. (800) 802-802.
By Coach
The bus services of the three largest coach companies--InterCity, Newmans, and Mount Cook Landline--cover every major town in New Zealand. Small towns and out-of-the-way tourist spots are generally served by smaller companies, often on demand only. InterCity, which at one time controlled rail and ferry services, is the only national carrier, with a complex network of bus routes on both islands. Travelpasses allow great flexibility at unbeatable prices; eight days in three weeks for $425, 15 days in five weeks for $530, and 22 days in eight weeks for $650. As well as InterCity coach travel, the pass covers rail and Interislander ferry travel. For further information call (09) 357-8400. All sorts of discounts are available by reservation and 30% discounts apply to members of YHA/Hostelling International.
By Interisland Ferry
The least expensive and most enjoyable way to travel between the North and South islands is by ferry. The ferries offer daily services, take passengers and vehicles, and have cafeterias and bars on board; the trip across from Wellington to Picton takes about three and a half hours. Basic fare starts about $30 adult, $15 child. The InterCity Travelpass is valid on the ferry crossing. If you're renting a car on either island, arrange to pick up another on the other side. If you have your own car, transporting it to the other island costs about $92-114 depending on the vehicle's overall length. More details in the "Wellington" and "Picton" chapters.
BY CAR
As most visitors to New Zealand arrive in Auckland, the city serves as a headquarters for travelers wishing to rent or buy cars, below. See "By Car" under "Getting Around" in the Auckland chapter for further specifics on rental agencies, car fairs, and buy-back services.)
On the Road
The Automobile Association is invaluable if you're a member. On proof of any overseas AA membership, pick up its excellent maps covering every area of New Zealand in detail, invaluable accommodation guides covering everything from tent sites to first-class hotels, and touring information. Offices are located in just about every large town. At main ports of entry, the offices are located in: Auckland at 99 Albert St. tel. (09) 377-4660; in Wellington at 342 Lambton Quay, (04) 473-8738; in Christchurch at 702 Colombo St., tel. (03) 379-5200. If you join the AA (about $80 per year), you get assistance with emergency breakdowns--simple problems are fixed on the spot or your vehicle is towed to the nearest service station. Use a AA card to prepay car rental and you save 12.5 percent GST.
Petrol is expensive (about $1 per liter throughout the country!).
You drive on the left-hand side of the road in New Zealand (as in the U.K. and Australia). Try to get rules of the road information before you drive, especially if you're used to driving on the right side of the road (and look up roundabouts).
Hitching
New Zealand's friendly people enjoy meeting overseas visitors. It's still relatively safe to hitchhike (compared with other parts of the world), though it's a good idea for women to hitch only during the day and with at least one other person.
RENTING A VEHICLE
Regulations
To hire a car you must be at least 21 years old, have a current international driver's license (or a domestic permit from Australia, Austria, Canada, Fiji, Germany, Nambia, The Netherlands, South Africa, Switzerland, U.K., or U.S.A.), and have comprehensive automobile insurance (arranged by the rental companies).
Rates
Car rental is expensive. All the major international car rental companies usually offer both car and camper-van rentals, as do many other small rental outfits throughout the country.
The major companies rent by the day plus charge for each km, or charge on unlimited mileage; cars start at $65 per day plus 29 cents each kilometer, or $113 a day unlimited kilometers (three to seven days).
On the whole, the cheapest way to hire a car is on the unlimited kilometer system, paying a flat daily rate. The less-expensive car rental companies offer small economy cars such as Toyotas, Hondas, Mitsubishis, and Nissans, starting at about $40 per day plus about 19 cents a kilometer for rent-a-wrecks, but a much higher daily rate if you go for the unlimited kilometer plan. If you want a car only for a day or so and are not traveling far, the day rate plus so many cents per km is a cheaper way to go. Be sure to ask about special weekend rates. If you prepay with an Automobile Association card, you save 12.5 percent GST.
The small, lesser-known companies offer more reasonable deals, but beware of the cheapest ones. Some fly-by-night companies have been known to rent unreliable cars and are reluctant to return your money even when you've been stranded. These are quickly exposed on places such as hostel and backpacker info boards! Also watch out for those that offer a great deal but require drop-off only in certain cities--you'll invariably not want to finish up in those places!
Rental Vans and Motorcycles
Some of the small companies also offer vans equipped for sleeping. This can save you money if you're not equipped to camp, but generally it's still a lot cheaper to hire a small car and camp out. Also, many companies offer camper-vans and fully equipped motor homes, usually on an unlimited kilometer rate only and for a minimum number of days. Most have low-season rates between May and September, but in summer, you must reserve well in advance.
BUYING A CAR
If you plan to be in New Zealand for several months, one of the cheapest ways to travel is to buy a used car as soon as you arrive, then sell it when you leave.
Regulations
Used-car dealers are required by law to provide a warrant of fitness valid for six months on all cars sold. This allows you to buy something fairly cheaply that must run for at least six months. However, expect to pay at least $1000-3000 for a used car that still has some life in it. You hear stories of those who have bought a good used car from a dealer, traveled around New Zealand for almost six months, and then re-sold it for more than they originally paid!
You can buy registration for six months (about $100) or one year (about $200). Note: You'll be heavily fined for a vehicle without current warrant of fitness and registration papers. Insurance is also recommended--an insurance company can arrange third party, fire, and theft or full coverage. For the best deal, call the companies advertising in the Yellow Pages telephone directory and ask for a quote.
If you belong to an automobile association, you can have the car inspected before you buy at the Vehicle Inspection Service Centre, 162 Victoria St. West, Auckland, tel., (09) 379-9200--a very wise idea. Reservations are necessary. Or look in the Yellow Pages under "vehicle inspection service" and call for a pre-purchase check quote--usually about $60-80.
Finding a Car
The Wednesday and Saturday editions of the Auckland Herald and the Saturday Star newspapers advertise a large selection of used cars. To advertise your intent to buy or sell a car, try the hostel and backpacker info boards or the notice board in the Auckland Visitor Centre. Often you'll find someone who is looking for a traveling partner to share wheels and expenses. Ask at the Auckland Visitor Centre for its handout on buying or selling your own car--it even lists and explains newspaper abbreviations such as warrant of fitness, registration, and insurance.
Car Fairs
Unique to New Zealand, car fairs are held in various locales (shopping center car parks, parking lots, etc.) throughout Auckland each weekend. Sellers register their cars ($15-20) and wait for potential buyers who have the opportunity to view up to 500 cars in one place. Naturally, the best value cars are sold early in the day, but often sellers drop their price as the day wears on. Although some buyers pay on the spot, generally a deposit secures a car and final transactions are made early in the working week.
Each Saturday a large car fair is held 9 a.m.-12 p.m. at the back of the Oriental Markets on Beach Rd. and 10 a.m.-2 p.m. at the Takapuna Carpark, 38-60 Wairau Rd., tel. (09) 480-5612. On Sunday try the Manukau City Carpark, tel. (09) 358-5000, 9 a.m.-1 p.m., or the Ellerslie Racecourse car fair, tel. (09) 810-9212, 9 a.m.-12 p.m.
Guaranteed Buy-back
If you're going to be in New Zealand for several weeks or several months, and don't have the time to shop for a car or sell the car when you leave, New Zealand Guaranteed Buy-back Vehicle Associates Ltd. at 825 Dominion Rd., Mt. Roskill, Auckland, tel. (09) 620-6587, may suit your needs. It's open Mon.-Saturday. You buy a car from the company for $3000-6000 cash depending on how long you need the car (check the car out thoroughly first--you may get a great car, or you may not--it depends on what comes in when you need it). The car will cost you $700 the first month, $600 the second, $500 the third, etc., plus GST and insurance. Any repairs you have to make are reimburced by the company on proof of receipts; however, tires, punctures, lubrications, shattered windscreens, and any damage not covered by insurance are not included. All this is deducted from the original deposit and you get the rest back when you return the car. This works out a lot cheaper than car rental if you get a good car that doesn't need any repairs; however, you must return the car to Auckland, and if you have problems with the car, you may be out extra money (temporarily) and time while it's fixed. Be sure to ask in advance what arrangements will be made if the car breaks down, say, in the South Island, as you must return the car to Auckland. Find out any drawbacks before you sign the contract and drive off!
Other guaranteed buy-back outlets in Auckland include: Budget Car Sales at 12 Mt. Eden Rd., Mt. Eden, tel. (09) 379-4120, and Downtown Rentals, 2 Lower Hobson St., tel. (09) 303-1847.
TOURS
Guided Coach Tours
Several coach companies offer budget tours of New Zealand for the young and the young at heart at a very reasonable cost. Three of the most popular are Kiwi Experience, based in Auckland, tel. (09) 366-1665; Flying Kiwi Wilderness and Cycling Expeditions, based in Picton, tel. (03) 573-8126 or toll free (0508) 738-126; and West Coast Express, based in Nelson, tel. (03) 546-6703. For more details, see the Auckland, Picton, and Nelson chapters under "Transportation."
New Zealand Nature Safaris
These tours are a great way to see some of New Zealand's out-of-the-way places guided by qualified naturalists who combine a love of the outdoors with a genuine desire to spread their knowledge. Tours cover both islands and range from three to 10 days for $145-485 with nights spent camping and food prepared from a self-contained van. For details write to New Zealand Nature Safaris, P.O. Box 5035, Port Nelson; tel. (03) 542-3159 or in Auckland call (09) 358-4874.
INFORMATION AND SERVICES
VISAS AND OFFICIALDOM
Rules and regulations come and go. The best way to find out exactly what you need is to visit a reputable travel agent; you can also visit (or write to) the nearest New Zealand Tourism Board office (see "Communications and Tourist Information" later in this chapter), or New Zealand Embassy or New Zealand Consulate General .
Immigration
The basic entry requirements for visitors staying up to six months on non-working visas are: a fully paid onward or RT ticket (and firm bookings on special-rate air fares), sufficient funds ($1000 per month, or at least $400 per month if you're staying with a New Zealand citizen or have prepaid accommodation), a valid temporary permit or visa, and passport (valid for at least three months beyond the date of departure from New Zealand). Australian passport holders and Australian residents with current resident return visas do not need a permit or another visa.
Temporary Permits (like visas but easier to get) are required for tourist visits or business trips of up to six months by British citizens, provided they hold passports that give them the right of permanent residence in the U.K.; for visits up to three months by citizens of Austria, Belgium, Canada, Denmark, Finland, France (if normally resident in continental France), Germany, Greece, Iceland, Indonesia, Ireland, Italy, Japan, Kiribati, Liechtenstein, Luxembourg, Malaysia, Malta, Monaco, Nauru, The Netherlands, Norway, Portugal (only if the visitor has the right to enter Portugal for permanent residence), Singapore, Spain, Sweden, Switzerland, Thailand, Tuvalu, and the U.S.A. (not applicable to American Samoans or any other U.S. nationals); for visits up to 30 days by citizens of France (normally resident in Tahiti or New Caledonia). Note that Australian citizens or those from Commonwealth countries who are now permanently living in Australia can enter New Zealand without prior permission (re-confirm this regulation with your travel agent); however, Australian citizens require passports to re-enter Australia.
If you wish to stay longer than the above entry permits allow (Australian citizens and citizens of Commonwealth countries and Ireland who live in Australia are exempt), you must get prior permission in the form of a visa. It is illegal to work, make financial gains, study, obtain medical treatment, overstay the period indicated on your entry permit, or settle in New Zealand without special permission before entering the country.
Visas: Citizens of all other countries than those listed above require visas to enter New Zealand. Travel agents usually arrange all necessary visas and other documentation-- but allow plenty of time (at least several weeks), especially if you haven't a passport. Another source of info on vacation and work visas is your nearest New Zealand Embassy or Consulate.
Customs
If you're over 17 years old, you can bring duty-free items into New Zealand worth up to NZ$700, plus 200 cigarettes or 50 cigars or 250 grams of tobacco, 4.5 liters of wine or beer (six 750 ml bottles), and 1,125 ml of spirits (hard liquor). Contact your own country's customs office to find out what you may bring back duty-free.
New Zealand is understandably strict on agricultural requirements. Before landing in New Zealand you're required to fill in a declaration form stating whether you have been on a farm within the last 30 days, and what foods, plants, or animal products you are carrying. The "New Zealand--A Growing Land--Passenger Arrival Information" brochure is available from any New Zealand Embassy or Consulate. If you've been on a farm, your boots or shoes may be examined for dirt. Bicycles and camping equipment such as tents and sleeping bags may also be checked for soil particles, insects, etc. Attempting to bring in drugs (other than prescription) is asking for big trouble, as is a dishonest declaration on any official documents--don't risk it.
Consulates
Consulates maintain offices in Auckland. For a full list see yellow pages in the phone directory.
Australian Consulate: Union House, 32-38 Quay St., tel. (09) 303-2429.
British Consulate: Fay Richwhite Bldg., corner of Wyndham and Queen St., tel. (09) 303-2970.
German Consulate: 52 Symonds St., tel. (09) 377-3460.
Japanese Consulate: National Mutual Centre, 37 Shortland St., tel. (09) 303-4106.
U.S. Consulate: General Bldg., corner of Shortland and O'Connell streets, tel. (09) 309-0992.
HEALTH
New Zealand is a "healthy" country. Vaccinations are not required to enter. There are no dangerous wild animals or poisonous snakes to worry about; the only poisonous spider is the katipo but it's very rarely seen.
It's the Water
The drinking water is good tasting and safe to drink from the tap throughout the country. However, Giardia, an intestinal parasite, is present in many New Zealand lakes, rivers, and streams (even in very cold water). It is spread by fecal contamination and can be passed to humans as a result of poor personal hygiene, unhygienic food handling, or contaminated drinking water. To avoid contamination, always treat outdoor sources of drinking water (lakes, streams, etc.) by boiling it for 10 minutes, or by chemical purification with iodine solutions (available at chemist shops/pharmacies) or by filtration through Giardia-rated filters (pore size five micrometers or less). If you enjoy soaking in natural hot springs or thermal pools (public or private), keep your head above water at all times and don't let the water enter your nose or ears--there's always the possibility of getting amoebic meningitis (inflammation of the brain) in hot pools.
Medical Needs
Public and private hospitals and medical treatments are of high standards, but it's wise to have health insurance as medical and hospital treatments due to illness are not free. Accident compensation (covering personal injuries occurring while in New Zealand) is free; it includes compensation for medical and hospital expenses or permanent incapacity directly due to the accident, no matter whose fault it is. (The insurance does not cover a loss of earning ability.)
If you take a prescription drug of any kind, take adequate supplies with you, and the prescription in case you run out. Chemists (pharmacies) are open normal shopping hours, and they usually have after-hours chemists listed on the door. Also, if you wear eyeglasses or contact lenses, take your prescription or a spare pair.
If you should need an ambulance, dial 111 in major centers; the telephone number is also listed inside public telephone booths and in the front section of all telephone directories.
Tips to Prevent Jet Lag
A long-distance flight causes your body's natural time-clock to go haywire, and the air conditioning causes dehydration. Try to get plenty of sleep the night before flying, wear loose, comfortable clothing and footwear during the flight, walk around the plane regularly (about once an hour) to reduce swollen feet and ankles, and drink plenty of water, fruit juices, or soft drinks (and no alcohol) throughout the flight. If you still arrive tired and grumpy with swollen feet, check into a hotel the first night and sleep as long as you can--then your vacation will get off on the right foot!
MONEY
Currency and Exchange
New Zealand has been on the decimal currency system based on dollars and cents since 1966; 5-, 10-, 20-, 50- and 100-dollar notes, and 5-, 10-, 20-, 50-cent, $1, and $2 coins are used. Banks and other financial organizations offer a variety of services. Trading banks are open Mon.-Fri. 9:30 a.m.-4:30 p.m., closed weekends and public holidays; however, automatic teller machines are widely available, and bank offices at airport terminals provide foreign exchange services for all international arrivals and departures (occasionally closed for late-night departures). There's no restriction on the amount of foreign or New Zealand currency you bring in or out of the country, but be sure to exchange most of it before your departure to benefit from current exchange rates.
Traveler's Checks
The easiest and safest way to carry your money is in the form of traveler's checks--either foreign-dollar traveler's checks (the best deal), which you need to exchange at a trading bank (or hotels, restaurants, and large stores where the exchange rate is not as good), or New Zealand dollar traveler's checks which can be cashed anywhere. If you're likely to be hiking far from main tracks, it may be wise to carry checks of both currencies so that you don't have to worry about reaching a bank before weekends or holidays. Be sure to jot down the number of each check and the place where you cashed it, and keep the records separate from the actual checks. This will greatly speed up a refund if you should lose them; some companies won't refund without your transaction records.
Cash and Credit Cards
Another way to have access to money is to open a bank account on arrival in New Zealand and have your bank at home wire money over. Of course the exchange rate will be non-fluctuating (often an advantage), but you'll be making interest while you travel. Major credit cards such as American Express, Visa, MasterCard, Diners Club, and Carte Blanche are generally accepted throughout New Zealand.
When you first enter New Zealand, you may be asked to prove that you have enough money with you to cover your intended length of stay--$1000 per month, or at least $400 per month if you have a guarantee of accommodation from a New Zealand resident, or evidence of pre-paid accommodation, or an American Express, Bankcard, Diners Club, MasterCard, or Visa credit card. This seems to happen with regularity to those expecting to stay in the country for at least a couple of months without a work visa (you must obtain permission to work and a work visa before entry).
Tipping
Tipping is not required nor expected.
COMMUNICATIONS AND TOURIST INFORMATION
Telephone Services
Local calls from a public telephone box (or booth) are generally made using a plastic phonecard--buy a $5, $10, $20, or $50 card at a dairy, service station, or Telecom Centre. You can place trunk or long-distance calls through the long-distance operator, and costs are based on the duration of the call. National and international toll calls can be dialed directly or placed through the operator (more expensive).
Visitor Information
Before you go, write to your nearest overseas New Zealand Tourism Board office (see list below). When you're in New Zealand, contact Visitor Information Centres in Auckland, Rotorua, Wellington, Christchurch, Queenstown, and Dunedin.
In the U.S.A.--501 Santa Monica Blvd. #300, Santa Monica, CA 90401; tel. (800) 388-5494 or (310) 395-7480, fax (310) 395-5453; or
780 3rd Ave., Suite 1904, New York, NY 10017-2024, tel. (212) 832-8482, fax (212) 832-7602; or
1111 N. Dearborn St., Suite 2705, Chicago IL 60610; tel. (312) 440-1345, fax (312) 440-3808.
In Canada--Suite 1200, 888 Dunsmuir St., Vancouver, BC; tel. (800) 888-5494 or (604) 684-2117, fax (604) 684-1265.
In Australia--Level 8, 35 Pitt St., Sydney N.S.W. 2000,
or PO Box R1546, Royal Exchange, PO 2000, N.S.W.; tel. (2) 247-5222, fax (2) 241-1136.
In the U.K.--New Zealand House, Haymarket, London SW1Y 4TQ; tel. (71) 973-0363, fax (71) 839-8929.
In Germany--Friedrichstrasse 10-12, 60323 Frankfurt am Main, Frankfurt; tel. (69) 971-2110, fax (69) 971-21113.
In Japan--Shinjuku Monolith 21st Floor, 2-3-1 Nishi Shinjuku, Shinjuku-Ku, Tokyo 163-09; tel. (3) 5381-6331, fax (3) 5381-6327.
In Singapore--New Zealand Tourism Board, 391 Orchard Rd., #15-01 Ngee Ann City, 15th Floor, Tower A, Singapore 0923; tel. (65) 738-5844, fax (65) 235-2550.
In Hong Kong--1501 Universal Trade Center, 3 Arbuthnot Rd., Central, Hong Kong; tel. (852) 2526-0141, fax (852) 2524-1811.
In Taiwan--New Zealand Commerce and Industry Office, Room 2512, 25F International Trade Building, 333 Keelung Rd. Section 1 Taipei 10548, tel. (2) 757-9514, fax (2) 757-6114.
WHAT TO TAKE
Clothing
Most New Zealanders are casual dressers (by day and night), attending to comfort and suiting the occasion. However, dressing up is the norm for fine restaurants, nightclubs, and discos in the resorts and major cities--a few places still require a jacket and tie or smart attire, and restrict jeans, T-shirts, and thongs. New Zealand's weather is unpredictable, especially in mountainous areas; it's best to be prepared for everything no matter which season you arrive--and keep in mind that the seasons are opposite to those of the Northern Hemisphere. If you're an outdoor type, in summer take shorts, jeans, shirts, and a good pair of slacks or a dressy dress for evenings on the town, a bathing suit, warm sweater, windproof jacket, raincoat or poncho (great for covering you and your backpack), at least one pair of thick wool socks, hiking boots, tennis or sandshoes and dressier sandals, plus your basic necessities. Don't forget sunscreen and a small bottle of vinegar--for dabbing on sandfly bites! In winter you need all of the above, but add thermal underwear, flannel shirts or lightweight sweaters, another wool sweater or two, more wool socks, an extra warm jacket (down is great) or coat, a long raincoat, and substitute shoes for sandals. If you're going to hit all the resorts, take some dressier clothes and appropriate footwear to be on the safe side.
Buying clothes in New Zealand can be expensive, but wool products, in particular sweaters, bush shirts, and sheepskin coats, are of high quality and you can pick up a bargain if you're willing to shop around. Leave your electric razor or hairdryer at home, or buy an adapter--New Zealand is on 230 volts AC, 50 hertz, and sockets accept three-pin flat plugs; hotels and motels often provide 110-volt AC sockets for razors only.
One last tip: If you're backpacking, take less than you think you'll really need--you'll invariably discard some of your "essentials." The occasional sheepskin rug, woodcarving, and other paraphernalia collected along the way soon add up and make life miserable. Eliminate all but the essentials--you'll be glad you did.
Photo Equipment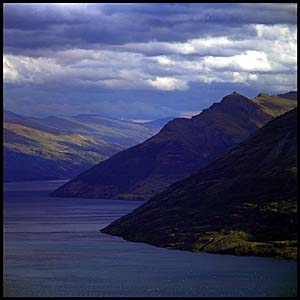 New Zealand is a photographer's paradise--great light, spectacular scenery, and friendly people everywhere you go. Take a 35mm camera, several lenses, and plenty of film. Film is widely available in chemists' shops (pharmacies) and at photographic dealers in New Zealand, but it's expensive to buy and develop. If you're coming from the U.S., it's cheaper to stock up on film at home and take it back with you (in your main luggage) for developing; if you're worried about the X-ray machines at the airport spoiling undeveloped film in your camera, request that the camera be hand-searched.

Special Hobby Equipment
If you're an angler, it's best to take your own fly rod, fishing pole, and waders with you--they're hard to hire. Flies and lures are readily available in sporting stores. Big-game fishing equipment is generally included in the cost of hiring a boat and guide. Hunters can take their own guns into the country but need to get permits from New Zealand police (for details, see "Hunting" under "Recreation" earlier in this chapter). Scuba diving and skiing equipment are both easy to hire. If you're a mountaineer, you may want to bring your own equipment to ensure your safety, but most of it can also be hired (bring your own rope).
WEIGHTS AND MEASURES
Time
New Zealand is the first country west of the international dateline and therefore the first to see the sun rise each day. It's 12 hours ahead of Greenwich Mean Time, making it three hours ahead of Japan, 9 ahead of Moscow, 17 before Washington, D.C., and 20 hours ahead of California. Like much of the rest of the world, it does practice daylight-saving time, which could throw these calculations off at certain times of year.
Shopping Hours
Most shops and stores are open Mon.-Thurs. 9 a.m.-5:30 p.m., on Friday 9 a.m.-9 p.m. for "late-night shopping" (in major cities, each suburb has its own late shopping night, which is not necessarily Friday), on Saturday 9 a.m.-12 p.m., and closed Sunday. The only shops always open on Sunday are milkbars or dairies (selling groceries, dairy products, fruit, and snacks), newsagents (usually open only for a short period to sell the Sunday paper), and tourist shops and some malls in the major cities and resorts, though more and more general shops are choosing to also stay open on weekends.
Electricity
New Zealand runs on 230 volts AC, 50 hertz, and most power sockets accept only three-pin flat plugs. If you're taking an electric appliance such as razor or hairdryer, buy a voltage transformer and suitable plug adapter from a hardware store, or an appliance that can switch to the appropriate voltage.
---
[ Back | Up to cover page | On to ... ]

Add a comment | Add a link