Home : Travel : New Zealand : One Article
---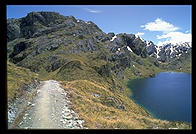 Have you ever wished you could mountain bike in California back in 1915? Only about three million people lived there then, you could drink water from mountain streams, and there weren't any police to chase after you for riding in forbidden areas. Well, stop wishing and book a flight to New Zealand.

New Zealand's 3.3 million friendly citizens have conveniently packed themselves into three cities so as to leave the rest of the California-sized country to mountain bikers, sea kayakers, and hikers. You'll have mountains as spectacular as the Sierras, but with an emerald lake in front of each one and waterfalls cascading down every slope. But you won't have to throw your bike across the back of a burro, sleep with vermin and communicate using smoke signals. New Zealand has smooth roads through the mountains, charming clean social hotels that cost $6/night, and the most modern telephone system in the world.

Probably the best thing about New Zealand is that people have time for each other. My first 24 hours in the country were instructive. I landed in Auckland, the nation's biggest city and transferred to the domestic terminal for a short hop to Wellington, the nation's capital. I walked to the gate feeling that something was horribly wrong. Eventually it struck me that I hadn't had to go through security-nobody has ever hijacked an airplane in New Zealand and they don't bother with metal detectors or X-rays for domestic flights.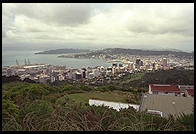 Wellington is a beautiful city built on mountain sides and thrust out on the southern tip of the North Island. Despite its complement of politicians, it feels and looks much more like San Francisco than Washington, D.C. I'd gotten in touch with a couple of local mountain bikers via Internet, the worldwide computer network. When I announced my arrival, these total strangers opened their guest rooms and rearranged their schedules. My new friend Allister took the day off, rented me a serviceable Diamond Back bike and drove me thirty minutes out of town to the Incline Walk, which used to carry a railroad over the rugged Rimutaka Range. While my friends in Boston were freezing to death, I spent December 21st under blue skies and wheeling through a pristine forest. With 18 hours of daylight, one need not be in a hurry and we took our time viewing streams, waterfalls, and the enormous Lake Wairarapa (the place names come from the Maori language, which is Polynesian). The most exciting part of the ride was going through a 1/2 mile unlighted tunnel. Deep puddles made walking unpalatable, but the pitch black made maintaining our balance surprisingly tricky.
I thought that Allister was just a really nice guy, but I eventually came to the realization that nearly everyone in New Zealand is equally hospitable. My last day in New Zealand was also illustrative and typical. On a beautiful 75 degree February day, I strolled into Cycle Action in the Mission Bay section of Auckland. When I asked if they had any good mountain bikes for rent, Ronald, the 20-year-old sales clerk said "no, we don't rent real mountain bikes." I expressed my disappointment and he immediately said, "well, you can borrow mine. I'm not working tomorrow, but I'll bring it here at 9am." Thus did I find myself in possession of a GT mountain bike worth one month's salary to Ronald.
I spent the evening with a German blonde in one of the city's best Italian restaurants (entrees: $10) then phoned Bruce, a local whose name I'd picked off the Internet. Without hesitation, Bruce said "I'll just take tomorrow morning off and show you around the Riverhead pine forest."
I wish I could tell you what the forest looked like, but I can't remember looking at any trees. First of all, the single tracks were bordered by Scottish gorse, a prolific weed that happens to be sharp and nasty when green and even worse when dry. Thus, any deviation from the track would likely be remembered and even staying on the track involved frequent intimacy with the gorse. Second, the track was largely raw slippery clay with huge rocks. It isn't like biking in New England where one can relax in between rocks and logs. Here, it was nonstop terror that you'd fall into a foot-deep rut. Bruce was man enough (and experienced enough with these tracks) that he went through at high speed, which is probably the only way to do it. I was never carrying enough momentum so got kicked off the bike numerous times and simple obstacles hung me up. At the end, I was covered from head to toe in mud and ready to swim in one of New Zealand's ubiquitous public pools before meeting Christine, my German friend.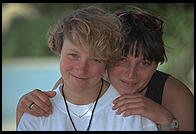 How did I meet Christine? Well, having been at the Massachusetts Institute of Technology on and off since 1979, I feel most comfortable when surrounded by greasy-faced nose- picking polyester-clad men. From Boston, I signed up for the Flying Kiwi bus-supported bike tour of the mountainous South Island. You can imagine my horror upon arrival when I discovered that nearly all the other passengers were 20 to 23-year-old women. I've never liked road biking but this tour made me a believer. We biked down the busiest highway on the island, with snow-capped peaks on one side and the South Pacific on the other, only seeing a car once every ten minutes. The scenery was breathtaking, the roads were utterly empty, the bus hauled my luggage, and whenever I pulled into camp there was a warm dinner and warm fellowship waiting for me. All of this for $35/day including food, lodging, transportation, and the use of bikes, a windsurfer, and a canoe (bring your own bike, though; your body will thank you).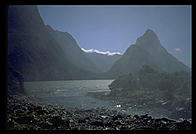 There are a number of ways to see this enchanted land. If you don't relish a tent camping tour like the Flying Kiwi, remember that every little village in New Zealand has one or more "backpackers" hotels. You get a bed in a double, triple or larger room and usually share common bathroom, kitchen and lounge facilities. Everything is as clean as the most expensive U.S. hotel. You'll pay $5-7 per-person ($1 more if you don't bring a sleeping bag). Some backpackers are grand old hotels with all twin or double rooms, others are old mansions with tennis courts and swimming pools, and a few are purpose-built modern structures; all have more character than a motel. Don't bring a stack of novels because you'll have plenty of entertainment every night meeting people from around the world. Do brush up on your German; 75% of the guests will be from the Fatherland.
There is often great mountain biking within an easy road ride from your backpackers. You can thus get from village to village by Intercity bus (they'll take bikes), rental car, hitchhiking, or biking. Hitching is much easier and safer than in the U.S. I met two California women who had never waited more than two minutes for a ride and had only stayed in hotels for three nights because they'd been offered hospitality by their drivers. A fair number of New Zealanders have vans, trucks, or sport utilities, so you might well be able to get a ride with your bike.
Road riding is always an option. I've always felt sorry for bike tourists with their bulging panniers trying to make it up a mountain pass. However, there is only one road through most of the places you will be visiting, so you are guaranteed to meet someone at your hotel who is driving through your next destination. You can give that person your panniers and travel unladen.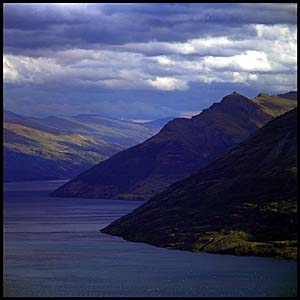 There are good riding opportunities in every part of the South Island and "no bikes" signs are few, although there are trail restrictions in the national parks. In general, New Zealand does not have the police state apparatus that we have here-I didn't see a single speed trap on the South Island, for example. Bookstores sell good mountain bike trail guides bike shops often have good information. You are guaranteed of good riding around Queenstown, the tourist mecca in the SW of the South Island. Queenstown is on 50- mile-long Lake Wakatipu, which is ringed by snow-capped mountains. It is rather like Lake Tahoe except that there are only about four blocks of shopping within a 100-mile radius, less than 1% of the mountainsides have been convertedto ski slopes, lunch is $2 and a really nice hotel costs $7. Queenstown is also one of the few places in New Zealand where one can rent top-quality bikes (full suspension bikes go for $35/day).
If it rains and you were unfortunate enough to arrive in New Zealand without Gore-Tex parka, pants, and boots (yes, you need them), head to the NW for the Heaphy Track through reliably sunny Abel Tasman National Park. Bikes are allowed and you can stay overnight at one of the huts. Wilderness travel in New Zealand means never having to carry a tent or mattress. There are magnificent helicopter-supplied huts spaced a few hours walk apart wherever there is a trail. For $3-7/night, you get a real bed, a roof over your head, gas cooking rings, a lively social life, sinks, and sometimes flush toilets.
[Note: Glen Knol wrote me in June 1996 to say that the Heaphy Track had been officially closed to mountain bikes, though there are appeals in the works that might allow it to reopen.]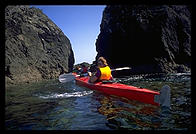 If your legs are sore, rent a sea kayak and poke around the Abel Tasman coast with or without a guide. You can cover 20 miles a day without much difficulty and carry whatever you need in the watertight hatches. Sea kayaking is popular and reasonably priced all over New Zealand. My favorite spot is the Bay of Islands, on the NE tip of the North Island, where a turquoise sea studded with uninhabited islands invites you to explore. You may want to decline the invitation to swim; the 68 degree water will not feel welcoming.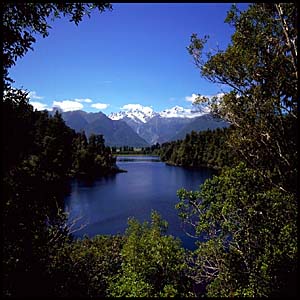 Lest you think that I've been bewitched by the Kiwis, I will reveal the two big problems with the country. Problem One is the food. For example, cheese comes in enormous 1.5 lb. bricks labeled CHEESE with two-inch high letters. Underneath in fine print you'll find either "mild" or "tasty" in parentheses. Those are your choices. When I went into a modern supermarket and asked a deli clerk where I might find mozzarella cheese, she didn't even know what it was. The problem is not ingredients, for New Zealand has some of the best produce, milk, and meat in the world. It is just that the citizens have preserved every bad British culinary tradition. (You can escape this tradition by buying food in supermarkets and cooking it in the immaculately clean backpackers kitchens, which provide all dishes and utensils.)
The second big problem is that you won't be able to leave. Everybody manages to find an excuse to stay a bit longer. I met quite a few round-the-world travelers who'd gotten stuck here, some for as long as a whole year. Personally, I'd never been away from home for more than three weeks without beginning to miss some familiar things. Yet after seven weeks in New Zealand, I was perfectly prepared to stay another seven weeks. What is worse is that your senses are not deceiving you. When you get home you will discover that a car accident in New Zealand is less trouble than a broken dishwasher in America, that strangers in New Zealand treat you better than friends in America, and that visiting a place where people still have a sense of community will make you weep for what we have lost.
Anyway, go there and pound the cranks.
---
Want More? Thanks to the magic of the World Wide Web, I expanded this magazine article into a 67-page story illustrated with over a hundred photographs and maps.

Text and pictures are copyright 1992-1993 Philip Greenspun
---
philg@mit.edu
Related Links
Sea Kayaking Adventures ,Auckland,New Zealandf- Discover a volcanic rock garden and kelp beds from the comfort of your own sea kayak.Glide past sandy beaches,revive your soul as you paddle past peaceful bays.Try a Twilight tour and enjoy a BBQ on a sandy beach and kayak back under the stars....Check our site for all the details (contributed by Jamie Down)
Add a comment | Add a link