Ellis Vener
by Philip Greenspun

Philip Greenspun's Homepage : Photography : One Interview
---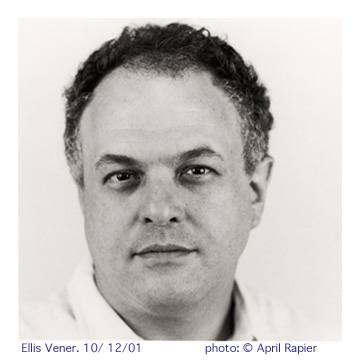 Philip:
Let's begin at the beginning. Where and when were you born? How do you pronounce your name?
In Corpus Christi, Texas on January 15, 1957. "Ellis" is pretty much like it reads and "Vener" is pronounced "Vee-ner". The original family name was Winograd and was Americanized when my grandfather immigrated to the USA in about 1908.
Philip: What kind of formal photography education do you have? Where did you go to college and what did you study?
Not much! Three years of assisting with Houston based photographer Ron Scott (www.ronscott.com) from 1981 to 1984 and a 1983 workshop with Jay Maisel (www.jaymaisel.com). Before that I was the Studio Assistant for a photo-illustration class in the art department at the University of Texas in Austin in 1978 and 1979 but I didn't really take any photo classes before being made S.A. I sort of fell into the job, and since I really didn't know what I was doing visually or technically and wasn't in the art program, the professor asked me if I wanted to be the class assistant and that became my assignment for the first semester, reading the manuals, keeping the place clean, helping the other students. After the first semester he made the administration hire me. I graduated from the University of Texas with a liberal arts B.A. in 1980, mostly I was reading History and English Lit. I was drawn to photography because I wanted a career that would let me continue exploring the world and meeting interesting people.
Philip: So if you didn't do much with photography in college, how did you get your start?
The short version is: I really, really wanted to be a photographer and could not afford to stay in Austin! I moved to Houston and to get a year or so of assisting experience under my belt and then move on New York City. While at UT I had attended a presentation by Ron Scott, who was a very hot photographer at the time, doing all of these visually interesting, amazing technical problem solving images and also making a lot of very witty, Carl Fischer inspired covers for Texas Monthly. So I called on him when I got here and after about a month he hired me as a freelance assistant and a week later made me an offer. I learned a lot from Ron about how to think in terms of transforming ideas into images and also how to approach the technical "how to" stuff.
Philip: Did you ever think about moving to New York to make it in the big leagues?
Absolutely. My heroes at the time were Pete Turner, Eric Meola, Greg Heisler and Greg's mentor: Arnold Newman. I have worked in New York City for several clients. I still think it is the place to be if you are starting.
Philip: How important do you think it is for a beginning photographer to work as an assistant?
If you want to do commercial work it is very valuable. Just make sure it is with really someone you want to work for , doing images you are interested in, someone you don't mind dedicating yourself to. I think it can also be very valuable if you want to do documentary work as well. Assisting is good because you don't just get exposed to the photography side of the business but also how the business needs to be run, how to win and deal with clients, copyright and usage issues: these are the real gears and wheels of a photography business. More important than any technical aspect is learning how to think visually and how to read and how to listen: that is the value of a Liberal Arts education.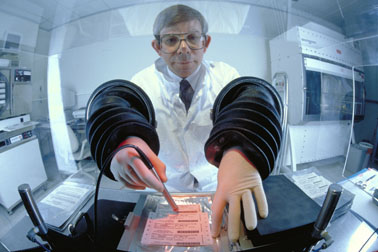 Philip: How does work as a commercial photographer influence and affect the projects that you do as an artist?
Well it gives me the technical chops and the discipline of deadlines but I think it can also interfere to a large degree. You get used to thinking for clients and not purely for yourself. Right now I'm trying to pay more attention to that side. I think that is where growth as a photographer, as a human comes from.
Philip: Is it really possible to make a living as a commercial photographer without doing weddings and, if so, what's the secret?
It is absolutely possible. The secret is to not be really interested in running a retail business and being satisfied with being a specialty boutique. Weddings are good discipline for one as a photographer, so are portraits but the professional wedding/portrait business model is completely distinct from being an advertising or editorial photographer. Virtually everything about it --except making photographs that please your client and finding out what your clients really want-- is different; finances, office organization, scheduling, work flow. More people make decent money from doing the wedding business than from other forms of commercial photography.
Philip: Do you think it has helped or hurt your career to stay in the city where you grew up?
Neither and both, but mostly neither. Houston has a lot of opportunities. it is rather like New York in that respect, since the hierarchies are more porous. People are friendly. The only thing that has held me back frankly is me.
Philip: What kinds of jobs remain available in a mid-market city like Houston where many firms may use out of town advertising agencies?
Most of my locally assigned work for the past ten years has been directly for clients, not agencies. I also do a lot of work for out of town clients, editorial, corporate clients and for agencies. I also travel a bit. Not as much as I'd like. There is also certain amount of stock licensing that I do. One of my Houston skylines was just licensed by Daimler Chrysler for a very nice, fat licensing fee. It also helps to have two or three specialties, in my case it is portraits, panoramics and architecture.
Philip: What kind of rates are you able to charge?
It floats depending on the type & length of assignment, and the the usage and the rights package the clients need. Editorial is in the $400 and up per day range , while corporate work is in the $1500 to $2500 a day range and advertising is in the $1500 to $5000 per day range. In other words: pretty much the standard commercial ranges. The bad news of commercial photography is that these ranges, especially for editorial work, haven't really changed in twenty five years.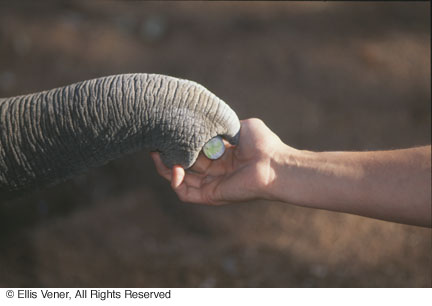 Philip: Do you keep copyright ownership and custody of your original slides/negs or do you turn everything over to your clients?
I retain copyright in almost all cases, but shooting film stills for production company is a work-for-hire gig.
Clients never get everything. For three reasons. The first is that they don't really want everything, they only want what they really need for the project. Second, I keep a back up in case something goes wrong with the delivery or a file gets lost -- that has happened twice, once with an assignment for Newsweek, where because I kept a solid set of backups we were able to scan and transmit and make the deadline and the second time was recently: The delivery truck was destroyed in the September 11 attack on the World Trade Center. The client, a book publisher had wanted me to just send the memory cards (it was my first big digital project) but I had insisted on sending them a set of disks instead. That was lucky. We ended up downloading about 12 Gigabytes of images to their home computers, which they burnt to CD-R disks and brought to work the next several mornings. The third reason is stock. My archive is my heritage, and time doesn't flow backwards.
Philip: Can you think of a particularly fun client or project that you've had?
Cow Parade Houston. Creating Images to be used for the Wheel of Fortune TV gameshow was fun too. Actually I have fun with most of the assignments I do. I'm very lucky.
Philip: What about a strange one?
How about if I substitute the word interesting in place of Strange. would that be okay? Cow Parade Houston was an interesting multi-stage project. Studio work, then photo-illustration on location, then straight documentary work at the end as well. Cow Parade cured me of making really bad puns for a while.
One of the very few weddings I've photographed was a traditional Muslim / Pakistani wedding last year and that was great. A lovely client: Very beautiful and very nice to deal with. the colors were extraordinary has was the communal sense of joy.
Architecture is always intellectually and technically challenging because I really want to try and understand the whats and the hows of the architect's thinking, trying to visually express their vision and combining that with my own perceptions of the place, of the light, and how to solve the technical problems as well. I approach architecture as a combination of documentation and interpretation. The strangest architectural job I've ever done was a folio of interiors of a topless bar. the place was beautiful, but it was about eight nights of working from midnight to 9:30 AM. I had to get new cases after that gig, they all stank of spilt drinks and stale cigarette smoke.
I guess the strangest in a pleasant way was doing a travel assignment in Honduras for Continental Airlines when President Reagan decided to strong arm the Honduran government into letting us send troops in to support the "Contras". Two days later on an island resort I met one of the top ministers of Honduras and when I asked him how the war was going, his reply was "I don't know, I haven't heard from Washington today." Honduras was absolutely beautiful, wonderful people too. Dire poverty. I actually got to see an "ugly American" in action one day at the San pedro Sula airport, throw his considerable sweaty weight around in a wild red faced tantrum and telling people how important he was and he was down there saving souls for Jesus and why he needed to get on the very next plane out. He didn't get his flight and iwas next in line but I did because I was polite and sympathetic. It is continually amazing to me that some people don't ever seem to understand that a little courtesy and consideration and politeness can open shut doors. o nthe other hand I also think I know when to push hard too and I'm not afraid to do so.
Philip: What about a really boring project that you did just to pay the rent?
Home interiors. For some reason, interior design jobs just plain do not resonate with me. I think I do them pretty well but I don't seek those jobs out.
Philip: Can you think of a commercial project or two that yield some good art photos?
A commission I did for Memorial-Hermann Hospital to create portfolio of Houston landscapes; my work for the Houston International Festival; some of the commissions I had for Southwestern Bell Yellow Pages, and various portraits. I take making portraits very seriously.
Philip: Let's get into some nuts and bolts stuff now.... For what kinds of projects do you use digital cameras?
So far the only big project I've used a digital camera for was the CowParade Houston book I worked on for Workman Press. They requested digital because of a very tight schedule.
Philip: What's your favorite digital camera and how happy are you with the results?
The Nikon D1x and i am very happy with the results. I'm looking forward to trying the Nikon Collpix 5000. digital has some pretty interesting limitations, but so do film cameras.
Philip: What's your main workhorse camera system and why do you like it?
the Nikon F5. I like the way it feels, the ruggedness, the quality of the Nikon lenses, the viewfinder, the metering system, and the flash system. I hate how much it weighs. After that my favorite workhorse is the Arca-Swiss 4x5 F-line. I switched to the Arca after ten years with a Sinar C and then two years of trying other large format cameras. The Arca is a joy to work with.
Philip: What's your sentimental favorite among the cameras that you own?
My first Hasselblad, which I foolishly sold many years ago, and my first Nikon F, which was stolen about the same time. I can't say I'm all that sentimental about cameras. They are just things. I guess the one camera that I am sentimental about is an old Rollieflex twin lens reflex medium format camera. It was my dad's. He got me started in photography.
Philip: What are the two cameras that you wished you owned and why?
Another Hasselblad for portraits and those times when I don't need a view camera, and a Leica M6, because it just doesn't attract attention the way a big SLR does, your face isn't hidden from your subject and I think I compose differently with a rangefinder than with an SLR . Great lenses too. I also really like the Fuji G617 and the autofocus Fuji 645 rangefinder cameras.
Philip: What about tripods and heads? Monopods? What do you use and when?
Gitzo tripods, and ArcaSwiss B1 and B2 Monoballs. The ArcaSwiss B2 is the best big tripod head I've ever used; it is damned near perfect. I've had about a dozen tripod heads over the years, these are the best. I don't really use monopods very much. I have two heavy duty Bogen/Manfrotto monopods but most of the time they stay in the closet.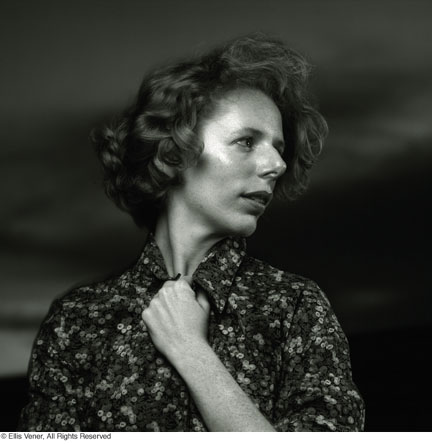 Philip: Bags and vests?
Domke.
Philip: Any other accessories that you can't live without?
LPA Pocket Wizards. I have three generations of them: the original 16 channel Classic, a MAX, and a MultiMAX. because they all work together, because they are 100% reliable, because they have great range, etc. Minolta meters: I've got the Flash meter IV as my main studio meter, a Spot meter F, and a Color Meter III. Balcar and Lumadyne flash equipment, Plume Ltd. Wafer and Chimera lightbanks. And MSE Gaffer's tape. never leave home without Gaffer tape! In the office/studio: Apple Macintosh computers, Adobe Photoshop 6.0, Hindsight's InView and StockView software.
Philip: For what kinds of projects do you employ an assistant? Who pays for that person and how much? What does your assistant actually do?
I try to use an assistant as often as I can, the client pays the $150-250 per day because an assistant makes me more productive. My assistant(s) help me stay organized and focused , in good humor, and help with transportation, driving, lugging gear, set up and tear down. A good assistant is really hard to find.
Philip: Do you teach others your secrets? If so, where and how?
Mostly on photo.net! I've also done some private tutorials and I usually get a few questions each week sent directly to me from a photo.net reader. I'm hoping to teach a workshop on using a large format camera sometime in nearly 2002 at The Houston Center for Photography. And I participate as much as I can as a volunteer in the bi-yearly Fotofest.
Philip: What advice do you have for young people anxious to get where you are? What skills must they hone to become successful commercial photographers?
Determination mostly and perseverance. I think talent really flows from that. You also have to have some poetry in your heart, a great desire to share your view of the world and have something you think is worthwhile saying. A lot of business sense as well. This is a business and you sometimes have to be harder nosed about that then you might always want to be.
Philip: To learn more about Ellis Vener, visit his Web site at www.ellisvener.com
---
philg@mit.edu