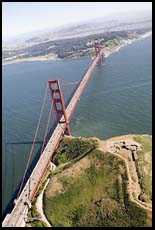 Canon EF 24-70/2.8L USM Lens Review
by Philip Greenspun; created April 2007
---
The Canon 24-70/2.8L lens is Canon's fastest and highest quality midrange zoom lens. It is designed for full-frame digital SLRs such as the 5D. This is the right lens for covering wedding receptions.
Producing a high quality high speed zoom lens that goes as wide as 24mm is challenging, but the "L" in "Canon 24-70L" assures you of professional quality images, rugged construction, and substantial weather-proofing. The 24mm wide end is wide enough to be dramatic, but the 70mm long end is not long enough for flattering portraits. The bulk and weight of this lens make it a poor choice for travel; we recommend the 24-105 as an alternative.
Image stabilization as close as the nearest door frame...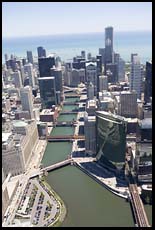 Canon doesn't put sensor-based image stabilization in its bodies and they didn't put an optical image stabilizer in this lens. The f/2.8 aperture helps by enabling the photographer to select higher shutter speeds, but to minimize camera shake you'll find yourself leaning up against door frames or using electronic flash (which wedding reception photographers are doing anyway). If you can't find a door frame, remember that you need at least 1/70th of a second at 70mm or 1/25th of a second at the wide limit of the zoom.
[Image at right stabilized thanks to a bright sunny day, ISO 200, and 1/1000th of a second, f/5. EOS 5D. Downtown Chicago from a Robinson R44 helicopter on its ferry flight from the factory in Los Angeles back to Boston. There are faster ways to travel...]
Autofocus
The Canon 24-70/2.8L incorporates a ring-type ultrasonic motor, for instant autofocus and the option of touching up the focus manually even in autofocus mode. Focus is internal, so the lens does not extend or contract as the focus is adjusted. Nor does the front element rotate as you focus or zoom, making it easy to use this lens with polarizing filters.
Mechanical Construction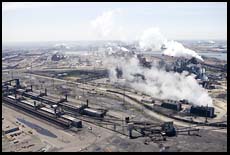 The L in Canon 24-70/2.8L guarantees you tough mechanical construction and a substantial degree of weather-proofing. If you've got a weather-sealed EOS body, notably the EOS 1 series, you can take pictures in a reasonably heavy rain.
The lens barrel incorporates 16 elements of glass in 13 groups. Two of those 16 glass elements are aspherical and one is an ultra-low dispersion (UD) element.
The diaphragm is an 8-blade design for nearly circular appearance in out-of-focus highlights. Filter size is 77mm and the bayonet-mount EW-83F hood is included.
The penalty for all of this quality is a shoulder-crushing weight of 950g, more than 2 lbs. and nearly twice as much as a Canon Digital Rebel body.
Alternatives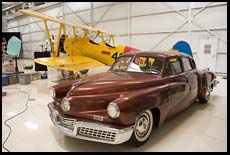 If you don't need the zoom and love to take photos in dim light, consider the 50/1.4. It is two f-stops faster than the 24-70/2.8 and therefore more useful in low light.
For lighter weight, comparable image quality, and image stabilization, choose the newer design canon_24-105.
How well does it work with the Digital Rebel?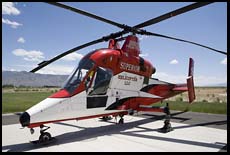 This is an EF lens, illuminating an image circle large enough to cover a 24x36mm piece of film or the sensor in Canon's more expensive "full-frame" digital SLRs. The camera will work fine on a small-sensor body, but you will be carrying around more lens than you need and the focal length will be a "slighty-wide-to-portrait" range.
Examples
| | |
| --- | --- |
| | A scorching summer day; f/8 and ISO 100. Note to pilots: it may be unwise to expect a two-person airplane of yesteryear to carry two modern American adults. |
| | |
| --- | --- |
| | ISO 800 and f/2.8 at 1/30th; camera held over head. It might have been better to use a flash, but it is tough to think of a flash position that would have uniformly illuminated all of the people in the scene. It would be nice if this phase of the wedding had been in a better-lit environment... |
| | |
| --- | --- |
| f/3.5 at 1/100th; ugly hazy white sky in the background. | |
| | |
| --- | --- |
| | f/5.6 and 70mm; the 24-70 can substitute for a portrait lens if you're not trying a very tight composition. |
| | |
| --- | --- |
| | 40mm at f/6.3. |
Gallery
Boring Technical Details
Focal length
24 - 70 mm
Maximum aperture
F2.80
Minimum aperture
F22
Angle of view
• Horizontal: 84° - 34
• Vertical: 53° - 19°
• Diagonal: 74° - 29
Lens construction
16 elements in 13 groups
Diaphragm blades
8
Closest focusing distance
38 cm (15 in)
Maximum magnification
0.29x (at 70 mm)
Distance information
Yes
Image stabilizer
none
AF actuator
Ring USM (full-time manual focus built-in)
Filter diameter
77 mm
Dimensions (dia x len)
83 x 123 mm
Weight
950 g (2.1 lb)
Magnification with extension tubes
EF 12 II: 0.63 - 0.18
EF 25 II: 1.25 - 0.4
Lens hood
EW-83F
Soft case
LP1219
Extenders
EF 1.4x II: Not compatible
EF 2.0x II: Not compatible
---
philg@mit.edu