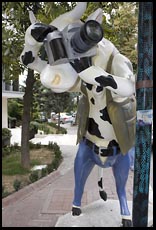 Canon EF-S 17-55/2.8 IS USM Review
by Philip Greenspun; created February 2007
---
If you want a high-quality Canon-brand mid-range zoom for your Canon small-sensor digital SLR, you have a choice between the Canon 17-55/2.8 and... nothing. Fortunately, this is a very high quality lens indeed, with a constant f/2.8 aperture and image-stabilization. The 35mm equivalent focal length range is 27-88mm.
Why this instead of the kit zoom?
Your Canon small-sensor digital SLR probably came with a lightweight plastic zoom lens covering roughly the same range as the EF-S 17-55/2.8 IS. Why spend the money and carry the weight of this lens?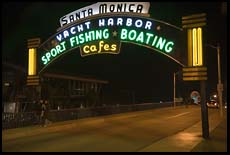 First and foremost is performance in available light. The typical kit lens has an f/5.6 focal length at 55mm and no image stabilization. With the 17-55/2.8, the lens itself passes four times as much light through to the sensor. The image stabilizer adds another three f-stops of capability (8X), which means that you need light only 1/32nd as bright to capture a photo with this lens. With the kit lens indoors, you'll be blasting every scene with the on-camera flash. Pictures will come out looking just as though you'd been wearing a miner's headlamp.
Second is the brighter viewfinder. An aperture of f/2.8 means that the viewfinder image will be four times as bright as with the kit lens, making it easier to evaluate composition and focus. One of the great things about a digital SLR compared to a point and shoot digital camera is the viewfinder. This advantage is seriously compromised when using the slow cheap kit lenses.
Third is image quality. The EF-S 17-55 will have higher contrast and better sharpness, especially in the corners, than the kit lens.
If all of your photography is on bright high-contrast sunny days, you might not need this lens. If you like to take natural-looking photos indoors or near sunset, the 17-55/2.8 IS is a great investment.
Alternatives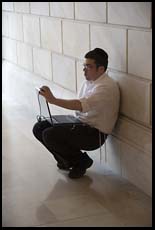 If you don't need the zoom and love to take photos in dim light, consider the Sigma 30/1.4. It is two f-stops faster than the Canon lens, and, despite the lack of image stabilization, is more useful in low light.
How well does it work with the EOS 5D?
This is an "EF-S" lens, casting an image circle only large enough to cover the sensor in Canon's less expensive digital SLRs. If you managed to defeat the lens mount interlocks and attached this lens to a film or full-frame sensor body, such as the 5D>, the corners of the resulting images would be black.
Gallery
My best photos with this lens are used to illustrate the Canon 40D review (all the photos on the linked page were taken with this lens).
Manhattan with an EOS 30D...
Santa Monica and Venice Beach with a Rebel XTi... (note how well the image stabilizer works in the photo of the Getty Villa, taken from an airplane moving at 120 mph and vibrating from the operation of a four-cylinder engine)
Boring Technical Details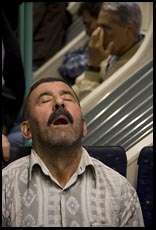 Image size
APS-C
35mm film equivalent focal length (mm)
27-88
Angle of view (horizontal, vertical, diagonal)
68° 40' - 23° 20',
48° - 15° 40',
78° 30' - 27° 50'
Elements/Groups
19/12
No. of diaphragm blades
7
Minimum aperture
22
Closest focussing distance (m)
0.35
Maximum magnification (x)
0.17 (at 55mm)
Distance information
Yes
Image stabilizer
3-stops
AF actuator
Ring USM²
Filter diameter (mm)
77
Max. diameter x length (mm)
83.5 x 110.6
Weight (g)
645
Magnification with Extension Tube EF12 II
0.45-0.231
Magnification with Extension Tube EF25 II
1.71-0.51
Lens hood
EW-83J
Soft case
LP1219
1. Only compatible at tele.
2. Mechanical full-time manual focussing built-in
* Maximum number of Hood III/IV attachable. In the case of zoom lenses, the maximum number applies to the shortest focal length.
NC: Not Compatible with Gelatine Filter Holder III/IV.
** Product specifications subject to change without notice
---
philg@mit.edu