---
The 1958 Newport Jazz Festival was documented thoroughly by Bert Stern, the Hollywood celebrity photographer, in the movie "Jazz on a Summer's Day". American fashions and body styles have changed considerably in the 47 years as a comparison between that film and the photos on this page will make clear.
The Musicians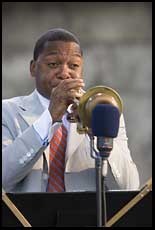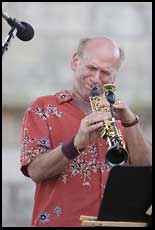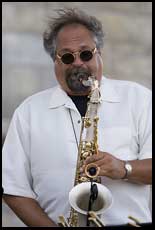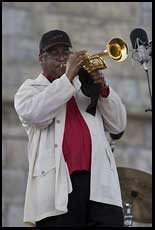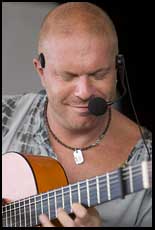 Wynton Marsalis wins the Best Dressed Award for being the only person at the festival, musician or otherwise, wearing a suit and tie. Brad Mehldau was probably the most surprising musician at the festival. He plays cerebral intricate piano and generally gives the impression that he'd rather be somewhere else. He might become the Glenn Gould of the jazz piano world! Eartha Kitt was the most inspiring performer (evening performance; I didn't bring my camera). She is 78 years old and dances with remarkable grace and energy in a dress slit up to the hip.
Audience (not on the phone)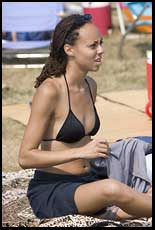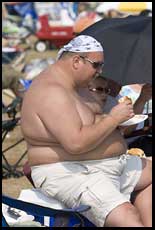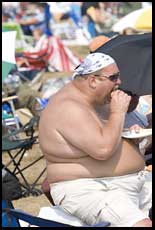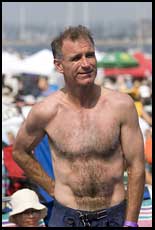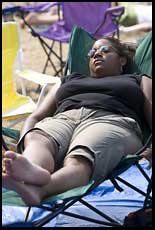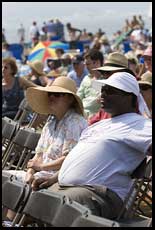 Audience (on the phone)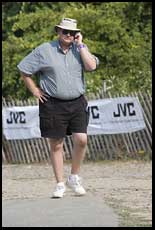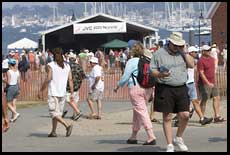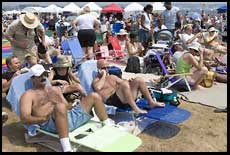 The Photographers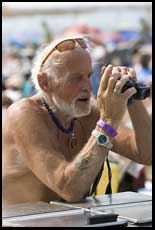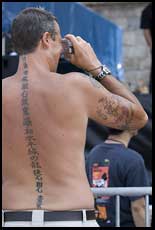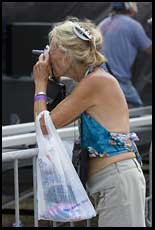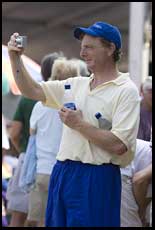 Logistics
If you're staying downtown there is at least one water taxi service. These only run every 30 minutes, however, and they can fill up. If you want to arrive on time it is probably better to drive and park or find a shuttle bus from downtown. Bring every kind of device that you can think of for warding off the summer sunshine, except the most obvious one of a beach umbrella, which is forbidden (folks on the lawn were setting up low sun shelters and regular rain umbrellas though). The second and third stages actually had a big tent and if you got there just at the end of an act you could usually barge in to get a seat in the shade (see photos below).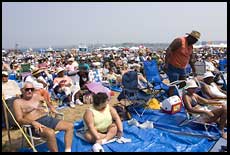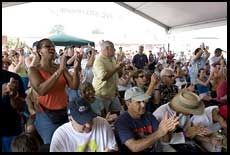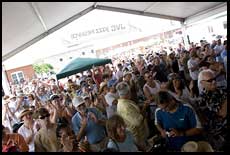 Driving down from Boston can take 3 hours on a Friday afternoon with heavy traffic on I-93 and also for the last five miles into Newport. Newport has a nice little airport (KUUU) with a 3000' runway, a slightly shorter crosswind runway, and a localizer approach that will get you down to within 528' of the runway. Thus in theory the festival would make a fine day trip for the small airplane pilot and friends. Newport is subject to a lot of summer haze and fog, however, so you might need to be prepared to go into Quonset State (KOQU; 7500' runway with ILS) or Providence (KPVD; I have had bad luck with Northstar, the FBO there).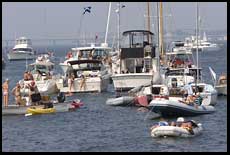 If you want to take photos you want to get a ticket in "Reserved Road D". This is four rows back from the stage and almost in the center. Any of the rows A through D is probably okay but it is better to be a little farther back so that you aren't looking up at quite as severe an angle and so that the press photographers don't block your view of the artists. Most of the photos on this page were taken with a Canon 70-200/2.8L image-stablized zoom lens on a cheap Canon digital single-lens reflex camera (20D) with a small sensor that results in an effective magnification at the longest length of a 300mm lens on a standard 35mm film camera. A handful of the Wynton Marsalis photos were taken with a 1.4X teleconverter attached to the 70-200.
If you don't mind somewhat reduced sound quality, a bit of seasickness, and a distant view of the artists you can listen to the main stage acts from a boat rafting offshore (see photo at right).
If you have cash or an ATM card, for that matter, you don't have to bring anything to the festival. There are vendors selling sunscreen, T-shirts, hats, crafts, food, (non-alcoholic) drinks. If you want to get rich rent a booth and sell big buckets of ice for folks to stick their feet into.
You can bring children to the festival and you can smoke cigarettes but you can't bring dogs. For a dog-friendly music festival try the Appalachia String Band Music Festival in early August in Clifftop, West Virginia.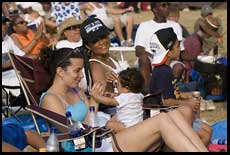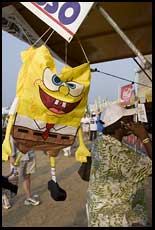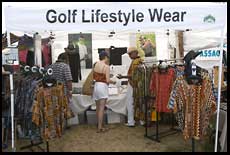 Most Unusual Facial Expressions
Patricia Barber and her group win the Most Unusual Facial Expressions Award. Their music was interesting but their faces were fascinating.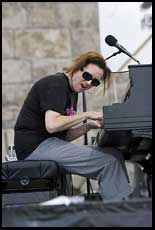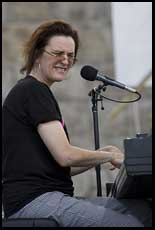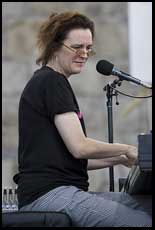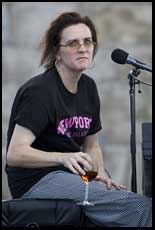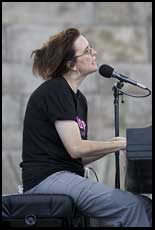 ---
Text and photos Copyright 2005 Philip Greenspun.
---
philg@mit.edu
Add a comment | Add a link