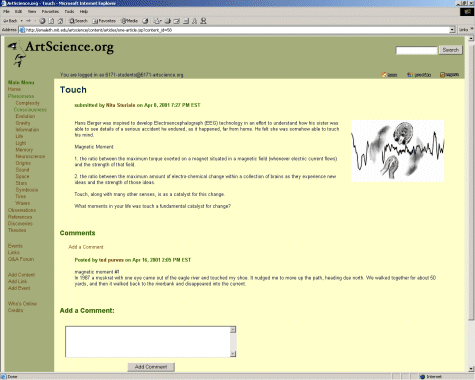 A Discussion About Touch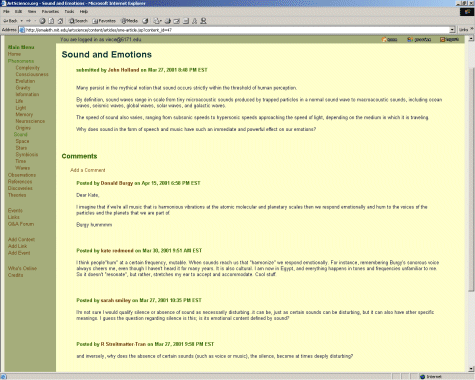 A Discussion about Sounds and Emotions
User Features
From the Artscience.org welcome page, users can follow links to login to the site, view articles posted in various natural phenomena topics, view links, events, or questions and answers, contribute new content to the site, give feedback to the administrators of the site, and view information about the history of the site.

Discussion mostly occurs around articles, but links and events may also be discussed. Members may submit articles (which may optionally include an image) about various natural phenomena topics. Members may also submit related links and events that may be of interest to other members, and they may add their thoughts about articles, links, events, or comments other members have submitted.

A question and answer forum is provided to answer any logistical questions about the site, for example, questions about how to do something on the site or comments about improvements that could be made. Users can also ask questions of each other to find collaborators for a project, determine where to begin a journal search, etc.

Each member has a profile that can be updated with their homepage url, a short bio, and an image. A member can elect to show his profile to all visitors or only to other members of the site. Each time a member's name appears on the site, it is a link to that member's page, which will show his profile (if he permits others to view it) and links to all contributions he has submitted to the site.

Visitors may search through content or members of the site. The search results will return a listing of any articles, links, events, comments, questions, answers, or users that matched the query. Users may also limit searches to only specific parts of the site or content that has been submitted within a certain time frame.