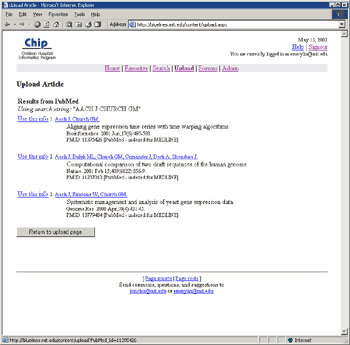 Article Upload Page (Larger Image)
Uploading Articles
A site won't be of much use if it doesn't contain any content. The upload facility on this site offers an array of options to the user. A user can always upload an article manually by providing a file and information like title, authors, and abstract. However, doing this for article after article can prove cumbersome. That's why the site offers two options that relieve the user of this burden: upload by text matching, and upload by Pub Med ID.
Upload by Text Matching
This option is the most ideal way to upload articles since it requires almost no involvement from the user. Once the user chooses an article to upload, the upload script automatically parses the text of the article and attempts to match it to an entry in the Pub Med database. The script returns a list of possible matches to the user. If the user finds a match, the metadata is extracted from the database and automatically inserted into the site database. This method returns the correct article nearly 80% of the time and will only improve as the text-extraction algorithms are refined.
Upload by Pub Med ID
Should upload by text matching fail, the user can provide a Pub Med ID. Once given this ID, the script automatically retrieves the article from Pub Med and inserts the metadata into the database.