teampsycho.com is the online home of Team Psycho, a Boston-area triathlon team and training group. The site supports an online community made up of the approximately seventy-five members of Team Psycho, the site's primary audience. Since coordinating large gatherings of the team members is very difficult, many members may only see each other occasionally at races. The Team Psycho web site is therefore an important tool for collaboration and communication among the team members. Unlike other triathlon web sites or print publications, teampsycho.com provides a full-featured system for recording and browsing results from triathlons, marathons, and other races.
Users of teampsycho.com belong to one of three classes:
Administrators - These users handle administrative tasks such as approving new content and recording race results and information about upcoming races.
Members of Team Psycho - Membership in Team Psycho is by invitation only and is limited to a group of seventy-five triathletes.
Non-members - Site visitors who are not members of Team Psycho can still use most of the site's functions, with the exception of the members-only discussion forums.
User Experience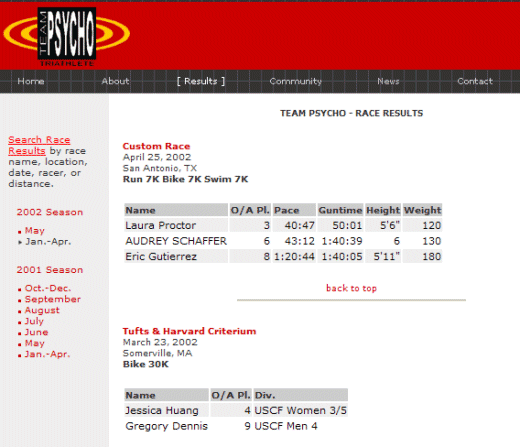 Race Results and Calendar
The race results page allows users to browse the results of recent races by year or month. Users can also search the race results by date, location, distance, competitor, or race name. The system for recording race results is extremely flexible and allows a wide variety of race statistics to be recorded. A calendar page displays information about upcoming races.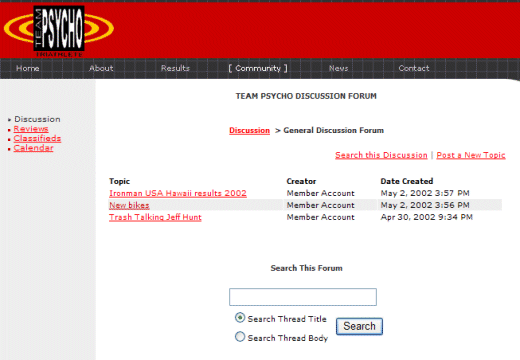 Discussion and Reviews
The members-only discussion forums offer members a place to trash talk each other, compare training notes, and discuss team activities. teampsycho.com also has a Reviews area where reviews of equipment, manufacturers, and races can be posted and commented on by other visitors.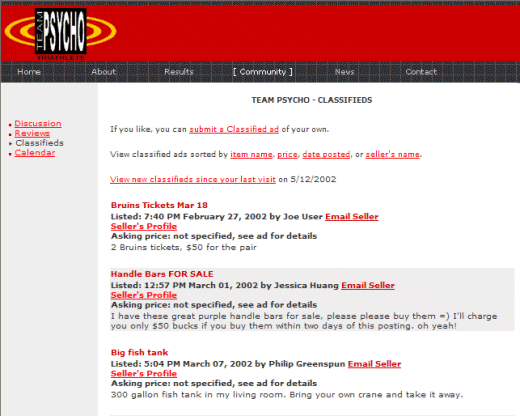 Classifieds
The Classifieds area allows site visitors to post classified ads to the site, useful for any team members looking to buy or sell some equipment. To prevent spamming, newly submitted classified ads have to be approved by an administrator before appearing on the site.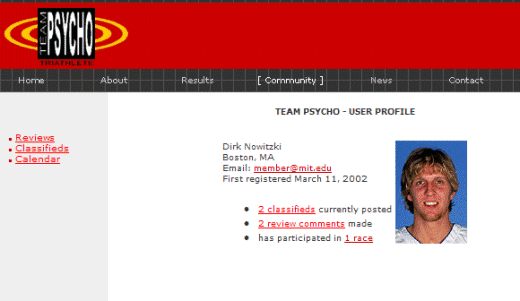 User Profiles
The user profile page provides a summary of a user's activity at the Team Psycho site. The profile page links to any reviews and discussion posts the user has written, shows the races that the user has competed in, and links to any classified ads the user has posted. Team Psycho members and administrators can choose to display their pictures in their profiles.
Full Site Search
The site search function is available in the upper-right corner of every page. The search returns a listing of any discussion forum posts, reviews, races, race results, and classifieds that matched the query.
Administrator Experience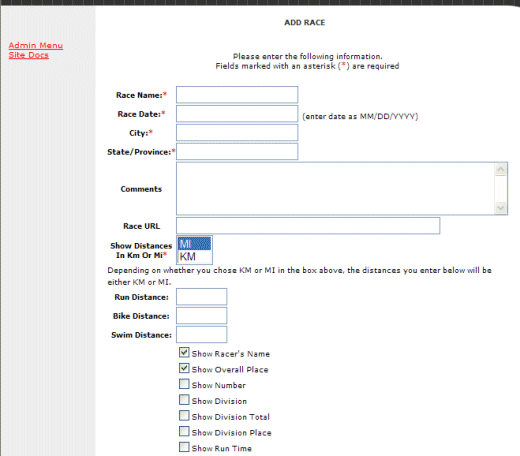 Recording Races and Race Results
The primary administrative activity is recording new races and results. When recording a race, the administrator chooses whether the race's distances are in kilometers or miles, and the administrator also chooses which result columns the race will use. For example, some races might only display an "Overall Time," while another race might display individual times for the run, bike, and swim portions of a triathlon. The race entry system provides twenty built-in commonly used result types and also offers the ability to add custom administrator-specified result types for total flexibility in result reporting.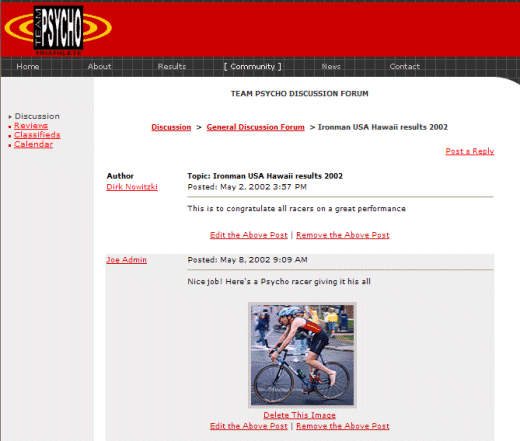 Forum Management
Administrators can edit or delete individual forum postings if the need arises. Administrators can also add or remove individual forums, although changes to the number of forums are expected to be rare.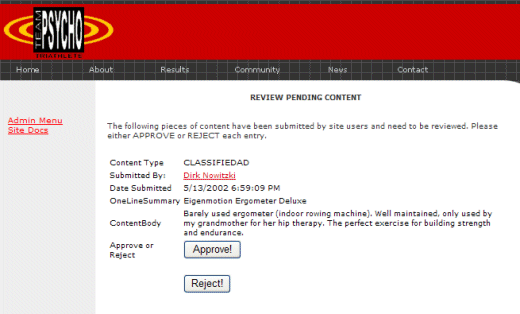 Approving New Classifieds
All classifieds must be approved by an administrator before appearing on the site. The main admin menu tells an administrator whenever there are new classifieds waiting for approval. An administrator can either approve or reject an ad, after which an email is sent to the ad's poster letting them know whether the ad was approved or rejected.