Key Features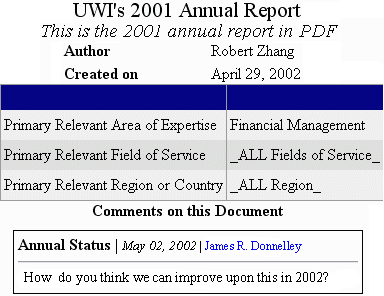 Document Properties
Document Archive is where UWI members can share documents with the rest of the organization. The archive implements a virtual file system on top of a RDBMS providing high reliability and ease of use. Users can attach attributes to an uploaded document enabling more intelligent searching. Each document can also collect and share comments from different users. This helps people with different perspectives to share their view.
Directory is a centralized place to find member and organization information. Directory provides detailed information about individual members as well as for organizations.
Member Survey is an online version of the UWI annual member survey. Bringing this service online enables instant access and analysis of the data. Instant access to member survey data results in vastly more efficient donor management for the organization.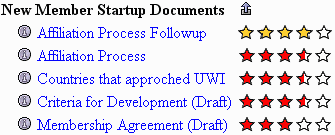 Document Archive with Ratings
User Rating system provides a custom tailored viewing experience for each user. Contents on the site are presented to a registered user based on his/her previous ratings compared with other users of similar preferences.
VoiceXML and WAP interface key features such as directory and content approval are accessible by phone and wireless devices.