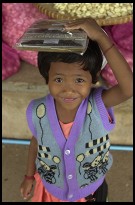 A Photographer's Guide to Bangkok
by Philip Greenspun; created 2001
---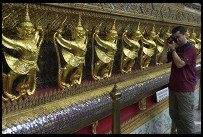 Suppose that you're anxious to explore Southeast Asia. Yet you don't want to get caught in the middle of a military junta suppressing the populace (Burma/Myanmar). You don't want to run afoul of the law if you happen to play a song by a Jewish composer (Malaysia). You don't want to be killed by unexploded ordnance (Vietnam). You don't want to be psychologically scarred by meeting people whose entire families were killed by the Khmer Rouge (Cambodia). You don't want to be out of reach of Western comforts (Laos). Where does that leave you? In Thailand, the best country for beginners to Southeast Asia. Thailand has a per capita income of around $7000 per year, an extensive network of paved roads, a comprehensive mobile phone service, and quite a few world-class hotels, resorts, and restaurants.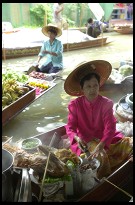 Bangkok itself is a sprawling mess of a city, rather like Los Angeles: pollution, heat, and traffic (plus the added bonus of high humidity). For a photographer, however, it is notable as (1) the home of some important temples and palaces, and (2) the gateway to the rest of Thailand.
Old Royal City
Start where the rest of the tourists start: the Royal Grand Palace and associated temples. Be careful to leave your heavy artillery back in the hotel, however. Signs in several places prohibit the use of video cameras and still cameras with film larger than 35mm--if you wanted to see a Hasselblad with a red X through it, this is the place. Hauling out a tripod would definitely be a good way to attract the attention of the ubiquitous guards, many of whom carry automatic rifles.
Just south of the Grand Palace is Bangkok's oldest and largest temple complex: Wat Po. Most of the structures date from around 1800. The main temple (Bot) is billed by Carl Parkes as "among the most elegant in all of Thailand and a masterpiece of Thai religious architecture." Tough to photograph, though, given the close quarters. The 46-meter long 15-meter high gilded Reclining Buddha is not to be missed though. Security is a lot less heavy in Wat Po than at the Grand Palace.
After touring all the sights within the Wat Po complex you're probably tired. Stop at the massage school against the eastern wall and treat yourself to a one-hour session.
With a new spring in your massaged feet, walk two blocks north and then two blocks straight west from Wat Po to the river. Grab the city ferry (2 baht or about $0.05) across to river to Wat Arun. If you've still got the energy and it isn't a Monday or Tuesday, take the ferry back across and catch a taxi or tuk-tuk for a 5-minute ride to the National Museum.
Damnern Saduak Floating Market
If you liked The Man with the Golden Gun (1973) , you'll love the floating market and long-tailed speed boats at the Damnern Saduak floating market, about a two-hour drive west from Bangkok. The authentic local-to-local action takes place starting at 0500. Busloads of tourists from Bangkok begin arriving at 0930 and disfigure the scene to a large extent. If you're serious about photographing the life of the canals and the Thai-to-Thai floating market, you should probably stay overnight at Ban Sukchoke Resort (+66 32 253044, fax 254301) and catch a boat to the market in the first light.
Kanchanaburi
If you're on a bus tour, Kanchanaburi is where you stop to see the Bridge on the River Kwai, made famous in Pierre Boulle's novel and David Lean's movie (1957) . If you're touring Thailand at a civilized pace, Kanchanaburi is where you'd stop for a week to take some boat rides, visit waterfalls in the local national parks, take a train ride on the railway whose construction killed 100,000 people.
The Allied War Cemetery is just a few minutes away from the bridge itself.
Nakhon Pathom
The first Buddhist settlement in Thailand was here in Nakhon Pathom, 54 km west of Bangkok, in the 6th century A.D. Any bus tour to the west of Bangkok will bring you back through this town to see the the world's largest chedi, 120 meters high and built starting in 1860.
Shopping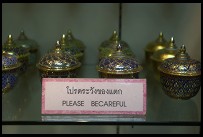 If you've got only a few hours in which to accomplish a lot of shopping, concentrate on the area near the World Trade Center mall, just east of Siam Square. The mall itself contains the Isetan Japanese department store. Across the street is Narayana Phand, the largest handicraft emporium in Thailand. Between the Regent Hotel and Grand Hyatt Erawan hotels is the Peninsula Plaza with high fashion boutiques and Asia Books, where you can find a lot of English titles.
If you've a special interest in antiques and reproductions, stop at the River City shopping center, which is indeed on the river and right next to the Sheraton Royal Orchid Hotel.

Hotels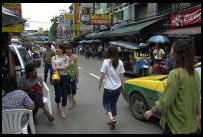 If you're young, poor, and in love with crowds and noise you'll want to stay in one of the famous backpacker guesthouses on Khao San Road, a short walk from the sights of the Old Royal City. To get a room, the guidebooks caution that you must arrive early in the day. The sidewalks are so packed with oversized foreigners shopping for trinkets that you'll literally be forced into the street if you want to get from one end of the block to another. If you're interested in peace, quiet, or authentic Thai culture, however, you'd do better to stay in absolutely any other part of the city.
If you're old and rich, most people would tell you to stay on the river in the Oriental Hotel where you can still see the ghosts of Somerset Maugham and Conrad. Take the advice if you don't mind the fact that the these ghosts today are mostly obscured by mobs of fat New Yorkers clamoring for help from the concierge. Locals aren't fond of the Oriental, claiming that the rooms are tiny and not worth the price.
If you want to avoid Bangkok's horrific traffic and get to and from tourist attractions via the river, stay at the Shangri-La, just a few blocks downriver from the Oriental. This is a much more spacious hotel than the Oriental and nearly all the common areas and restaurants enjoy views of the river.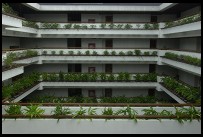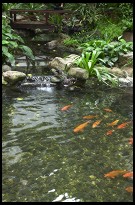 Any hotel built around a koi pond is my kind of place and as an added bonus the Regent Bangkok (not the "Indra Regent") is in most respects what you'd expect from the Four Seasons chain. The one area where the Regent goes way beyond expectations is the 25-meter outdoor pool. An area where it falls short is Internet connectivity. Their Web site advertises "Internet connection" in the rooms so you arrive expecting to plug an Ethernet cable into your network card and blast away at 1.5 Mbits. Instead what is delivered is 28.8K modem-based connectivity. At $15 per hour! The throughput actually delivered was closer to 2K bits per second and it took two or three hours to download a batch of email messages. If business requires you to work in the center of town, or if you love shopping malls, the Regent is a great choice at about $170 per night.
Restaurants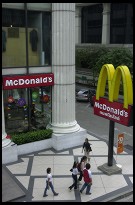 The good news for gourmets is that McDonald's is well-established in Thailand. The bad news is that KFC is even better established.
Even when you can't find a McDonald's, the quality of food is uniformly very high and prices are quite low. Food and water safety are quite good but Thais don't drink tap water. Bottled water is readily available and absurdly cheap. Given that a meal in the fanciest hotel costs only $10-20 per person, there isn't much reason to take a chance on a dirty restaurant.

Guidebooks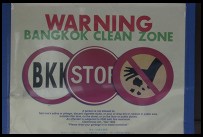 For cultural background and a personal perspective, pick up Bangkok Handbook (Carl Parkes; Moon). Dorling Kindersley Thailand contains a large Bangkok section and thumbnail photos of all the relevant sights.
No matter how many guidebooks you have, Bangkok will defy your attempts to orient yourself. The solution is to immediately buy a good map. Nelles Maps's Bangkok is excellent. Guidebooks will tell you to get Nancy Chandler's or "Groovy Map and Guide of Bangkok".

Real Books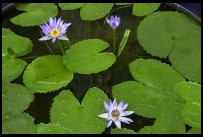 The classics are Joseph Conrad's Lord Jim (1900) and Somerset Maugham's The Gentleman in the Parlour (1930). A more modern, if twisted, perspective is provided by Spaulding Gray's Swimming to Cambodia. The action in Alex Garland's The Beach moves very quickly from Bangkok down toward the islands beloved by European backpackers. But if you can't sleep on the plane, this is an involving book.
If you're coming to Thailand because you've gotten sick of paying $400/ounce for good dope back home, 4000 Days -- My Life and Survival in a Bangkok Prison (Warren Fellows) will put you right off the idea.

Getting There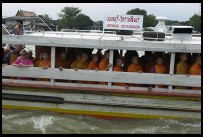 There are no nonstop flights to Bangkok from the United States. If you fly from the West Coast you'll connect through Japan, Korea, or Hong Kong. If you fly from the East Coast, you'll connect through a European hub. A relatively painless way to make the trip from the East Coast of the US is a morning British Airways flight to Heathrow. After an hour or two, you connect in the same terminal to an 11-hour nonstop bound for Bangkok. If you get yourself a high-end ticket on this leg, you'll be able to go to sleep immediately upon leaving Heathrow because it is 4:00 am Bangkok time as you pull away from the gate. You'll arrive at 4:00 pm Bangkok time. If the BA plane is full, there is a Qantas flight that leaves at about same time (10:00 pm).
Whichever coast you start from, unless you're in first class and doped up with sleeping pills, the trip will seem endless. If you've got the time, you should probably stop for a few days in one or two places along the way.
A taxi from the airport to downtown is only about $10.
When departing you might want to consider allowing yourself an extra 30 minutes or hour at the airport. You'll find an inexpensive foot massage concession on your way to the gates.
Getting Around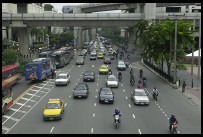 Taxis in Bangkok are cheap, with a 20-minute ride seldom costing more than $2 or $3. Unfortunately, the 20-minute ride might only take you four or five blocks in rush hour. Fortunately, all taxis are air conditioned. Unfortunately not all taxis have meters and negotiating with taxi drivers is annoying--wait for a cab with a "Taximeter" sign on the room. If you like the sensation of movement you may prefer to take the Skytrain, an elevated rail system, or river boats.

Survival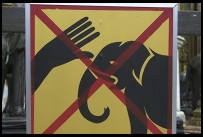 American and EU citizens don't need a visa to visit Thailand for up to 30 days. If you're going to stay longer, obtain a visa beforehand from the Thai consulate in your home country. In theory you'll legally obliged to arrive with at least US$250 in cash or traveler's checks.
The time in Bangkok is GMT+7, i.e., seven hours ahead of London and therefore 12 hours ahead of New York. Thus if it is 9:00 am in New York, it is already 9:00 pm in Bangkok.
Electricity in Thailand is 220V at 50 Hz. Mechanically, the standard plug seems to be like the European two rounded prong plugs. Most laptop computer and digital camera power supplies can function on this power and at most you'll need a mechanical adaptor. Business hotel rooms often are equipped with an American-style plug near the desk.
The country code for Thailand is 66. If you're European or are an American GSM tri-band mobile phone owner, you'll find excellent GSM coverage throughout Thailand. Keep in mind that they use the European frequencies of 900 and 1800 MHz so an American Voicestream phone won't work unless you've had the foresight to get a special multi-frequency model.
Money is the baht. You can get cash with an American ATM card from just about any bank machine. The exchange rate was 44 baht per dollar in March 2001.

Going Beyond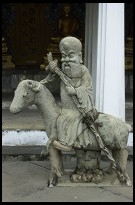 Thailand is a bit larger than California and packed with 60 million people. Hedonistic Eurotrash throng the beaches of the south, many of which are indeed beautiful and some offer fine coral reefs to boot. But educated seekers of culture tend to sing the praises of the hilly north, centered around the city of Chiang Mai. In fact, if your time is limited you might want to skip Bangkok altogether and just get to Chiang Mai as quickly as possible. According to a friend of mine, who has made this trip five times, the best way to go from Bangkok to Chiang Mai is by train: 2nd class air conditioned sleeper car. This leaves Bangkok around 6:00 pm and gets into Chiang Mai in the morning.

Learning Thai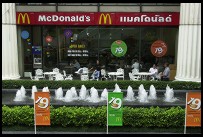 The Thai language is a challenging tonal language like Chinese. If you want to amuse yourself by learning it, certainly the average Thai will be amused as well. Just remember that with tonal languages bad pronunciation means that you're speaking different words.

Snapshots
More
---
---
Text and pictures copyright 2001 Philip Greenspun. These photos were taken with a Nikon D1 digital SLR and 17-35/2.8 lens (whose effective focal length is multiplied by 1.5 due to the small imaging sensor in the D1).
---
philg@mit.edu