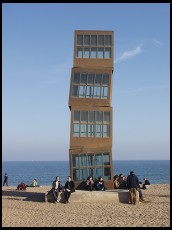 A Photographer's Guide to Barcelona
by Philip Greenspun; created 2001
---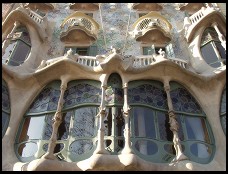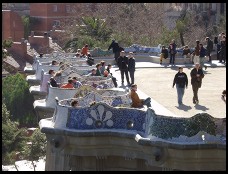 Barcelona is a medieval city surrounded by baroque quarters surrounded by the finest Modernista buildings (Spanish Art Nouveau, notably the architecture of Antoni Gaudi). For the 1992 Olympic Games the city was blessed with a wealth of modern recreational facilities.
With its sunny Mediterranean climate and winter temperatures in the 50s and 60s, Barcelona can be enjoyed as a weekend escape from gloom and grey. The city is also a good base for exploring the small towns and wild coast of Catalonia.

Safety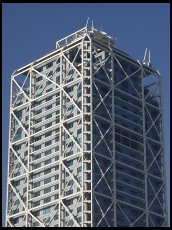 Here's an excerpt from a 4-star hotel's information guide: "Supervise and control your luggage: DO NOT leave it unattended even for a minute. Be extremely careful with your baggage while paying for your stay." I would have laughed if I'd not recalled that my parents had their carry-on bag stolen, right from the lobby, while checking into a $150/night hotel near La Rambla. Their experience is reflected in the architecture of the Hotel Arts, built for the 1992 Olympics. From the street, the skyscraper looks like a fortress. There is a moat and no visible lobby. If you drive into the interior of the fortress you find a small elevator area and some bellmen. Take the elevator up one floor and you'll find yourself in the lobby.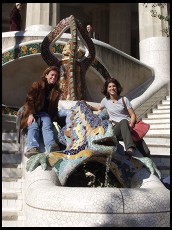 The officially published city guide cautions people with "handbags, cameras, video cameras, etc." The same guide warns you especially against people offering flowers on the street getting close to you or someone saying that you have a stain on your clothing. The thieves of Barcelona seem to be operating a one-city crusade to recover from English tourists all the treasure lost to the British Navy in four centuries of war (native Barcelonans blame most of the crime on Morocan immigrants, in which case much of the booty would drain out south across the Straits of Gibraltar). Eve and I went to take some pictures in the Parc Guell. Within minutes of our arrival, a pickpocket had opened her purse and taken her wallet. The Old Town, away from La Rambla, is particularly dangerous at night. A lot of restaurants and cafes try to make sure that their patrons still have enough to pay the bill at the end of the night by hiring private security guards to stand out front.
The Dorling Kindersley guide advises keeping cards and money in a belt. The official guide advises leaving your passport with the hotel and carrying a photocopy. If you're concentrating on photography, your chances of being a victim rise to nearly 100 percent. If it is cold enough for a jacket, choose one with a zippered interior pocket and use that for cards and most of your cash. If the weather is hot, get a money belt. Women should not carry anything valuable in a purse. Unless you have an assistant whose only job is to safeguard a camera bag, don't carry extra lenses. One camera. One lens. In your hands at all times.
Note how the girl in the image at left clutches her purse (Parc Guell).

Modernista Architecture and Antoni Gaudi
Barcelona offers many of the charms of other European cities, including a cathedral, Baroque palaces, and a smattering of modern successes. Uniquely, though, Barcelona displays the work of imaginative architects working from 1885 through around 1910. This was the Catalonian response to the Art Nouveau movement and the best-known architect is Antoni Gaudi (1852-1926). In one day you can see most of the important Gaudi buildings.
Start at the Sagrada Familia, the church that Gaudi started in 1883 and that still isn't done. In the summer, get there at 9:00 am sharp to avoid long lines. If you are stuck on the line at the ticket booth, be wary of women trying to pin flowers on your clothing. Once inside, you have the opportunity to take an elevator or walk to the top of one of the towers on the east side of the church. If you have any fear of heights or are claustrophic, skip this part of the tour. The towers are very narrow, the stairs within the towers are only wide enough for one person, and the bridges between the towers are narrow and packed with people. Even if you're not normally phobic, you'll probably be a little uneasy.
The museum in the basement of the church is worthwhile. It includes a model used by Gaudi to determine the structure that would support itself using the minimum material.
Hop a cab to the Parc Guell, in the northeast corner of downtown. Remember to watch your camera, wallet, etc., inside the park! The Parc Guell is built into a hill overlooking the city and you can see down to the Mediterranean. In some ways this is the most practical spot in the city for making photographs of Gaudi's work. You won't need a perspective correction lens. You won't have trouble backing up from the buildings. There won't be a lot of powerlines, cars, and street signs in the frame.
Hop a cab to the Casa Mila, an apartment house designed by Gaudi. You can tour a museum on the top floor, the roof with its spectacularly strange sculptures (one wonders if the building residents wouldn't have preferred a sundeck), and an apartment with period furnishings.
Walk three blocks south from Casa Mila to the Illa de la Discordia (Island of Discord), a single block along the Passeig de Gracia containing four Modernista buildings by different architects. The most interesting is Gaudi's Casa Batllo.
The Beach Scene
To photograph people enjoying the beach, start in Barceloneta, a complex of narrow streets and houses built for the working class. The district is surrounded by a yacht harbor on one side and a sandy beach on the other. There is a covered market in the main square. Barcelonans predict rapid gentrification of this district but in the meantime you can get some photos of old neighbors hanging out laundry and chatting. Unless it is raining, skip the Museum of the History of Catalonia (photography prohibited; most signs only in Spanish and Catalan).
The Old City
The oldest part of the city is the area around the cathedral, built starting in 1298. The streets are narrow and open into small squares.
Skip the Picasso Museum but do go into the Museu d'Art Contemporani, a 1995 success by Richard Meier, architect of California's New Getty, just off La Rambla. The building is much nicer than the art; photography permitted without flash or tripod.
Note that, according to the concierge at my hotel, the old city is not safe at night.
Montjuic
Take a taxi to the Fundacion Joan Miro, up on the hill in Montjuic. Photography is permitted without flash or tripod.
A five-minute walk will take you to the Olympic stadium and its unusual radio tower. From there a rather tiring 20-minute walk, with occasional views out to the sea, will take you to Poble Espanyol (Spanish Village). This is a strange collection of 116 reproduction buildings from different cities in Spain.
Parc de la Ciutadella
Parc de la Ciutadella, just to the east of the Old City, contains a small zoo, several museums and important Modernista fountains and sculpture.
La Rambla
One of the most famous streets in Spain, La Rambla runs through the Old City right down to the harbor. The wide center strip is devoted to newsstands, flower merchants, performers, and hordes of pedestrians. On either side of this strip are busy lanes for cars and buses. Next to the car/bus lanes are shops, restaurants, hotels, and the twice-burned opera house.
Photographic Exhibitions
Pick up a copy of Guia del Ocio ( www.guiadelociobcn.es) at a newsstand for full listings of photography shows at galleries and museums.
Just for Fun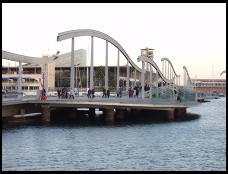 The one absolute must for nightlife in Barcelona is a concert at the Palau de la Musica Catalana, a Modernista triumph in the Old City. Stop by the hall during the daytime to buy tickets at the box office and also to by tickets for a guided tour in English during the day. The acoustics of the hall are superb and any group booked into the Palau is going to be good. It is small hall by modern standards so don't worry too much about where you sit. The 1980s renovation included the installation of air conditioning.
It really isn't much of a photographic subject, but L'Aquarium shouldn't be missed. It is the largest aquarium in Europe and includes two long underwater tunnels. The aquarium is open until 9:00 pm and is on the harbor, behind the Maremagnum shopping center, directly across a footbridge from La Rambla. Flash photography is prohibited. If you're determined to take some photos, be prepared with a fast lens and ISO 800 or ISO 1600 film.

For English movies, remember to look for "VO" or "VOS" in the listing, unless you enjoy a dubbed-in-Spanish or dubbed-in-Catalan soundtrack. The only cinema devoted to "version original" movies is Icaria, a 15-screen complex in the basement of a shopping center just northeast of the Hotel Arts (Port Olimpic).
For more adventurous nightlife, pick up a copy of the Time Out Guide to Barcelona.
Shops and Photo Labs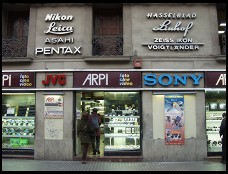 For standard professional camera gear, visit ARPI on La Rambla. Since they carry Hasselblad, Linhof, and Rollei they can presumably direct you to the best labs in town. For one-stop shopping, including a traditional souvenir selection, try the huge department store El Corte Ingles ("The English Cut", referring to its origins selling men's suits) on Placa Catalunya (north tip of La Rambla).
For buying food and taking photos of people buying food, La Boqueria on La Rambla is unparalleled.
For an Internet fix, visit the 24-hour easyEverything cafe on La Rambla.
Hotels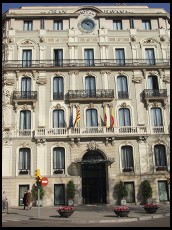 If you need Internet connectivity from your room, you're out of luck! As far as I can tell, there aren't any hotels in Barcelona with 10base-T jacks in the rooms.
Most people would tell you to stay on or just off La Rambla. If you want to step out of your hotel into a crowd, a hooker (after 10:00 pm), a pickpocket (anytime), etc., this is good advice. If the crowds of La Rambla, especially in the summertime, put you off, consider going south to the port or north into the Eixample neighborhood. Remember that Spain is a country of mopeds; any hotel room overlooking a street will be noisy.
I've stayed in the Gran Hotel Havana on Gran Via de les Corts Catalanes 647 (+34 93 412 1115, fax 412 2611). It is just north of the Old City, a 10-minute walk from La Rambla, a 10-minute walk from the major works of Gaudi, and convenient for driving and parking. The interior is luxurious wood and green marble, with a glass atrium illuminating the corridors. If you like the neighborhood and are on expense account, the Ritz is across the street.
If you want to wake up and look at the ocean every morning, Hotel Arts is for you (+34 93 221 1000; fax 221 1070). There are 500 rooms packed into one of the tallest buildings in Spain, smack on the Port Olimpic yacht harbor. Minuses: you'll be taking a taxi or the subway to the center of town; once you're in the hotel, you might as well be in Las Vegas.
Readers: If you've stayed in a Barcelona hotel and liked it, please go to the bottom of this page and click the "add a comment" link to tell the rest of us about it. Please make sure to include the phone number.

Restaurants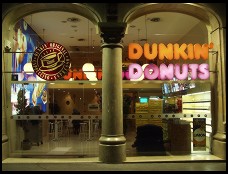 The Michelin Red Guides are the most reliable source for restaurants throughout Europe. If you care about food, you'll definitely want the Michelin Red Guide Spain and Portugal . To an American palette, Catalan cuisine seems to be based on salt, seafood, and pork. If you like paella, you'll be happy here. If you yearn for broccoli, you might have to buy it yourself at La Boqueria, the covered market off La Rambla.
Established in 1870, Restaurant Puda Can Manel is one of the best places in town for seafood. It is in Barceloneta at Passeig Joan de Borbo, 60. This street borders the harborfront. Call 93 221 50 13 to reserve a table. The outdoor tables are ideally positioned to catch afternoon sunshine.
Right on La Rambla you won't find much better than Amaya at #20, close to the column of Christopher Columbus. Call 93 302 1037 for reservations. It looked to me as though they might have a non-smoking section.
All of the fast food chains are here. Fresh and Ready is a sandwich and salad chain with an English menu and a reasonable selection of vegetarian food. It is the Barcelonan equivalent of London's Pret a Manger.

Guidebooks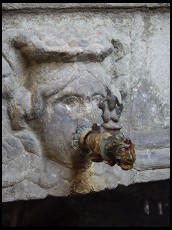 Dorling Kindersley's Barcelona and Catalonia is below the standard of the publisher's other guidebooks, but still useful for a photographer because of the small snapshots of each site. Thus you're able to make an informed decision as to whether or not the journey will be photographically worthwhile.
For details on art and architecture, get the Blue Guide to Barcelona . TimeOut Barcelona should have the most up-to-date nightlife and beach scene discussion. You'd think that Lonely Planet would be good for people on a low budget but the Amazon reader reviews indicate otherwise (and also warn about being "violently mugged less than a block from my hotel off of La Rambla").
For authoritative restaurant and hotel recommendations, the Michelin Red Guide is what you want. Sadly, this is only available in a big book covering the entire Iberian Peninsula.

Getting There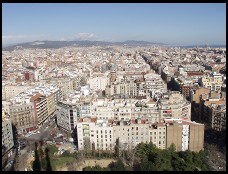 You can get a non-stop flight into Barcelona from most European capitals. A taxi from the airport to downtown is about $15.
Getting Around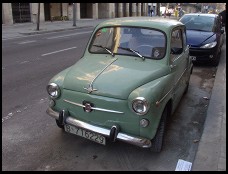 Taxis in Barcelona are inexpensive but you've got about a 1 in 10 chance of a driver taking you around in circles. Unless you're an absolutely fluent Spanish speaker, point to your desired destination on a map. The subway and bus system is comprehensive.

Survival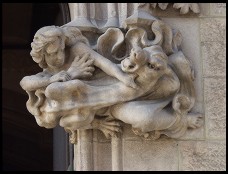 American citizens don't need a visa to visit Spain.
The time in Barcelona is GMT+1, i.e., six hours ahead of New York. Thus if it is 9:00 am in New York, it is already 3:00 pm in Barcelona.
Electricity in Spain is 220V at 50 Hz. Most laptop computer and digital camera power supplies can function on this power and at most you'll need a mechanical adaptor, which you can get at Radio Shack before you leave, from the front desk at better hotels, or from a tourist shop.
The country code for Spain is 34.
Money is the peseta rather than the euro. You can get pesetas with an American ATM card from just about any bank machine. The exchange rate is usually around 180 pesetas per dollar. After January 1, 2002 the Spanish will start using Euro bills and coins.

Going Beyond
If you rent a car, you'll find that a 100-mile drive from Barcelona will take you to some of the most interesting sights in Spain. Catalonia has an interesting coastline, particularly to the north. Little villages and monasteries dot the interior.
Learning Spanish
You can get around the tourist areas with English but you'll find a lot of strange food on your plate and conversations will be limited. The average Barcelonan is not a fluent English speaker. Partly this may be due to the fact that the population is already bilingual, speaking Spanish and Catalan.
Catalan is an ancient language and, despite having been banned by Franco, is spoken by 8 million people today. So you might want to pick yourself up a copy of Teach Yourself Catalan/a Complete Course for Beginners . On the other hand, if you intend to spend a lot of time learning one of the languages of Barcelona, you'll probably pick Spanish. Pimsleur tapes are best but remember that you'll need 30 minutes for 30 days to listen to the cassettes or CDs (Amazon sells Spanish I on CD , Spanish I on cassette , Spanish II on CD , Spanish II on cassette , Spanish III on CD , and Spanish III on cassette )

Cultural Preparation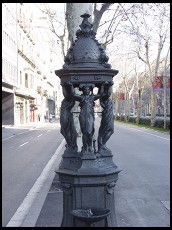 George Orwell wrote about Barcelona in the difficult civil war years: Homage to Catalonia . Robert Hughes, art critic and author of one of the best histories of Australia, has written a massive history of the city: Barcelona . To inform yourself about the unique architecture of the city, you might want to visit the library and pull out some books on Antoni Gaudi, e.g., Gaudi of Barcelona .

More
---
philg@mit.edu