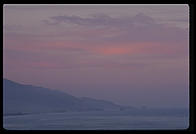 Central Coast
---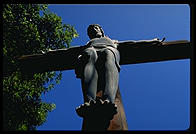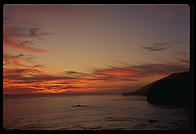 Santa Barbara
Santa Barbara is renowned for its mission, one of the largest and most graceful in the California chain. I visited at 7:30 a.m. on a Saturday when it was functioning as the parish church; the character changes quite a bit at 9 a.m. when the tourists flock in. The mission was founded in 1786, suffered an earthquake in 1812, and was rebuilt in its current form in 1820.

Another prime Santa Barbara tourist spot is Stearns Wharf, a half-mile long pier cluttered with shops, restaurants, tourists, locals fishing, and greedy afraid-of-nothing pelicans.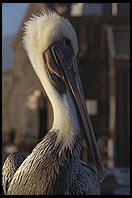 The Michelin Green Guide recommends a 2.5 day stay in Santa Barbara to see the sights, but I can't for the life of me imagine why. There is allegedly a nice art museum and the view from the top of the courthouse, but really one day should be enough; save your time for San Francisco or the National Parks.
Ronald Reagan and Michael Jackson and lots of other famous rich people have ranches in the coastal mountains behind Santa Barbara.

Morro Bay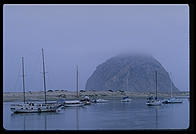 Morro Bay is where Highway 1 hits the coast. Below Morro Bay the coast is completely pristine and untouched by human hands unless you count one huge nuclear power plant. That's right, Diablo Canyon was shoehorned into the one unspoiled part of the coastline. Oh well.
I slept right across the channel from Morro Rock, a 576' high volcanic lump sitting right on the edge of the water, so that I could get a great picture at sunrise. As you can see for yourself, I failed miserably.
Don't miss downtown San Luis Obispo and its mission on your way to or from Morro Bay.
Cambria
Cambria is 19 miles north of Morro Bay and just shy of Hearst Castle. Everyone says that this is the place to get "culture" along the coast. What Southern Californians mean by culture, though, is shopping. That's what Cambria is. A bunch of shops and a few places to sit with an espresso. Cambria is inland from the highway, but there is some nice undeveloped land on the other side that makes for a good stroll.
San Simeon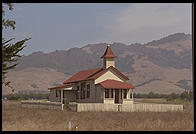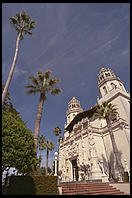 San Simeon is most famous for being the home to Hearst Castle, built by William Randolph Hearst from about 1919 to about 1946. It is now a California State Park and it costs $14 to take one of four one-hour tours. Bill Gates and his wife paid $500 for a private tour; they were looking for some decorating ideas. If you visit the Getty Museum in Malibu and then the Hearst Castle, you'll come away saying "there's a big difference between being a billionaire and a millionaire." Even if Hearst didn't have the kind of quality booty that Getty collected, he sure knew how to live. Home movies shown at the Castle demonstrate that William Randolph Hearst was surrounded constantly by friends, a disproportionate number of whom were young female movie stars.

Just north of the castle, you'll find a big group of expert windsurfers. They surf the big waves that roll in and then use windpower to get back out quickly. A lot of them catch 10' or more of air on the way out. My friend Jim broke his ankle this way and then ended up dragging himself and his board about a mile back up the coast to his car. He knew that if he went to the hospital, they'd cut off his $300 custom-made wetsuit, so he pulled it off over his broken ankle himself. Jim is a real man.
"Elephant seals are great because they show you what life is really about. Waiting around until you get a chance to fuck." Paul is my most intellectual friend. He goes to all the lectures around universities because he's genuinely curious. Right now he's getting a PhD in experimental psychology at Stanford and this was the kind of thing I should have expected him to say when I showed him my snapshots.
About 500 yards north of the windsurfers, over some land owned by the Hearst Corporation (lightly fenced), is a big, relatively new, colony of elephant seals. Up at Año Nuevo State Reserve you have to buy a ticket at MISTIX (used to be Ticketron) and go on a guided tour through some fenced pathways with rangers. Twenty years ago you could walk right up to the seals even at Año but allegedly a couple put their baby on one of the seals for a photo. The seal randomly rolled over and crushed the baby. That's the urban legend anyway. Here in San Simeon on a Sunday I had the colony all to myself and nothing but fear of a 1-ton animal squashing me like the bug that I am kept me from strolling right up in their faces (there is allegedly a California state law against getting closer than 15').
Big Sur
The Central Coast is really only dramatic for about 30 miles. It starts about 30 miles north of the Hearst Castle and ends around the "town" of Big Sur. This is where you get the huge cliffs, big boulders in the water, and huge waves pounding the coast. This is also the home of probably the nicest hotel in California, the Ventana Inn. I stayed for one night, which wasn't enough to begin to let the peace of the place seep into me, to fully enjoy the range of massage services offered, and to try every dish on the menu in the restaurant, the best on the coast.
Carmel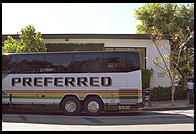 I don't read science fiction. I know that H.G. Wells and Henry James were considered comparable talents in their day. I know that some of the best writers today work in this genre. It is just that after 10 years at MIT, reading a SciFi novel to me falls into the same category as wearing polyester, sporting a pocket protector, and wrapping masking tape around my eyeglasses. Nonetheless, so many people told me that I had to read Snow Crash that I did. The first part of the book is brilliant, detailing a society where government authority has eroded to the point that everything is privatized. The military has been sold off, the police replaced by security guards, and jails run by franchises such as The Clink. People with any money live in BurbClaves, quasi-national entities surrounded by fences, with their own laws and you need a passport to get in. Carmel is America's first BurbClave.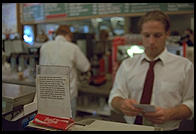 There are laws against virtually everything in Carmel. Until Clint Eastwood came in as mayor, it was illegal to sell ice cream cones because they might result in litter. Now there are signs admonishing people not to buy food "to go" and eat it in parks because it might result in the city's resemblance to an upscale shopping mall being reduced. Perhaps you'd just like to drive your car around and look at the nice houses and ocean. You've heard that this 17-mile Drive is nice. Oh, but there's the gate. Don't have your passport proving citizenship in the BurbClave? You'll have to pay $6. If you take a picture of a cypress tree, make sure you don't try to use it for much. The Lone Cypess Tree is trademarked.
If you like to shop, Carmel has a Saks Fifth Avenue downtown plus hordes of boutiques and art galleries selling a lot of work by accomplished artists. If that isn't enough, there are several big shopping malls back by Highway 1. There are so many real estate offices in Carmel that you'll be constantly reminded of the question "Why is there so much garbage in New York and so many real estate agents in California?" [answer: because New York had first choice]
Among all of these horrors, Carmel does have a few treasures. One is the 1790's mission, where Father Junipero Serra is buried. Another is Point Lobos State Reserve, a hard-to-get-into park just south of the town where Ansel Adams, Edward Weston, and a lot of other great photographers roamed with their view cameras (Note: these guys also roamed around the park with naked models, something I wouldn't recommend today because the place is packed with tourists). Finally, there is the Carmel Camera Center, a fantastic photo lab right in downtown. They do C-41 (regular print film) in 1-hour, even with 5x7 proofs. They do E6 (slides) in two hours, though it is roller transport so I don't trust them. They do cheap, fast, and excellent quality reprints here so this is the place to manufacture your own postcards to send to friends.
Carmel has lots of hotels but if you stay here instead of in Big Sur, it means that you have an asphalt soul.
The Carmel Mission is one of the chain's nicest...
Point Lobos:
Monterey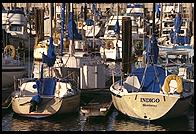 Monterey has a beautiful bay and a nice aquarium and a bunch of classic California architecture. Somehow all of the grit and interest that John Steinbeck chronicled in Cannery Row (1945) is gone. A really good reason to hang out here is to SCUBA dive in the kelp forests off the coast. My limited experience diving has been in Hawaii, the Caribbean, and Australia so I just can never screw up the courage to plunge into 50 degree water.
The biggest tourist attraction is the aquarium:
But there is also the wharf...
Giant Artichoke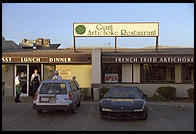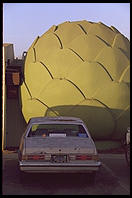 Castroville is home to the Giant Artichoke, my favorite restaurant on the coast. You must try the artichoke soup, fried artichoke hearts, artichoke burgers, ... you get the idea.
The End (sort of)
At Santa Cruz, you can choose to continue up Route 1 to San Francisco or go inland over Highway 17 through San Jose.
---
philg@mit.edu