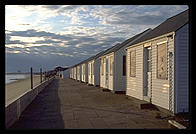 Cape Cod
by Philip Greenspun; created 1990-2000
---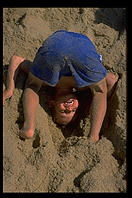 "They commonly celebrate those beaches only which have a hotel on them, not those which have a humane house alone. But I wished to see that seashore where man's works are wrecks; to put up at the true Atlantic House, where the ocean is land-lord as well as sea-lord, and comes ashore without a wharf for the landing; where the crumbling land is the only invalid, or at best is but dry land, and that is all you can say of it."
-- Henry David Thoreau, Cape Cod
Cape Cod is flatter than much of Kansas, more crowded and faster paced than many suburbs, and the water is generally too cold for swimming. Why then is it such a popular vacation spot? I'm not sure. I don't think the Cape can work its magic over a long weekend. Its charms are out of sync with the modern work hard/play hard ethos. You need to spend enough time there to appreciate the soft light and gentle scenery. The best way to enjoy the Cape is to rent a house on the beach or on a pond, sit in a rocking chair, and work through a stack of novels. A few parts of the Cape are immediately attractive, though. My favorites are the Outer Cape with its dunes, Provincetown for its interesting culture, Martha's Vineyard for its island culture, and Nantucket because I've never been there but it sounds peaceful and allegedly the rich people haven't been able to assert ownership of every scrap of sand.



The Dunes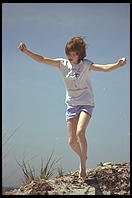 "It is remarkable that the Pilgrims (or their reporter) describe this part of the Cape, not only as well wooded, but as having a deep and excellent soil, and hardly mention the word sand. Now what strikes the voyager is the barrenness and desolation of the land. ... We did not see enough black earth in Provincetown to fill a flower-pot."
-- Henry David Thoreau, Cape Cod
This scene of natural beauty ... is entirely unnatural. Cape Cod was covered in pine trees until the pilgrims came and deforested it. Without the trees to stabilize the soil, wind heaped up sand into impressive and scenic dunes. Nature is gradually reclaiming the dunes, though, and it will eventually revert to forest.
Barren though the dunes may seem, they've been the cradle of much American art. Eugene O'Neill, Jack Kerouac, Tennessee Williams, and Jackson Pollack have all sojourned in the famous "dune shacks" that are now historic landmarks though they look more like wrecks.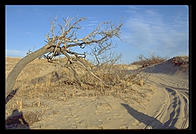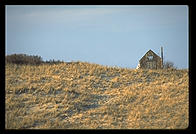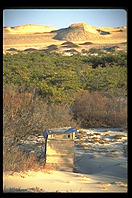 [Note: the dunes are at the very tip of the Cape.]
Provincetown
"This was the most completely maritime town that we were ever in. It was merely a good harbor, surrounded by land, dry if not firm.--an inhabited beach, whereon fisherman cured and stored their fish, without any back country. When ashore, the inhabitants still walk on planks. A few small patches have been reclaimed from the swamps, containing commonly half a dozen square rods only each.
...
"Yet far from being out of the way, Provincetown is directly in the way of the navigator, and he is lucky who does not run afoul of it in the dark. It is situated on one of the highways of commerce and men from all parts of the globe touch there in the course of year."
-- Henry David Thoreau, Cape Cod
Some more points of interest for Provincetown:
it is near the Dunes (see above)
it is almost 100% gay in the off season
it is where the Pilgrims arrived in the New World on November 11, 1620 aboard the Mayflower (though their landing a month later at Plymouth is better remembered outside of P-town)
[Sleeping: a good place to stay in Provincetown is the Captain Lysander Inn, an bed & breakfast. The house was built in the 1850's and was once home to MIT president Vannevar Bush. About $100/night (cheap for P-town). 96 Commercial Street. (617) 487-2253.]
[Getting there: it takes about two hours to drive from Boston or there is one passenger ferry per day (in the summer) from Boston that takes three hours (call Bay State at (617) 723-7800).]



Lighthouses
"We walked slowly round in that narrow space as the keeper lighted each lamp in succession, conversing with him at the same moment that many a sailor on the deep witnessed the lighting of the Highland Light. ... He complained of the quality of the oil which was furnished. This house consumes about eight hundred gallons in a year, which cost not far from one dollar a gallon; but perhaps a few lives would be saved if better oil were provided.
...
"He spoke of the anxiety and sense of responsibility which he felt in cold and stormy nights in the winter; when he knew that many a poor fellow as depending on him, and his lamps burned dimly, the oil being chilled. Sometimes he was obliged to warm the oil in a kettle in his house at midnight, and fill lamps over again,--for he could not have a fire in the lighthouse, it produced such a sweat on the windows. ... All this because the oil was poor. A government lighting the mariners on its wintry coast with summer-strained oil, to save expense!"
-- Henry David Thoreau, Cape Cod
Cape Cod seems to be rather famous for lighthouses, but frankly I've never managed to get a decent photo of one. I'm not sure why. Probably the best ones are out on Nantucket or something where I've never been. Above are photos of Highland Light in Truro, about halfway up the "forearm" of the Cape. Below is the Edgartown Light on Martha's Vineyard.
The Beach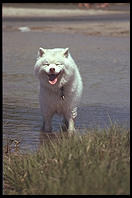 Your best chance of swimming without freezing off any extremities is to stick with the southern beaches that are technically on the Nantucket Sound. Sheltered from the open ocean, the water is slightly warmer here and and the waves are smaller. The north beaches of the Cape are on Cape Cod Bay and can be even colder than the open ocean, whose big surf and bone-chilling temperatures (60F in summer despite some warming from the Gulf Stream) can be experienced on the eastern beaches (e.g., Nauset).
I added this section because it gave me an excuse to put in some photos of my old dog George.


Cape Cod Moments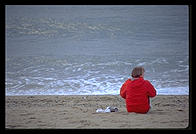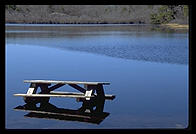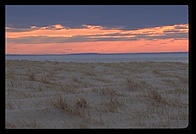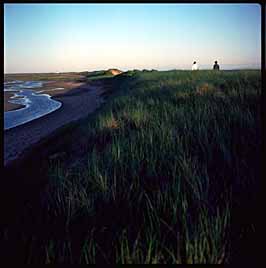 I like these randomly strewn pictures and their moods, though the rowboats photo is a little Hallmark-esque.
Martha's Vineyard
Martha's Vineyard is worth visiting if you like to see basically the same topography as the Cape mainland with a slightly lower density of houses and slightly higher density of rich people. The most interesting cultural site is a short ferry ride away on Chappaquiddick Island. It was off the Dike Bridge, connecting Cape Pogue and Chappaquiddick, on July 18, 1969 that a young woman (Mary Jo Kopechne, 28) lost her life and a young politician ( Ted Kennedy, 37) lost his chance to be president. Kennedy was found guilty of leaving the scene of an accident. You won't find the little incident mentioned in any guidebook, nor directions to the site of the now-rebuilt bridge (take Main Street to Dike Road; drive about a mile).
The best places for history buffs to stay on Martha's Vineyard are both in Edgartown. Try Room 56 at the Katama Shores Inn (Mary Jo's) or the Shiretown Inn (where Ted spent eight hours before reporting the "incident"). The Katama Shores Inn, (tel: (508) 627-4747) is an army barracks converted to a motel, just a few minutes' walk from South Beach (the main public beach). The Shiretown Inn is right in the middle of bustling Edgartown, mere steps from sandwich shops, ice cream parlors, fancy restaurants, and clothing stores.


Tip for photo nerds: Edgartown is home to Vineyard Photo, operators of one of the best One-Hour labs I've ever used anywhere. They can even process and proof 120-size C41.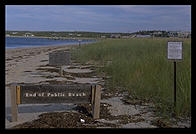 Personally my favorite spots on Martha's Vineyard are all in the far western/southern corner, referred to as "Up Island". These are the towns of Gay Head, Chilmark, and Menemsha (featured in the movie Jaws). This is the most isolated portion of the main island, however, even when you get away from it all in Martha's Vineyard, you're still kind of a prisoner of civilization. It is apparently legal in Massachusetts to own every scrap of sand right down to the low water mark. This keeps the rabble off the private beaches of the rich. There are a handful of public beaches, usually with intimidating signs and guards posted by the signs to keep you from straying onto a rich person's tidal strip.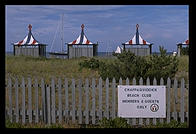 However, I think that the rich people may have outsmarted themselves. I visited one of them in Chilmark. I scraped my minivan along a dirt road for two miles before I reached his enclave. He is not as rich as Bill Gates so he has only a little tiny private beach. If he walks off of this tiny strip, he is trespassing. If he reaches a public beach, the border guard might let him onto the beach but certainly the border guard at the other edge of the public beach won't understand that he is not one of the rabble and ought to be let through. So he's almost as much of a prisoner as the humble day tourist. His house ought to be paradise but he only ends up spending a couple of weeks/year there.
All of this reminded me of some things that I learned from Elke, an East German woman, in Chapter XIII of Travels with Samantha. One of the things that she'd preferred under Communism was that there weren't forests of "no trespassing" signs everywhere. It was bad etiquette to walk through back yards but most tracts of land were open to all citizens.
About the only people in Martha's Vineyard who can feel like they have some breathing space to enjoy the natural scenery are those who live amidst reservation land. My personal favorite spot is on Chappaquiddick, the Wasque Reservation. This is a rare dog-friendly beach. My friend Zak and I went there on a beautiful Thursday in August and were one of maybe five groups of people on a 300-yard beach. I'd love to rent a house bordering on this reservation, though Chappaquiddick doesn't have a big tourist infrastructure. The only business sells ice, beer, and wrecked cars. If you're in the market for something else, you have to take the two-minute ferry ride over to Edgartown.
Chappy Photo Gallery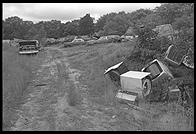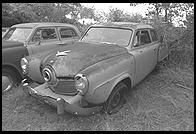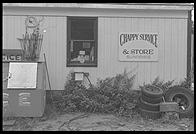 A lot of these pictures are of sites relevant to the death of Mary Jo Kopechne on July 18, 1969 in Ted Kennedy's car. Senator Kennedy was attending a party on Chappaquiddick and was driving back to the On-Time ferry, presumably to get Ms. Kopechne back to her room at the Katama Shores Motor Inn. The road from the party house to the ferry is a straight paved road. The road to the Dike Bridge and Cape Pogue is a dirt road. In the direction that Senator Kennedy would have been driving to get to the ferry, he would have had to make a 140 degree (sharp) right turn to get onto the dirt road to the Dike Bridge. His story is that he mistakenly made this turn and then drove more than a mile to the bridge without realize that he had either made the turn or that he was driving on a dirt road at all.
After driving the car off the bridge and leaving Ms. Kopechne to die, Senator Kennedy's story is that he went back to the party to get some help from his friends and that they then drove him to the On-Time ferry landing where he'd originally intended to go. However, by this time it was late and the ferry was no longer running. Senator Kennedy's story is that he swam across the channel and checked into the Shiretown Inn, a few blocks from the ferry landing on the Edgartown side. The clerk at the Shiretown Inn, however, stated that Senator Kennedy had come in wearing a clean, dry suit. Eight hours later, Senator Kennedy reported Ms. Kopechne's death to the police. Her body was never autopsied. Senator Kennedy was found guilty of leaving the scene of an accident.
Urban Martha's Vineyard
Martha's Vineyard has three big towns. Vineyard Haven is where the car ferries come in and has the largest population. It is also home to the Black Dog restaurant that every tourist east of the Mississippi seems to be wearing. I went into the Black Dog bakery and the staff came out to pet Alex and give him a free $5 dog treat. They said that Alex was way better looking than their logo dog.
Oak Bluffs is famous for its Victorian architecture, vintage wooden carousel, and summertime Christian revival meetings. It is also apparently the hottest place to go at night. In my book, Edgartown is famous for its One-Hour photo lab but I guess other people would probably think of it for its whaling captain's houses and proximity to Chappaquiddick.
Getting to Martha's Vineyard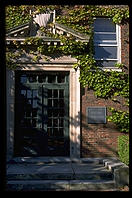 The ferry from Woods Hole to Martha's Vineyard takes about 45 minutes and is through sufficiently smooth water that you're unlikely to get seasick. You can take a dog on leash. You can take bikes. If you want to take a car, you need reservations fairly far in advance. Call the Steamship Authority at (508) 477-8600. If you don't have a reservation then you can go standby Tuesday through Thursday. I arrived one Thursday morning in August at 7:30 am and was on a boat by 8:45 am. As of 1997, if you arrived by 2 pm, the Authority guaranteed that you'd get across the same day.
In the summer, there are a variety of competing ferries that go from Hyannis to Oak Bluffs, from New Bedford (Massachusetts), and even from Long Island.

Crummy Hotels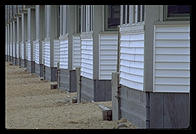 In an increasingly yuppiefied world, it is nice to know that there are some crummy and/or decaying hotels left in this world. At right at the so-called "Day Cottages" just south of Provincetown. They are my favorite photographic subject on the Cape.





Living on the Cape
After twenty years in Massachusetts, I finally bought a Cape house! The place is called "Barcliff" and it was built 100 years ago on the cliffs at the east end of the town of Chatham. The house stood alone for enough time that the street coming into Shore Road near the house is called "Barcliff Avenue". Boston's Paine family built the house in the 1880s but let it fall into disrepair until it was acquired in the mid-1980s by Stuart Roffman, a Boston real estate developer. He remodeled the place and had it decorated by Lynda Levy until it was nice enough to be featured on the cover of a home decoration magazine. The place is enormous, probably something like 7500 square feet of living space and enough room to comfortably sleep 20. Plus there is a pool and a Jacuzzi. Roffman was renting it out for weddings and such at $12,000 per week. I bought the place as a programmer's retreat for the hard-charging teams ofArsDigita. The idea was to wire it up so that a group of 10 to 20 people could come down and write code while looking out at the ocean. Chatham is one of the nicest towns on the Cape with an actual downtown village area for shopping, restaurants, and inns. One of the best hotels in Massachusetts is only two blocks away from the house, the Chatham Bars Inn so we figured that clients could come down and stay at the hotel while we met periodically in the dining room, living room, or deck of the main house.
First, let's look at the views from the house and deck: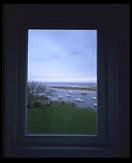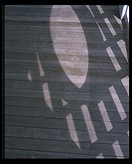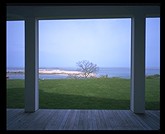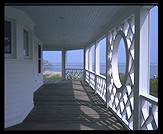 Now the interior, mostly with the 43mm lens...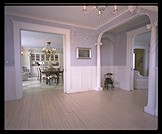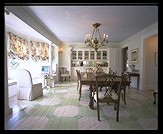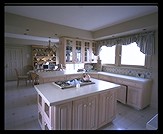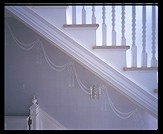 How is the place working out? I'm writing this six months after we moved in. The place still needs a lot of work (huge wooden houses right by the sea are a maintenance nightmare) and we've barely begun to furnish the place effectively. So it is too soon to tell. I wrote something about why this idea is effective in "Managing Software Engineers".



More
"The time must come when this coast will be a place of resort for those New-Englanders who really wish to visit the seaside. At present it is wholly unknown to the fashionable world, and probably it will never be agreeable to them. If it is merely a ten-pin alley, or a circular railway, or an ocean of mint-julep, that the visitor is in search of,--if he thinks more of the wine than the brine, as I suspect some do at Newport,--I trust that for a long time he will be disappointed here.

"But this shore will never be more attractive than it is now. Such beaches as are fashionable are here made and unmade in a day, I may almost say, by the sea shifting its sands. Lynn and Nantasket! this bare and bended arm it is that makes the bay in which they lie so snugly. What are springs and waterfalls? Here is the spring of springs, the waterfall of waterfalls. A storm in the fall or winter is the time to visit it; a light-house or a fisherman's hut the true hotel. A man may stand there and put all America behind him."
-- Henry David Thoreau, Cape Cod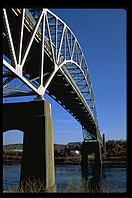 Other Internet Resources
Dead Trees
If you liked the preceding quotes, you ought to read Thoreau's Cape Cod. Caveat: it will make you long for the days when a fresh lobster cost two cents.
A more up to date guidebook to the Cape is Cape Cod Access, which has lots of little maps and a convenient format, albeit a somewhat brainwashed-by-the-Chamber-of-Commerce Stepford-Wivesish attitude.
In November 1820 the Nantucket whaleship Essex was attacked by a angry spermwhale, 1,500 miles off the coast of Peru. In the Heart of the Sea, by Nathaniel Philbrick, is a historian's account of the tragedy of the crew's three-month open-boat journey and the Nantucket whaling industry that created these men.
No more
If you don't want more, take the Sagamore Bridge (see above) back to the rest of Massachusetts. You'll be lucky if you can get across in less than an hour on a summer Sunday.

---
philg@mit.edu