---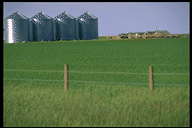 Leaving Glacier National Park, head north over the plains of Alberta. Stop 11 miles NW of Fort McCleod at the Head-Smashed-In Buffalo Jump Interpretive Centre. If the 30' high stack of bison bones there don't impress you, head for the Red Deer River Valley, east of Calgary, to view the remains of a few thousand dinosaurs. This is the world's paleontology and dinosaur tourism center, with museums, themeparks, and digs, all centered around Drumheller, Alberta. If you'd like to have your own bones broken, enter the Stampede in Calgary. All 600,000 residents plus an equal number of tourists converge for one week each year to watch the world's largest rodeo and listen to country music (July 5-14, 1996; (800) 661-1260). People get friendly enough that every year sees a boom in maternity hospital business nine months later.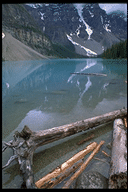 Assuming you didn't get run over by a 10-year-old mutton busting competitor, head west to Banff, the biggest town inside a national park anywhere in the world. If you see a sign that says "road closed -- avalanche control work" you might want to heed it. That means that my friend Steve has climbed up into the pass and decided that an avalanche is possible. After coming down, he gives Nature a push with a 105mm howitzer anti-personnel round.
A combination of Canadian National Park laissez-faire economics and the Japanese fear of American crime means that Banff is one of the few places in the world where one can see a flock of Japanese tourists and a herd of Elk walking together in front of a Safeway supermarket. In the winter, ski some of Canada's best hills, ice skate, or dogsled. In the summer, enjoy the mountain-bike-friendly Canadian national parks, raft the Kicking Horse River, or hike among the backcountry huts and lodges of the Alpine Club ((403) 678-3200).
Head 30 miles north to Lake Louise, Canada's largest ski resort. All of the lakes in this region contain tiny particles of rock scraped off by the glaciers that feed them. This causes the water to refract light in eerie blue/green colors that delight the thousands of Japanese package tourists who frequent the grand old Canadian Pacific hotel, Chateau Lake Louise.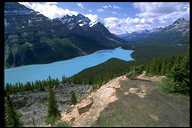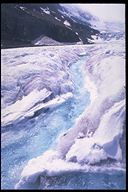 Spend a couple of days driving 150 miles north up the Icefields Parkway, the world's lowest and flattest spectacular mountain road. The mountains, lakes, bighorn sheep, mountain goats, and black bear will be familiar, but the Columbia Icefield's Athabasca Glacier tongue extending down to the highway may surprise. If you don't mind falling into a crevasse or surface meltwater stream, just walk out onto the glacier. Otherwise, ride up in a baloon-tired "Snocoach" and fall into a crevasse with 75 other tourists for company.
When you reach Jasper, smaller and less commercial than Banff, head east toward Edmonton. Though it will remind you of "Houston without the charm," it is tough to get to the Alaska Highway without getting so close to Edmonton that you might as well stop and see the world's largest shopping mall, complete with rollercoasters, water slides, and a submarine ride. If you're a Jewish man and are there at 2:30 in the afternoon, head over to Phase Three to the executive offices of Triple V where the Iranian Jews who built the mall hold a minyan.
Total mileage: about 500
Best time of year: summer (though hotels get scarce and expensive in July and August)
If you are actually planning to take this trip, you may wish to look at the user-contributed Related Links page.

Return to the Great Trips index page
---
philg@mit.edu