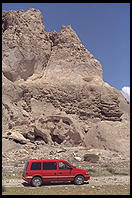 What's that Slurping Sound?
by Philip Greenspun; created 1993-1996
---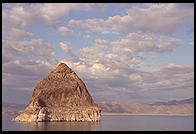 Start at Pyramid Lake an hour NE of Reno, Nevada. The eponymous pyramid is satisfyingly huge and looks beautiful against the big Western sky. Get a permit to camp from the local Paiute Indians and then relax in the hot springs at the northwest corner of the lake. When you're done soaking, drive to the Nevada State Prison Hobby Store in Carson City (corner of E. 5th and Edmonds) for a handmade belt or wallet. Then climb up to Lake Tahoe and go skiing or take one of the world's great mountain bike rides along the edge of the bowl near Marlette Lake (local bike shops have maps).

Go south on 89 and then follow US 395 until about five miles south of Bridgeport. Take a left up to Bodie, a ghost gold-mining town up at 8400 feet in the White Mountains. In its heyday the town had 10,000 residents and a murder every day.
Continue south on US 395 to Mono Lake. Millions of migratory birds stop at Mono Lake for the brine shrimp and flies; tourists come to see the limestone tufa towers and spectacular sunrises and sunsets. At 700,000 years of age, Mono is one of the oldest continuously existing lakes in North America. Of course, that doesn't make it tough enough to survive Los Angeles. Since 1941, L.A. has been diverting water from the streams that feed Mono Lake, halving the water volume and doubling the salinity.
Mammoth Lakes, an hour south, is a major ski resort in winter and a great mountain biking venue in summer. The top of the gondola is 11,000 feet.
Continuing south on 395, you enter the Owens Valley. This wide flat valley sits between the Sierra Nevada to the west and the White Mountains to the east. It is extremely dry because moist air from the Pacific dumps its water on the western slopes of the Sierra. Turn east on SR 168, just before Big Pine. You are climbing into the Ancient Bristlecone Pine Forest, home to literally gnarly trees as old as 4,700 years. Trees on the exposed dry slopes of the White Mountains live an average of 2,000 years, growing slowly into wind-twisted grotesqueries.
You can park your car in the Patriarch Grove at 11,000 feet and camp. If you are feeling strong, you can drive a little farther to the trailhead for White Mountain Peak (14,246 feet; 15 miles round trip with 2,600' elevation gain).
Come back to 395 and continue south to Independence. Just west lies the beautiful Onion Valley, with beautiful hiking amongst wildflowers. Just south lies a concentration camp: Manzanar. "Manzanar" means "apple orchard" in Spanish. It is tough to imagine any apples growing in this dry desolate place, but it worked out fine until the 1920s when the Los Angeles Aqueduct sucked the region dry. 11,000 U.S. citizens were imprisoned here during World War II after a bitterly divided Supreme Court ruled that their Japanese ancestry was indeed sufficient grounds for interment. All that remains are a couple of guardhouses and a cemetary (take an unmarked dirt road 0.8 miles north of the main entrance).
Lone Pine, 20 miles farther south, is the gateway to Mt. Whitney, the tallest in the Lower 48. The drive east to Whitney Portal is worthwhile in its own right even if you didn't get a permit for the 22 mile round-trip walk to the 14,495' summit. For one thing, you start in the Alabama Hills, boulders that have served as a backdrop for countless movie stagecoach robberies.
Leave Lone Pine by SR 136 SE along the shores of what used to be Owens Lake. This was an enormous lake that supported a steamer industry and tens of thousands of migratory birds. Diversions of water by Owens Valley farmers and the Los Angeles Aqueduct completely dried up the lake by the mid-1920s.
Continue east on SR 190 into Death Valley National Park, the lowest place in the Western Hemisphere. Badwater, 283 below sea level, is only 80 miles east of Mt. Whitney. If you are there in summer, when temperatures reach 134 degrees Fahrenheit, you will appreciate the value of water.
Total mileage: about 700
Best time of year: May for the waterfalls and wildflowers
If you are actually planning to take this trip, you may wish to look at the user-contributed Related Links page. You might also find my Sierra Nevada exhibit interesting.

Return to the Great Trips index page
---
philg@mit.edu