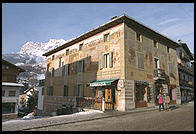 Cortina D'Ampezzo
of Italy by Philip Greenspun; created 1995
---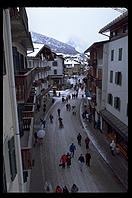 "The Queen of the Dolomites" sits at 1224 meters above sea level at the crossing of two valleys and is surrounded by 3000 meter-high mountains. James Bond came straight to this town of 7,500 people in For Your Eyes Only and skipped the rest of the area.
On a sunny day you should take the cable car to Tofana di Mezzo (3243 m; 10743 ft) for the panorama. At sunset, take a bus or drive to the Pocol Belvedere for the view of the village.
Cortina is traditionally a winter resort and was built up substantially for the 1956 Winter Olympics. Tourists now use the ski jump, the bob sled run, and the 1000 or so ski runs, but a lot of people come here in the winter just to shop and hang out. In the summer, hiking and mountain biking are popular.
---
---
philg@mit.edu