---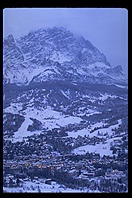 The highlight of any visit to the Dolomites should be the Great Dolomites Road. Simply designated on maps as SS241 and SS48, the 210 km route from Bolzano to Cortina d'Ampezzo dates back to the Renaissance. The present day road is an Austro-Hungarian project that began in Bolzano in 1891 and didn't reach Cortina until 1909. Climbing up the side of mountains to a height of over 2000 meters, the road is one of the world's great drives.
Practical Notes
Although it is possible to drive the road in three hours, ideally one should allow two days to appreciate the road and its detours. Take SS 241 out of Bolzano through a beautiful nearly vertically walled canyon then climb into Vigo di Fassa where you join SS 48 for the rest of the trip to Cortina. Side trips from Canazei to Ortisei on SS 242 and down SS 641 to the cable car at Malga Ciapela (rises up to 3265 meters) are worthwhile.
Canazei, a town half from Cortina to Bolzao, is a good place to spend the night. If you do stop in Canazei, there is a nice restaurant towards the west end of town called Cesa Melester. They also rent apartments above the restaurant. Cesa Melester, Via Dolomiti 64, 38032 Canazei, tel (0462) 62077.
Note: The road may be impassable in winter without chains.
I wish I could tell you more about the Dolomite Road but I haven't actually been able to drive it myself. Avis hung me out to dry with my dead rental car in Cortina so I had to take a taxi over the road without stopping much. Oh yes, it set me back 300,000 lire which naturally they refused to reimburse.
---
---
philg@mit.edu