Las Vegas
by Philip Greenspun; created 1999
---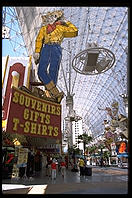 Las Vegas is
the fastest-growing city in the United States (1999)
the most popular tourist destination for Hawaiians
close to awe-inspiring canyons that are ripe for photographers
Beyond the tourist areas of Downtown and The Strip, Las Vegas sprawls out into the desert. It is a horrifying vision of an American future where children will grow up knowing only strip malls, franchises, walled-and-planned communities, and 110-degree summer heat.
As a tourist destination, Las Vegas is a paradise. Hotels are reasonably cheap, Broadway shows play nightly in theaters with cupholders and ample free parking, and the general level of public spectacle is higher than anywhere else in the United States.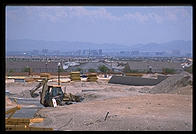 If you want to see nature by day and Cirque de Soleil by night, Las Vegas is 45-minutes from Red Rock Canyon, two hours from Zion National Park, and 2.5 hours from Cathedral Gorge State Park.
Downtown Vegas
Downtown Vegas, which few tourists visit, contains the oldest, tackiest, and in many ways most interesting sights of the city. On the Strip, you drive from one enormous parking structure and theme-park sized casino to another. On Fremont Street, you walk from casino to casino, enticed by barkers. To boost tourism, the city has built an enormous canopy over four blocks of the slightly seedy area and dubbed it "The Fremont Street experience". At night there may be light shows with music projected against this canopy.
Hoover Dam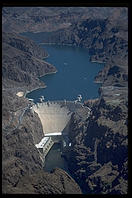 One hour SE of Las Vegas, the Hoover Dam impounds Lake Mead and supplies Colorado River water plus hydropower to California, Arizona, Nevada, and Utah. Built during the Depression, the project was completed in 1935 during the Roosevelt administration. FDR changed the name to "Boulder Dam" but Congress changed it back to "Hoover Dam" in 1947. Get there as early in the morning as possible if you want to take a hardhat tour.
More: www.hooverdam.com.

Gambling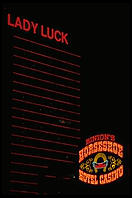 MIT folks tend not to do anything unless they are really good at it. Being good at gambling means being able to achieve a positive expectation at blackjack. If you don't count cards but are a good player, your expectation is -2%. That means if you bet $1.00, you expect to have $0.98 at the end of a round. This would be the best that you could do if the casino were dealing from an infinite deck. However, the casinos typically use between two and six decks of cards, all shuffled together. If there are six decks and you've seen 24 cards with a value of 8 dealed out, you know that there won't be any more coming. By using this information, a good player can improve the odds to +2%, so that a $1.00 bet yields an average of $1.02.
It is illegal to bring a computer into the casino and therefore you have to learn to compute all of these probabilities in your head. This is a laborious process that takes members of the MIT Blackjack Team months. Once you've learned the method you can beat the casino consistently. However, if the casino thinks that you're counting, they can throw you out. Sound unfair? The casinos can actually throw you out for any reason at any time. They own enough politicians that the laws are friendly to them in this way. The really bad thing is to be "read" where some goons grab you and read you a document that says if you return you'll be trespassing. Then the casinos can put you in jail. So card counters become adept at disguise via wigs, contact lenses, etc. They also learn to disguise their play so it isn't obvious that they are counting (this reduces their odds).
Another winnable game is poker. You play against other people in a room provided by the casino. The casino takes a percentage of the play but basically if you're the best player in the room you will win a lot of money.
Roulette is winnable if you use a computer. The casino allows bets to be placed after the ball and wheel are spinning and almost until the point at which the ball drops into a slot. It isn't possible to perfectly predict the final slot from the ball and wheel's current position and velocity, but you don't need to be right. Roulette pays off 36:1 so if the computer is right even a small portion of the time, the expectation can be +25% or even higher.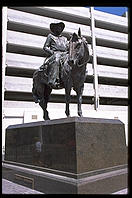 Personally I never wanted to learn how to win so I don't gamble. If I were to gamble, I would do it at Binion's Horseshoe in downtown Las Vegas. Binion's has all the grit of old Las Vegas, before so many Disneyland-esque hotels were built on the Strip. The founder, Benny Binion, is a legendary figure. His son Ted was murdered on September 17, 1998 by his girlfriend and her lover. The girlfriend, Sandy Murphy, was an former topless dancer half Binion's age. The death was arranged to look accidental, with Binion taking an overdose of Xanax, a prescription tranquilizer. Binion's sister prompted an investigation: "That was not Ted . . . Ted would be the first one to tell you that his drug of choice was heroin." (full story: http://www.lasvegassun.com/dossier/crime/binion/).
It is very difficult to get a camera into a casino's gambling area. The casinos are worried that folks who've told their wives that they've gone to Schenectady will be afraid that they'll show up in the background on someone's snapshot and the wife will learn what they've done with Junior's college fund.
What to See at Night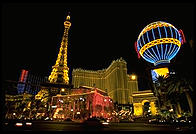 Cirque de Soleil has two shows in Las Vegas. "Mystere", at Treasure Island, is the older show and easier to get tickets for. "O" is newer and plays at the Bellagio. Get tickets as far in advance as possible. Mystere box office: (702) 894-7710; O box office: (888) 488-7111.
If the shows are sold out, you can pay $100+ extra and buy tickets from a broker, such as www.viptickets.com (1-800-328-4253).
If you're on a budget, you can entertain yourself adequately at no cost by visiting
Downtown Las Vegas (Fremont Street) to see the packed-together neon lights and massive canopy
Strip-side shows such as the artificial volcano at the Mirage, the musical fountains at Bellagio, the pirate battle in front of Treasure Island, etc.
Where to Stay
The Desert Inn ("DI") is right on the Strip and has a reputation as the place for sophisticated Las Vegas travelers. The casino is very small, the pool is large, the spa and exercise machines are the best, the 18-hole golf course in back is unique. Room rates are a touch higher than in other hotels but the rooms are big and have sliding glass doors that open. More info: www.thedesertinn.com
If you want to be crass and nouveau riche, the current favored casino-hotel is Bellagio: www.bellagiolasvegas.com.
Where to Eat
The Desert Inn and Bellagio have the best fancy restaurants. Luxor has a great Chinese restaurant.
When to Visit
June, July, and August are bad, with an average high temperature of over 100 degrees. April, May, and October are just about prefect, with average high temperatures between 70 and 80. It can be chilly in the middle of winter, though skiing is possible on nearby Mount Charleston.
Be mindful of trade shows that can fill up the entire city. Two big ones are COMDEX (irrelevant side note: my friend Richard and I built www.comdex.com, a dynamic database-backed Web site with online schedule planning and show reservations, back in 1996) and the Consumer Electronics Show (CES). Below are some snapshots from my last trip to CES when my company's booth happened to be next to the pre-recorded adult video area:
Shopping
There is a fancy shopping mall right on the Strip, complete with Neiman-Marcus. The Venetian has a fancy boutique-y shopping mall.
Red Rock Canyon
Forty-five minutes west of Las Vegas...
Tempted to Move to Vegas?
More
---
philg@mit.edu