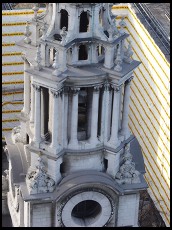 A Photographer's Guide to London
by Philip Greenspun; created 2001
---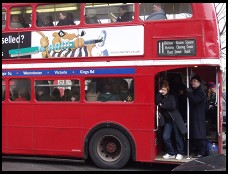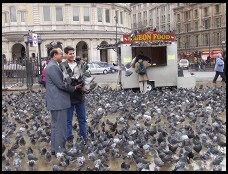 You probably won't come to London to take pictures. The population tends to be reserved, the weather inhospitable, and many of the most famous attractions of the city, e.g., the world's best theater and music, are simply unsuited to photography. On the other hand, if business or pleasure brings you to London, there is plenty to satisfy an itchy shutter release finger. If you've a special interest in architecture and are willing to pack a tripod and a perspective correction lens, you'll find that London contains some of the world's most varied building designs.

Starting Out on the River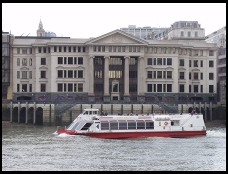 Many of the most famous sights of London are spread along the banks of the River Thames (from the old Celtic word teme, meaning "river", named by the Romans in AD 43 when they established Londinium). These include the Houses of Parliament and Big Ben, just behind which is Westminster Abbey. You'll see Christopher Wren's St. Paul's Cathedral, the Tower, Tower Bridge, a replica of Shakespeare's Globe Theater, and dozens of modern buildings.
Hop a boat up the river to Kew Gardens, browse around this extraordinary botanical garden, then take another boat to Greenwich and the Millennium Dome. Take ISO 400 film and a zoom lens that extends to at least 200mm (on a 35mm camera).

Christopher Wren
If you're passionate about architecture, it is worth touring the works of Christopher Wren (1632-1723), the leading restorer of London after the Great Fire. Wren's most famous work is St. Paul's cathedral but there are 30 others scattered around the city. To do the job properly, you'll probably want to bring a wide-angle perspective-correction lens (see the relevant section of "Building a 35mm SLR System"), though sadly I've not yet toted one to London myself.
If you climb to the top of St. Paul's, you'll also find that it makes a reasonable post for photography of the Thames and London rooftops.

People Looking at Animals
Don't forget that London has one of the world's best zoos, right downtown in Regent's Park. Go on a fine day and you'll be able to take great photos of people gawking at the animals.
People Looking at Art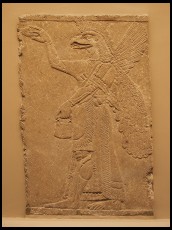 Art museums throughout London ban or restrict photography. For photos of people interacting with art treasures, head to the British Museum. Photography and even flash photography are allowed but tripods are banned. In December 2000, the British Museum opened a new courtyard comprised of a modern roof over the old round reading room. It is one of the more dramatic and successful pieces of new architecture in London. The museum is free and open 7 days a week.

The Tate Modern, opened in December 2000, does not allow photography inside the galleries but the lobby areas are interesting and you can get some photos of the river from the top floors.
Just east of the Tate Modern is a reconstruction of Shakespeare's Globe Theater. The 30-minute tours are interesting though ideally if you're in London in the summertime you'll get a ticket for a performance.
People (sort of) running around in wigs
For photographs of lawyers walking around in wigs, get down to the streets around the Royal Courts of Justice in Holburn. From 9:30 to 4:30 pm you can attend a trial and watch the be-wigged barristers plead. A lot of important and photogenic old buildings surround the courts.
Photographic Exhibitions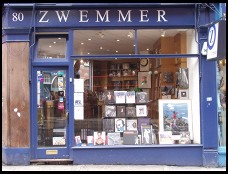 Pick up a copy of Time Out ( www.timeout.com) at a newsstand for full listings of photography shows at galleries and museums. The Photographer's Gallery, in two separate buildings near Leicester Square (5 and 8 Great Newport Street), usually has an interesting show. In one of their buildings they've got a nice bookshop and in the other a cafe. Around the corner on Charing Cross Road is a comprehensive specialty photography book shop: Zwemmer.
Skip The Royal Stuff
Unless you like to wait on lines and stand around in crowds, skip all the royal stuff in London. If you're wandering around the city and your route takes you past Buckingham Palace, great. But don't wait around for the changing of the guard or a glimpse of the royal family.
Shops and Photo Labs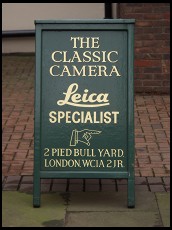 Napoleon dismissed the English as "a nation of shopkeepers" and there is certainly little about London to contradict this characterization. What is most interesting about shopping in London is the high proportion of specialty shops run either by or for obsessive eccentrics. There are shops that sell only umbrellas. Shops that sell only pipes (but not tobacco). Shops that sell only Leica cameras. Shops that sell only books about movies. Charing Cross Road and Bloomsbury are particularly interesting for browsing old books, new books, 18th and 19th century engravings, and literary effluvia.
For standard professional camera gear, visit Leeds Photovisual, Brunswick Centre, WC1 (tube: Russell Square), or KJP, 93, Drummond Street, NW1 (tube: Warren Street). The pro labs are Metro on Clerkenwell Road, EC1, and Joes Basement on Wardour Street near Trafalgar Square, W1 (24 hours per day!).
If you're interested in Leicas or collectible cameras, visit Pied Bull Yard off Bury Place across from the British Museum. This courtyard contains The Classic Camera, a Leica-only dealer, and Jessop Classic Photographica, with a fine collection of old rangefinder and twin-lens reflex equipment.

Hotels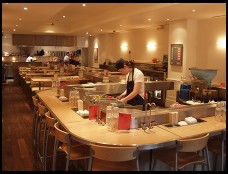 If you need Internet connectivity from your room, you're out of luck! As far as I can tell, there aren't any hotels in London with 10base-T jacks in the rooms. Like a Jaguar or Rolls-Royce, English hotels look wonderful but they aren't very practical in the modern business world.
London is very large and very neighborhoodish. Pick your preferred area first and then your hotel. My personal favorite area is in Soho near the theaters. A very nice small hotel is the Covent Garden at 10 Monmouth Street, phone (020) 7806 1000. Farther from the theaters but larger is the Savoy Hotel. The Savoy has history, views up the river, and a rooftop swimming pool. It was built in the late 1880s by Gilbert and Sullivan's business manager, Richard D'Oyly Carte.
I've stayed at "MyHotel" in Bloomsbury. For $300 per night I got a stylishly decorated room about 1 meter larger all around than the bed. There was no minibar in my room but the bathroom was unheated and quite cold enough to use as a fridge for cold drinks bought from the convenience store around the corner. Despite double windows the noise from the busy street below was loud enough to require earplugs at night. And when I woke up in the middle of the night and wanted to surf the Internet, I just put on some clothes. There was no in-room Ethernet but across the street is an easyEverything 24-hour Internet cafe.

Restaurants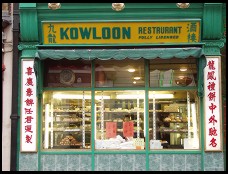 The Michelin Red Guides are the most reliable source for restaurants throughout Europe. If you care about food, you'll definitely want the Michelin Red Guide London . Indian and Asian food in London tends to be quite good. There is a Chinatown area around Gerrard Street just north of the National Gallery where you can get a dim sum lunch seven days a week.
Among the fast food chains, Pret a Manger chain is my favorite, with clean and simple sandwiches and salads.

Guidebooks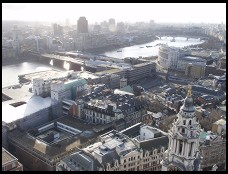 Dorling Kindersley's Eyewitness London is the most useful guidebook, especially for a photographer, because the book contains a small snapshot of each site. Thus you're able to make an informed decision as to whether or not the journey will be photographically worthwhile. The Dorling Kindersley guide is also good about indicating whether or not photography is allowed within a site. Finally, the guide contains a London Underground map on the back cover, a small street atlas, restaurant recommendations, and hotel listings.

Getting There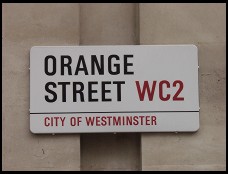 Most international nonstops fly into Heathrow (LHR). Traffic from Heathrow into downtown London goes over the insanely busy M4 highway. If you've arrived during the morning rush hour, it may be much faster to take the London Underground, which stops right in the terminals (40 minutes to downtown), or the Heathrow Express train (15 minutes to Paddington Station). Try to avoid Gatwick (LGW) airport, which is twice as far from central London as Heathrow.
Getting Around
Taxis in London can be expensive. Rates are high and the distances are vast. On the plus side, every driver of a London black cab will know every street in the city. The Underground covers the city very thoroughly, is fast and runs every few minutes at peak times. For scenery on a budget, hop a London bus (the driver will give you change!). The bus will be your only option after midnight when the Underground shuts down.

Survival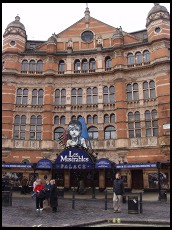 American citizens don't need a visa to visit England.
The time in London is GMT, i.e., five hours ahead of New York. Thus if it is 9:00 am in New York, it is already 2:00 pm in London.
Electricity in England is 240V at 50 Hz. Most laptop computer and digital camera power supplies can function on this power and at most you'll need a mechanical adaptor. Business hotel rooms often are equipped with an American-style plug near the desk. If not, the hotel will lend you an adapter.
The country code for England is 44.
Money is the pound rather than the euro. You can get pounds with an American ATM card from just about any bank machine. The exchange rate is usually around $1.50 per pound.

Going Beyond
Many of England best sights are within a two-hour drive of London. The Roman city of Bath, just to the west, makes a good base for exploring Stonehenge, Salisbury Cathedral, and a variety of rural hamlets. In the summer, a one-hour train ride south to Brighton is worthwhile for photographs of English seaside tack. You won't need a car to explore the waterfront. Both Cambridge and Oxford are close to London. If you have to pick one for a photography excursion, Cambridge is probably the better choice.
British Rail can take you directly to most towns in England but for photographing the countryside, you're much better off renting a car. Driving in London itself can be intimidating. You might be better off taking the Heathrow Express to the airport and picking up your car there.
Cultural Preparation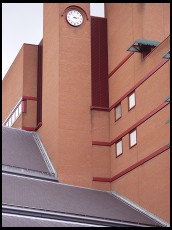 Read Foreign Affairs by Alison Lurie, The Forsyte Saga , by John Galsworthy, and Bleak House , Dickens's best and modest modern novel.
Bone up on British history with A History of Britain : At the Edge of the World, 3500 B.C.-1603 A.D by Simon Schama, the Shakespeare king plays, and Memoirs of the Second World War by Winston Churchill. To see how much fun the post-war generation was having, read or watch John Osborne's Look Back in Anger .
Or start right now with "London" by William Blake...
I wander thro' each charter'd street.
Near where the charter'd Thames does flow
And mark in every face I meet
Marks of weakness, marks of woe.

In every cry of every Man,
In every Infants cry of fear,
In every voice: in every ban,
The mind-forg'd manacles I hear

How the Chimney-sweepers cry
Every blackning Church appalls,
And the hapless Soldiers sigh
Runs in blood down Palace walls

But most thro' midnight streets I hear
How the youthful Harlots curse
Blasts the new-born Infants tear
And blights with plagues the Marriage hearse
If you run out of books, you can always stop into the British Library (the English equivalent of the Library of Congress).

More
I'll be returning to London every few months for the foreseeable future. So I hope to be adding to this guide after every trip. Right now this is more of a magnet for reader experience. Please contribute your knowledge by clicking on the "add a comment" link below.
---
---
philg@mit.edu