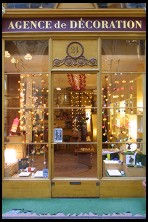 A Photographer's Guide to Paris
by Philip Greenspun; created June 2000
---
Paris is one of the birthplaces of photography and a city whose casual beauty makes for rich material to anyone willing to walk around slowly and observe carefully. It could be that your eyes will settle on a bit of sculpture on a building facade. Or the arrangement of goods in a shop.
Standard Paris Photos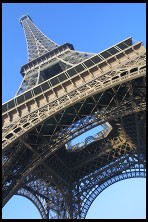 If you want to convince your friends that you really were in the City of Light, make sure that you've got some photos of Notre Dame, the area around Ile de la Cite, the Tour Eiffel, and the Champs Elysees with the Arc de Triomphe in the background. There is a variety of ways to make these more interesting than the standard point-and-shoot image. Start by using black and white film. All the great photographers of Paris (e.g., Atget, Cartier-Bresson, Doisneau, Kertesz) worked in black and white.
Try using wide-angle lenses with people in the foreground and monuments in back. Parisians are reliably stylish and tourists are reliably clownish. Either way, you've got something entertaining and unique in the foreground. If you're willing to lug a tripod, use a long telephoto lens to compress multiple buildings into flat patterns. If you're emulating Cartier-Bresson and traveling light with just a 50mm lens, it is even more vital that you get comfortable smiling at passersby and snapping their pictures.
People Looking at Art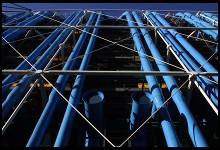 Paris is the ultimate place to get photos of people viewing and reacting to art. There is sculpture throughout the city and the museums tend to be camera-friendly if not flash-friendly. The easiest museum in which to create dramatic images of art, people, and structure is the Musee d'Orsay, a converted train station housing art from 1850 through World War I. Another good choice is Centre Pompidou, the modern art museum and cultural center.
Photographic Exhibitions
Pick up a copy of Reponses Photo at a newsstand and turn to the Actuexpos (L'Actualite des Expositions) section for a list of museum and gallery photo exhibitions throughout France, organized by region.
Disneyland Paris
A 40-minute RER ride from the center of Paris and you're in people photography heaven: Disneyland. Try black and white to focus attention on the bizarre attitudes of the crowd, the pained expressions of those who've waited on line for hours. I keep meaning to take a Fuji 617 panoramic camera in there.
Cemeteries
For the graves of great artists, marked by fine stone carving, Parisian cemeteries are unexcelled. Visit Cimetiere de Montmartre, the resting place of Hector Berlioz, Henrich Heine, Vaslav Nijinsky, Jacques Offenbach, and Francois Truffaut. Then move south to the Cimetiere du Montparnasse, where you find the graves of Frederic Auguste Bartholdi (Statue of Liberty), Charles Baudelaire, Samuel Beckett, Andre Citroen, Alfred Dreyfus (Dreyfus Case), Man Ray, Guy de Maupassant, Camille Saint-Saens, Jean-Paul Sartre and Simone de Beauvoir. You can end your day east of downtown at the Cimitiere du Pere Lachaise (16 Rue du Repos; Metro: Pere Lachaise). Honore de Balzac, Sarah Bernhardt, Frederic Chopin, Moliere, Yves Montand, Jim Morrison, Edith Piaf, Marcel Proust, and Oscar Wilde await you.
Montmartre/Sacre Coeur
Except in winter, the hill of Montmartre is worthwhile for photographing tourists interacting with artists working on the street.
Suggested Day around the Eiffel Tower
Get to the Tour Eiffel when it opens (9:00 am in July and August; 9:30 am the rest of the year). Take some photos from the top and around the base while the sunlight is still coming from an interesting angle.
Proceed to Rue Cler, a pedestrian street market for photographs of people shopping, food and flowers for sale. Save your appetite, though, for the cafe at the Musee Rodin (below).
Proceed on foot to the Musee Rodin at 77 Rue de Varenne. Take some pictures of the Rodin sculptures in the garden. The little cafe in the garden serves nice light lunches in a tranquil environment. As a bonus for Americans, the interior part of the cafe is completely non-smoking.
If you still have energy left, double back to the Hotel des Invalides. This complex, built on an inhuman scale, is not a great place for photography but it contains the important Dome Church within which lies Napoleon's Tomb as well as an interesting army museum. The most unusual part of the museum is a collection of relief maps (Musee des Plans-Reliefs). The light levels are too low for photography but it is interesting nonetheless.
If you're in the mood for more art, there is a lovely small museum devoted primarily to the works of Aristide Maillol at 59 Rue de Grenelle on your way toward the Sevres-Babylone Metro stop.
You can end your day in the brasserie at the historic Hotel Lutetia, right on top of the Sevres-Babylone Metro stop and across the square from the Bon Marche department store.
Skip The Marais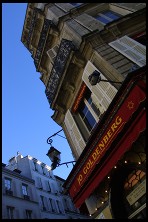 If you're short on time, you can skip the Marais, every guidebook's favorite Paris neighborhood. This is a gentrified-in-the-1960s quarter of narrow streets that lacks the authenticity of the rest of downtown Paris. For example, there is a street containing some kosher food shops, Rue des Rosiers. You're supposed to see Hassidim walking down the streets in dreadlocks, stocking up for Shabbat. In reality, any Jews that you see are most likely to be from New York and clad in jeans and a T-shirt.
The Marais contains some important museums. The Musee Picasso displays the painter's personal collection of works, i.e., stuff that didn't sell. The museum is further notable for being perhaps the only museum in Paris that has bothered to put up an English translation of its signage. The Museee Carnavalet is even more interesting, though photography seems to be forbidden. This contains paintings and rooms from various periods in Parisian history.
English Bookstore
Brentano's at 37 Avenue L'Opera is better and bigger than the average mall bookstore in the US. WH Smith at 248 Rue de Rivoli is also a good choice for selection. If you want a conversation and a bit of history to go with your Danielle Steele novel, visit Shakespeare and Company, 37 Rue de la Bucherie.
Other Shops
In terms of the way that goods are organized and displayed, Paris is one of the world's finest shopping cities. And the Parisians are thoughtful curious shoppers. This leads to some good photo opportunities. The area around Madeleine contains Fauchon, the most famous name in Paris gourmet foods, and also a variety of more specialized competitors.
A particularly interesting kind of shopping experience is the 19th century gallery or "passage". There are a bunch of these just to the east of the Opera Garnier.
Another interesting theme is the exotic and unfamiliar brand names that you'll find in Paris:
Hotels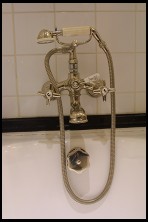 If you need Internet connectivity from your room, there are but few choices. Sofitel Arc de Triomphe will supposedly have 10base-T jacks in every room for Ethernet-based connectivity by the end of February 2001.
If you don't need Internet connectivity or perhaps you're willing to struggle with a modem and a European ISP, your choices are varied. It is best to decide on a neighborhood first.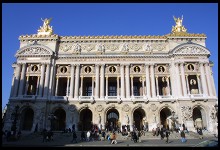 If you're interested in nightlife and shopping, the Opera Quarter is fabulous. I've stayed in the Millenium Hotel, 12 Boulevard Haussman, www.stay-with-us.com, opera@mill-cop.com, (01) 49 49 16 00. It is conveniently situated for the gourmet, with a McDonald's to the left, another McDonald's across the street, and a third down the Boulevard des Italiens. Nearly 20 cinema screens are within a 5-minute walk (look for "VO" or "version originale" if you don't want to strain to understand a French-dubbed "VF" or "version francaise" of your Hollywood classic) and a bunch of good all-night or late-night brasseries. I've never stayed in the Ambassador Hotel, next door at 16 Boulevard Haussman, but it is reputed to be excellent as well. From either hotel, it is about a 20-minute (interesting) walk to the Louvre and Notre Dame.
If you want to wake up and stroll by the river, walk into an art museum, or visit Notre Dame, you can't do better than a hotel smack in the middle of the Ile St-Louis. These will all be small; don't expect the facilities of a palace or business hotel. The DK guide recommends Hotel des Deux-Iles, (01) 43 26 13 35, and Hotel du Jeu de Paume, (01) 43 26 14 18.
If business calls you to the southern portion of the city, the only palace hotel is the Lutetia (www.lutetia-paris.com). This place is steeped in history. The Nazis camped out here during WWII and French Jews who'd survived the war and returned to Paris stayed here right after. To be a good value, the Lutetia would need to add (1) non-smoking rooms, (2) Ethernet drops in the rooms, and (3) better temperature control in its showers.
Restaurants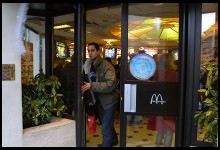 The Michelin Red Guides are the most reliable source for restaurants throughout Europe. A Michelin Red Guide Paris is a bit cumbersome to carry around a city, however, and tends not to bother rating quick and simple places. One useful strategy for Paris is to stop into a good hotel and ask the concierge for a recommendation in the neighborhood.
Below are some personal favorites.

Champs Elysees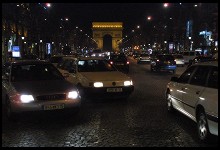 This district contains a bunch of Michelin 2-star and 3-star restaurants at which you'll need reservations, a jacket and tie, a long time to eat, and the right attitude. They're all great if you book weeks in advance and dedicate the evening to the experience. If, on the other hand, you want a beautiful fish dinner after a movie, take the advice of the concierge at the Hotel Georges V and visit Le Bistro de Marius at 6 Avenue George V (a few blocks towards the river from the hotel; (01) 40 70 11 76). For about $35 per person they serve a fabulous three-course dinner with wine. They don't take reservations and the dining room is rather smoky.
Opera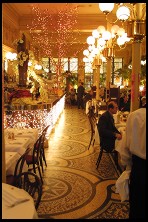 Le Petit Bofinger, 20 Boulevard Montmartre, is friendly, open fairly late, and has a large non-smoking section at the back of the restaurant. Menus at $15 and $25.
Just beyond the north wall of the Palais Royal, Le Grand Colbert is a beautifully decorated brasserie (2 Rue Vivienne; (01) 42 86 87 88).
St. German Des Pres
Restaurant Paris, inside the Hotel Lutetia, is an 8-table 1-room 1-star temple of cuisine (45 Boulevard Raspail, (01) 49 54 56 90). Closed Saturday and Sunday.
Bottom Line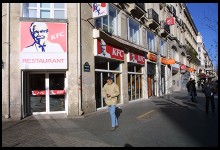 There are seven Michelin 3-star restaurants in Paris and several thousand crummy crepe or couscous joints. Those are your starting odds. Unlike the small towns of France, highish prices won't guarantee quality food and service. A crowded brasserie on the Champs Elysees may merely be serving tourists too lazy to ask around, check the guidebooks, or walk a bit. Even the locals aren't necessarily discriminating; fast food chains proliferate and prosper throughout the city.
(One aspect of the French restaurant experience underscores the difference in mobile telecom infrastructures between the US and France. Instead of taking your credit card up to a hard-wired terminal, your waiter will bring a little machine right to your table. This uses the reliable GSM mobile phone network to dial up for credit approval, something that would be impossible in the US where AT&T or Sprint PCS would drop half the calls.)

Guidebooks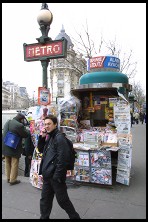 In the good old days, the answer would be obvious: Michelin Green Guide to Paris. This is still a useful book and the star system helps one prioritize the numberless sites of the city. However, the Dorling Kindersley Eyewitness Paris is more useful, especially for a photographer, because the book contains a small snapshot of each site. Thus you're able to make an informed decision as to whether or not the journey will be photographically worthwhile. The Dorling Kindersley guide is also good about indicating whether or not photography is allowed within a site. Finally, the guide contains a Metro/RER map on the back cover, a small street atlas, restaurant recommendations, and hotel listings. Somehow the end result is just a bit weak for planning purposes but it is perfect to keep in your pocket.

Getting There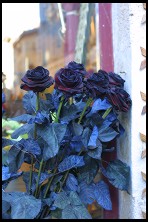 If you are visiting the southern portion of the city (left bank), consider trying to find a flight into Orly; it will save you time and money in a taxi. Most international nonstops, however, fly into Aeroport Charles de Gaulle (CDG; also known as "Roissy"). From CDG it is an hour-long $40 taxi ride to the center of Paris or a few dollars on the RER.
Air France is most likely to have a nonstop flight from wherever you are. Their people are friendly and relaxed. If you're on a 777 or A340 you'll have personal video in every seat, even in coach. If you must connect, consider British Airways; you fly directly over London on most flights to Paris from the U.S.--i.e., you lose some time changing planes in London but you've not flown any extra distance.
Getting Around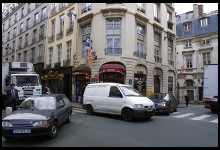 Though the Metro is efficient, taxis in Paris are surprisingly cheap, practical, and scenic. Within the tourist areas, a one-way taxi trip is unlikely to cost more than $10. For long trips by yourself, though, you can save the big bucks by taking the RER, a kind of commuter rail.
Survival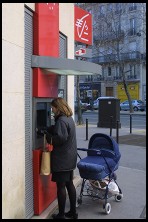 American citizens don't need a visa to visit France. Despite the fact that the country is modern and has excellent health care, you should expect to get sick. Either you'll catch a cold on the plane going over or you'll lack immunity to a food or flu virus that is common and harmless over there.
The time in Paris is GMT+1, i.e., one hour ahead of London and six hours ahead of New York. Thus if it is 9:00 am in New York, it is already 3:00 pm in Paris.
Electricity in France is 220V at 50 Hz. Most laptop computer and digital camera power supplies can function on this power and at most you'll need a mechanical adaptor. Business hotel rooms often are equipped with an American-style plug near the desk. If not, the hotel will lend you an adapter.
The country code for France is 33.
Money seems to be the franc rather than the euro. You can get francs with an American ATM card from just about any bank machine. The exchange rate is usually between 6 and 7 francs per dollar. Prices are also marked in euros, each of which is roughly equivalent to one dollar. Supposedly on January 1, 2002 the French will start using Euro bills and coins.
Going Beyond
France is just a bit smaller than Texas and packed with interesting historical photogenic scenery. You could hop the TGV and get to Marseille in 4 hours (or Milan in about 6!). But it is rather difficult to apply yourself seriously to the craft of photography when the landscape is whizzing past at 185 miles per hour.
Rent a car. Throw the tripod and camera bag in the trunk and poke along from village to village, keeping your eyes open for side roads, backroads, old signs painted on the sides of buildins, etc.
Don't let your ignorance of obscure traffic laws concern you; the French don't follow laws very carefully themselves. Do make sure that you've got a reasonably large car with airbags; France has an auto accident death rate that is, per passenger-mile, 3 times that of Britain or Germany.
Learning French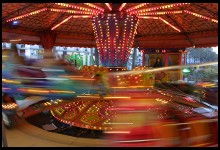 To a first approximation, everyone in Paris speaks English. A lot of times the shop assistants are from other European Union countries and, in fact, speak better English than French! Nonetheless, you'll have a much more enjoyable trip if you brush up your junior high school French.
Pimsleur tapes are best but remember that you'll need 30 minutes for 30 days to listen to the cassettes or CDs (Amazon sells French I on CD, French I on cassette, French II on cassette, French III on CD, and French III on cassette)
The Complete Idiot's Guide to French is a pretty good book but its 456 pages of instruction are substantially diluted by the personal reflections of the author, "who has taught in New York City public schools for 20 years and lives in Bayside, New York." The book also contains tips on navigating the exotic commercial waters of France. For example, "check out rates of a few car rentals before you make a decision [on which company to rent from], because rates vary from agency to agency."
As an example of how reduced human capabilities have become in the second half of the 20th century, pick up a used or library copy of Margarita Madrigal's An Invitation to French (1945 reprinted 1972; Simon and Schuster). This is a small-format 200-page book that is almost exclusively in French and conveys more useful dialog and grammar than Complete Idiot's Guide and similar modern books.
You won't learn any French language from Charade, which is in English, but it will give you a good feel for the city.
The French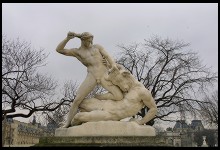 The French, especially Parisians, have a reputation for rudeness. This is occasionally confirmed in luxury shops, especially if you're dressed like a schlub. Sifting through 17 years of personal experience, however, I can relate the following anecdotes of French rudeness:
Whenever I initiative a conversation or transaction in my broken junior high school French, I get an answer in reasonably good English.
In 1983 I was riding as a passenger in a Parisian's car. We were driving past a train station and two people ran frantically into the street to flag us down. They explained that they'd just missed their train, one of the TGVs with reserved seats, but that it would be stopping for 15 minutes at a station in another section of Paris. There weren't any taxis available but if we'd be willing to rush them over to the other station, they might make their train. My friend quickly agreed to drive 20 minutes out of his way to help out these strangers.
In 1984 I attended a conference in Italy and met a Parisian computer scientist. He found out that I was going to be stopping next in Paris and was sorry that he'd be out of town that week. He gave me the keys to his centrally located apartment. The morning after I arrived two of his girlfriends turned up to take me sightseeing. He'd called them from his hotel in Italy.
In 1984 I was in the Champs Elysees drugstore cafe eating dinner by myself, reading the Herald Tribune. Next to me were two impeccably suited business men from Strasbourg. Next to them was a penniless college student working in Paris as an au pair. At the end of our meals all four of us got into the business guys' huge Renault sedan to be guided around the city by the college girl. We didn't split up until 3:00 am.
In 2001 a colleague and I were dining at Le Bistro de Marius. The couple at the adjacent table heard us order two glasses of wine and interrupted to offer us their nearly-untouched second bottle of white wine. We fell into conversation with the businessman and his civil servant wife. When they heard of our plans to visit Disneyland Paris we were given his card and an offer to be shown around Paris personally. Meanwhile we'd been attempting to talk with the waitress in French but she only wanted to speak English. Though she'd never visited the U.S., she'd developed a passion for our country and was actively seeking a restaurant job in the States.
Paris is a big city. People there aren't exactly starved for social contact. But if you're reasonably soft-spoken, good humored, and make an attempt to speak the language, you may be surprised at how friendly the natives turn out to be. Remember that if Parisians didn't like people, they'd probably have moved out to the countryside a long time ago.
---
philg@mit.edu