History of the Rhind Papyrus
---
How did we get the Rhind Papyrus and how do we know what we know from it?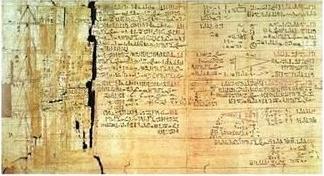 1858: Alexander Henry Rhind purchased the papyrus at a Bazaar in Cairo.
1865: It was bought from Rhind by the Brittish Museum.
1869: Samuel Birch was commissioned to make reproductions of the Papyrus.
1877: August Eisenlohr assisted by Moritz Cantor produced a reproduction and translation of the Papyrus using the Birch reproductions that they got in 1872.
1898: The Brittish Museum published a 'facsimile' of the Papyrus.
1922: With the advances in understanding of Egyptian Hieroglyphics Thomas Eric Peet created a new translation of the Rhind Papyrus with new fragments of the papyrus that were found in a New York collection. This was the first translation that worked from the original rather than a reproduction.
1927: Arnold Buffum Chace along with the help of Henry Parker Manning and Raymond Clare Archibald produced their own translation of the Papyrus along with the first reproduction of 31 photographs of the Papyrus itself.
---