---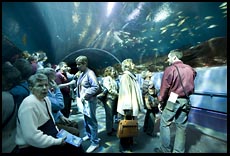 There are two dimensions to consider when choosing a fish tank:
glass versus acrylic
standard versus custom size
If you're concerned about breakage or leakage, an acrylic tank is better than glass. Acrylic is also clearer than standard glass tanks. It is very easy to get acrylic tanks in custom sizes. You can get an acrylic tank made with one or more opaque colored sides. All of that said, most experienced aquarists prefer glass tanks.

Glass is much more scratch-resistant than acrylic. Companies that make acrylic tanks will tell you all about how you can remove scratches from acrylic but I've never seen anyone succeed at this. An acrylic tank will inevitably become scratched inside and out. It is only a matter of time. Acrylic tanks are also annoying in that they are not fully open on top. Access to the tank is via covered portholes.

Glass tanks are built with a steel frame that is of a standard thickness. This makes it easy to hang accessories from the top edges of the tank. There are a several American companies that make custom-sized glass aquaria. One advantage of a custom tank is that some vendors offer super clear glass that lacks the greenish tint of the cheap glass used in standard tanks. Do a Google search for "Dutch Aquarium Systems" to find one such vendor. Oceanic Systems, Inc., an independent company that was acquired in the 1990s by All-Glass, also offers high quality custom-sized tanks.

If your decor happens to accomodate a standard-sized tank, that's great. For one thing, you can replace the tank without waiting should it ever become scratched. All-Glass tanks are perfectly adequate. If you feel like spending more money, Oceanic tanks are noticeably superior at 1.5-2X the price. Don't buy any aquarium cheaper than an All-Glass.

If your decor demands a custom-sized/shaped tank, you may end up having to go acrylic. I've had good personal experience with tanks from www.tenecor.com, though their cabinetry isn't fine enough quality to hold its own in the average rich bastard's McMansion.
Size Matters
Don't waste your time with any fish tank smaller than 55 gallons (4' long). It is difficult to achieve stable water chemistry in a smaller tank. Most of the world's interesting fish either need at least 55 gallons of space or a bunch of companions before they'll exhibit their natural behavior. It takes a certain effort every week or two to maintain a fish tank; you'll find yourself getting very annoyed if you have to drag out your maintenance gear for a tank that seems puny. Finally the high-tech filters that you will want to have aren't really cost-effective or space-effective on a tank smaller than 55 gallons.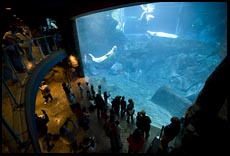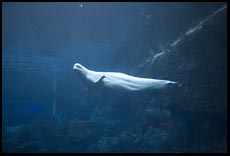 ---
philg@mit.edu
Related Links
Add a comment | Add a link