To the Swedish MD/PhDs, e.g., Johan Giesecke and Anders Tegnell, most of the world's reaction to coronavirus is irrational panic. To the Karens with whom I am friends on Facebook, hiding in a bunker while waiting for the next batch of governors' orders is an entirely rational, even "scientific", response to a disease that has killed a significant number of people.
I wonder if we can look at how Americans respond to influenza as a way to determine how much of the COVID-19 shutdown is rationally motivated.
Influenza kills 80,000 Americans, mostly elderly, in a typical "bad" year and up to 225,000 (population-adjusted) in an exceptional year, such as 1957-58. Influenza infection can also leave victims with serious long-term health effects, such as impaired heart function. From the CDC:
Sinus and ear infections are examples of moderate complications from flu, while pneumonia is a serious flu complication that can result from either influenza virus infection alone or from co-infection of flu virus and bacteria. Other possible serious complications triggered by flu can include inflammation of the heart (myocarditis), brain (encephalitis) or muscle (myositis, rhabdomyolysis) tissues, and multi-organ failure (for example, respiratory and kidney failure). Flu virus infection of the respiratory tract can trigger an extreme inflammatory response in the body and can lead to sepsis, the body's life-threatening response to infection. Flu also can make chronic medical problems worse. For example, people with asthma may experience asthma attacks while they have flu, and people with chronic heart disease may experience a worsening of this condition triggered by flu.
So let's says that COVID-19 is 5X as bad, for both lethality and long-term effects on survivors, as a bad flu.
What happens when the flu season arrives in the U.S.? Do we shut down schools in communities where flu is "spiking"? Do young healthy adults don masks, saying that though they aren't at risk they want to protect the elderly? Do people work from home whenever they're able to? Do we establish any limits on retail or restaurant capacity, ban indoor dining, or limit hours?
In my experience, the answer to all of the above is "No." From what I have seen, Americans tape up "It's flu season; wash your hands" signs in a few places and continue with life as usual.
A rational and consistent group of humans, therefore, would respond to COVID-19 with something like 5X the actions taken during flu season. We would see 5X as many "wash your hands" signs. Children who lost 3 minutes of schooling during flu season (time spent washing hands instead of studying) would lose 15 minutes of schooling during COVID-19. Or maybe two windows would be opened in every classroom and mixing of students in the cafeteria would be curtailed in favor of lunch at desks. Instead, the reaction is 120X. Children lose 360 minutes of schooling (school entirely shut down) per day rather than 3 minutes. Children lose their social life, playgrounds, etc.
The same analysis could be done for adults. If they're hiding in their bunkers 5 days per week currently, that would be consistent with their flu season response if they had previously hid 1 day per week during flu season.
Our universities are always in the vanguard…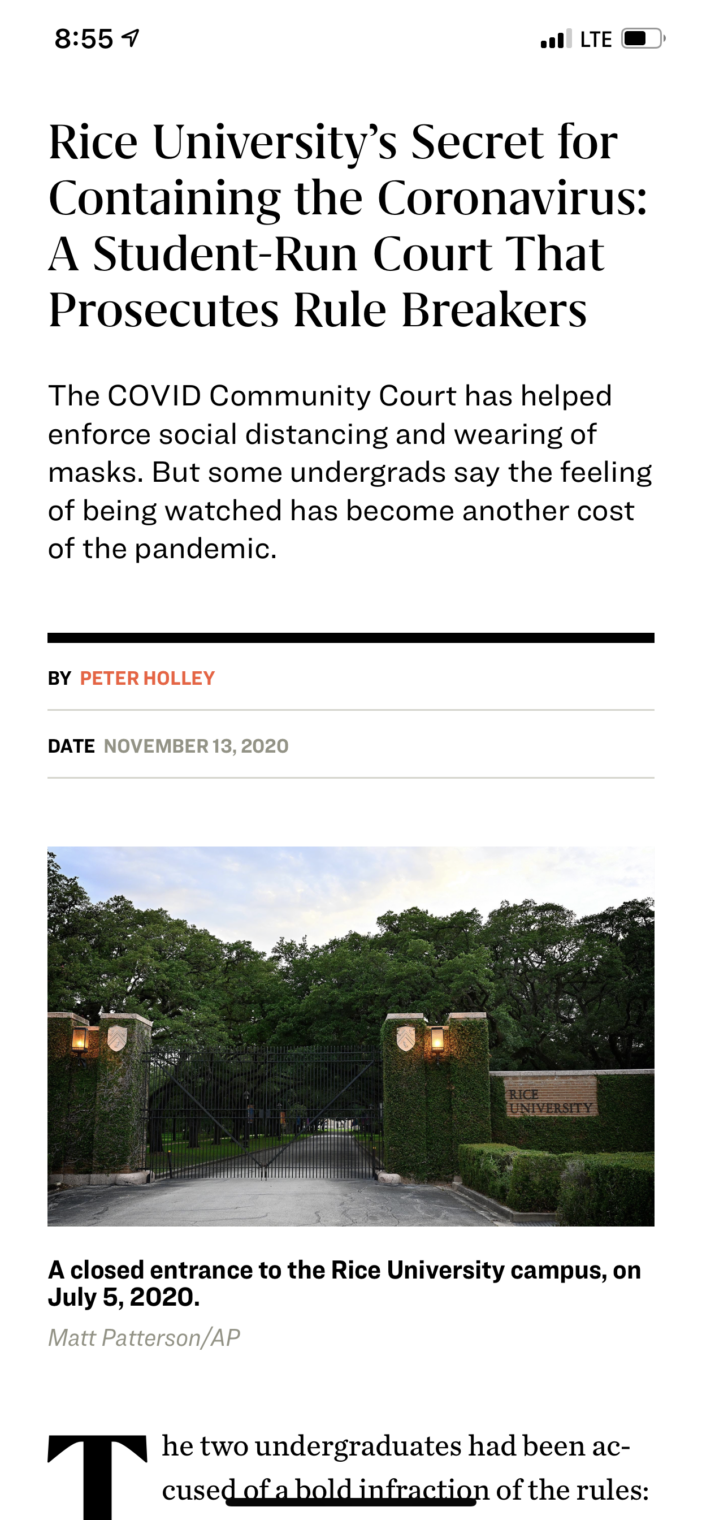 From the above article, the 20th century's best ideas are alive and well:
Typical penalties include writing letters of apology, performing community service projects, meeting with advisers, and completing educational research papers about public health—not to mention the shame most feel after having been shown to have placed their fellow students at risk.
Readers: Does the above way of looking at coronapanic make sense?
Related: