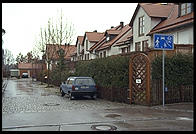 If you're so inclined, it is possible to live in a brand-new condo built just a few meters from the walls and barbed wire of the Dachau Concentration Camp. The camp would literally be your back yard. You could tell visitors "Keep an eye on the enormously tall sign for the McDonald's restaurant. Turn left at the Arbeit Macht Frei gate. If you come to the Krematorium or the blood trench where the Soviet POWs were shot, you've gone too far."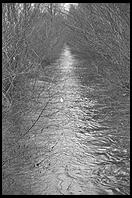 Dachau was Germany's first concentration camp, started in 1933 because the prisons were overflowing with people the government didn't like. They didn't have enough money to just build more prisons the way we do in our War on Drugs, so the Nazis built work camps like Dachau. Dachau is distinctive because it was here that SS personnel (Eichmann, Hess) trained for work in newer camps such as Auschwitz. Pastor Martin Niemöller, who initially supported the Nazis, ended up here in 1938, whereupon he famously noted that

Als die Nazis die Kommunisten holten,
habe ich geschwiegen; ich war ja kein Kommunist.
Als sie die Sozialdemokraten einsperrten,
habe ich geschwiegen; ich war ja kein Sozialdemokrat.
Als sie die Gewerkschafter holten,
habe ich geschwiegen; ich war ja kein Gewerkschafter.
Als sie die Juden holten,
habe ich geschwiegen; ich war ja kein Jude.
Als sie mich holten, gab es keinen mehr,
der protestieren konnte.

-- Der Weg ins Freie, Martin Niemöller (F.M. Hellbach, Stuttgart, 1946)

When the Nazis arrested the Communists,
I said nothing; after all, I was not a Communist.
When they locked up the Social Democrats,
I said nothing; after all, I was not a Social Democrat.
When they arrested the trade unionists,
I said nothing; after all, I was not a trade unionist.
When they arrested the Jews,
I said nothing; after all, I was not a Jew.
When they arrested me, there was no longer anyone who could protest.

-- translated by Bob Berkovitz (rbbrook@worldnet.att.net)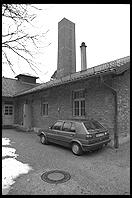 Dachau is huge. It would take about an hour just to walk around all of the grounds. Approximately 30,000 prisoners (1,173 of them German) were living there upon liberation in 1945. The site is thoroughly reminiscent of a huge public high school, assuming your public school had an original Arbeit Macht Frei gate, a gas chamber (never used), or a Krematorium. The original barracks had to be torn down in 1965 when the camp was made into a memorial; they were too badly decayed.
The camp headquarters is now a museum. To a Cantabrigian, the most familiar figure will be Dr. Siegmund Rascher. He did gruesome medical experiments involving freezing people in cold water or air, then trying to warm them up with hot water (this would allegedly help the German air force). He also subjected people to high altitude simulations until they died. Was he cruel? Did he hate non-Aryans? No. He just wanted to get his PhD. He kept submitting research reports to Nazi-controlled universities in an attempt to boost his credential portfolio. He would have graduated with distinction had not his infertile older wife been arrested for stealing babies.
The grounds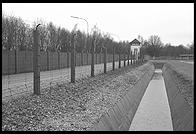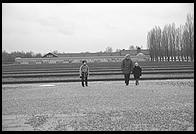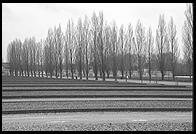 The famous gate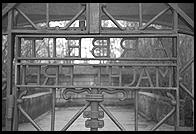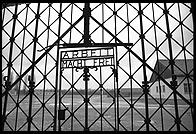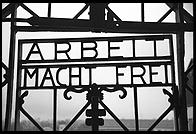 Reconstructed Barracks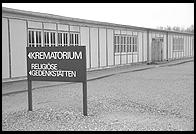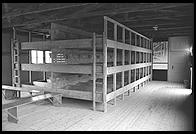 The Main Building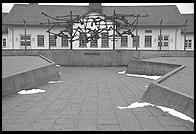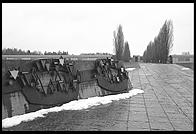 The Krematorium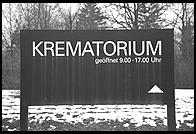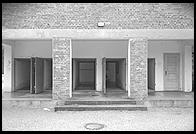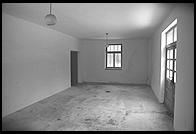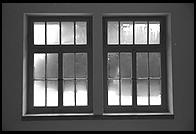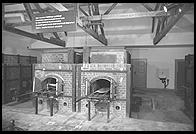 Behind the Krematorium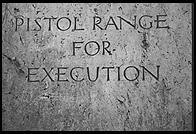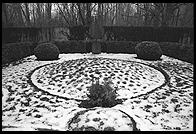 The Jewish Memorial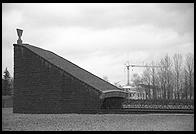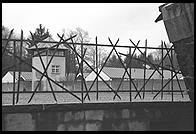 The Carmelites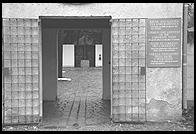 Practical
The medieval town of Dachau is now a suburb of Munich and the S-Bahn will whisk you there in a few minutes. I went straight from the Munich airport. At 170 kph, my Turkish cab driver simply followed the signs to Stuttgart and then turned off at the Dachau exit. As we approached the town of Dachau, there were signs directing us to the camp (a huge McDonald's sign is also a good landmark).

The camp seems to be open from 9-5 every day except Mondays.
---
Text and photos copyright 1999 Philip Greenspun.
---
philg@mit.edu
Related Links
Add a comment | Add a link