Recommended Hotels
Home : Travel : Costa Rica : One Article
---
San Jose
San Jose is a nerve-jangling city. Do as the Ticos do and avoid the center. If you can wait until February 1997, you won't do better than the re-opening Hotel Milvia.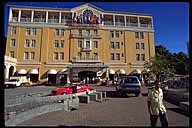 Avoid the Holiday Inn like the plague. If you insist on staying in a big hotel in the center of town, the Gran Hotel looked pretty nice. Avenidas Central/2, Calle 3; Apdo. 527, San Jose 1000, voice 221-4000, FAX 221-3501.
Tortuguero -- Northern Caribbean
In Tortuguero, the nicest hotel is the Tortuga Lodge.
Corcovado -- Southern Pacific
Corcovado Tent Camp is a remarkably nice place in a very remote location. The upside is that you can see monkeys, parrots, and other wildlife from from the hotel grounds. The downside is that just getting to the hotel involves a 45-minute walk along the beach (your luggage goes in a donkey cart).

Less physically able people may prefer to stay in the more accessible Drake's Bay, where each hotel has a boat dock. This makes getting out to Cano Island possible. The island supposedly has some very interesting snorkeling, wildlife and pre-Columbian cemeteries.

We heard good things about La Paloma Lodge ($55/person, P.O. Box 025216, Miami, FL 33102, voice (305) 785-2260, FAX (305) 785-2372).
Monteverde Cloud Forest
By far the nicest hotel and restaurant in town is Monteverde Lodge.
Volcano Arenal
The closest hotel to the volcano, and therefore the one from which you are most likely to see fireworks, is the Arenal Observatory Lodge.
Pacific Coast
Many tourists said good things about Manuel Antonio, but for a more authentic Costa Rican experience and to get farther off the beaten track, we recommend Hacienda Bar&uacute.
---
philg@mit.edu
Related Links
Add a comment | Add a link