Miami
by Philip Greenspun

Home : Travel : Costa Rica : One Part
---
Costa Rica? Why Costa Rica? A lot of friends were asking. "Because everyone who comes back has nice things to say," I'd respond. "It is kind of like New Zealand in that respect." I tried to sound cavalier, but the truth was that I didn't have any idea what the country was like, had a crushing work schedule in December and January that left no time for plans or reading, and didn't speak any Spanish. I didn't even want to go, but my girlfriend Chantal had said "there is no way that I'm staying in Boston for January" so we stayed up all night packing and straggled into the airport at 8:40 for the 9 a.m. flight to Miami.

January 13, 1995

They call Miami the "Capital of Latin America" and its reach extends all the way to the gate at Logan Airport. As soon as I got on the plane, I was surrounded by Spanish-speakers. An older woman asked me in Spanish to help her getting a suitcase back out of an overhead compartment. She struggled for an English "thank you" for a moment, then gave up and said "Gracias."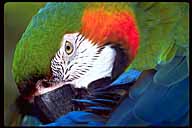 Because of their staggering import duties, Latin Americans are fond of Korean vehicles. Dollar Rent-A-Car makes them feel right at home with its fleet of Hyundais. Chantal and I drove straight south to Parrot Jungle, where parrots will take food from your hand, kiss you, and climb on your head and arms if Ramon asks them nicely.
"I came here from Cuba eight years ago," Ramon explained. "I expected to stay two months, but I've been here at Parrot Jungle the whole time."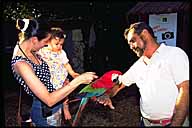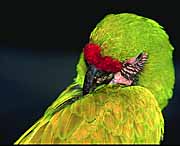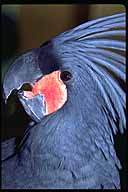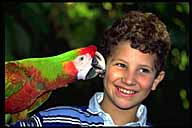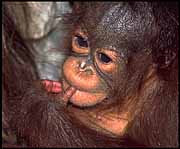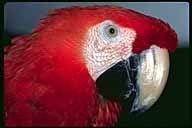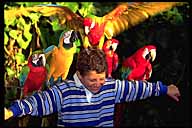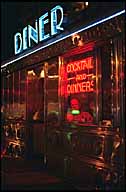 We weren't quite ready to immerse ourselves in the Latin American culture, so we drove over the causeway from downtown Miami onto Miami Beach, an entirely separate city on its own collection of islands. The Art Deco district here is a favorite of European travelers, fashion photographers, and yuppies. Mostly these folks congregate right up against the beach. If you go back just a few blocks, you'll find residential hotels filled with Jewish New Yorkers who retired into poverty from miserable Garment District jobs. Go a few blocks south and you'll find the human remnants of the 1980 Mariel boatlift, when 125,000 Cubans came over (many of them former residents of Cuban prisons and mental hospitals).
One of my favorite restaurants in the area is Lulu's which serves southern food in huge portions to hungry fashion models.

South Beach: The Art Deco District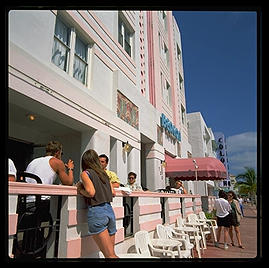 Saturday, January 14, 1995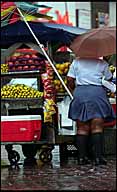 Henry Flagler created modern Florida by building a railroad to Palm Beach in 1885. After a frost destroyed most of the state's crops in 1895, Flagler decided to extend the railroad southward and built the city of Miami at the new end of the line. The street that bears his name, Flagler Street, is the main shopping and cultural drag of downtown Miami. We stopped for a bite at Cacique Lunch, a Cuban joint across the street from the art museum. We sat down at the bar across from the owner, a Cuban of about 50 with a weathered brown face. Elsia, an Ecuadorian, sat next to me. She's been coming here for 10 years, but never staying more than six months at a time.
"It is all I can take," she said. "I don't understand why Americans live the way they do. Nobody talks to each other. They don't know their neighbors. There are no little shops, just strips of huge stores then isolated houses with isolated people with two TVs, three videos, and more stuff piled to the ceiling. Coconut Grove used to be a beautiful place, with big trees and little shops and everyone knew each other. Now they've built Coco Walk, another shopping mall, and it is all ruined."
Her daughter has been here since she was 14 and married a Chilean. Had she kept her Ecuadorian values or been seduced by materialism?
"She's become an American," Elsia sighed.
Elsia had the gracious Old World manners that you can't find in the Old World anymore. She said everything once slowly in Spanish and then repeated in English so that we'd be better prepared for Costa Rica. She also translated for our Costa Rican waitress, who has lived in Miami for 15 years but never learned much English.
Elsia showed us some snapshots of Quito and a small mountain town on the equator. Like Bill Bryson, Elsia was looking for the perfect American small town.
"I hear that Santa Fe is nice, that people have an appreciation for beauty, architecture, and community."
Miami's main art museum is in the Metro-Dade Cultural Center, an elegant complex of Spanish-architecture buildings. Its collection is strange and small. Today they featured an exhibit of a Uruguayan gaucho painter and an abstractionism exhibit full of hard-to-look-at paintings by famous artists.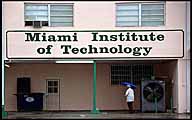 We drove west on Flagler and the neighborhood quickly deteriorated into poverty. Although the commercial action on the street is lively, some of the houses were boarded up and the people wore a defeated look exacerbated by the persistent heavy rain. We stopped at a McDonald's for sodas. One of the kitchen workers was having a smoke in the men's room, which was filthy. The register clerk, a boy of about 18, was delighted to have Anglo customers and spoke English to us very carefully, almost reverently, rounding all the words. In back of the McDonald's, I noticed the little-known southern branch campus of MIT.
Feeling as though we'd done our bit to find high culture in Miami, we drove to the Coco Walk shopping mall in Coconut Grove to see if Elsia was right.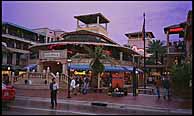 The place was jammed; we could barely get into the parking lot. It was filled with beautiful people beautifully dressed. Muscular tanned guys, Latin women in tiny black dresses, fancy sports cars. Appearance is everything here. We had some truly terrible food at a beautiful looking Italian restaurant, Cafe Med, on the ground floor of the mall, then milled around.
We found a Peruvian salesman in Banana Republic who really wanted to go back to Peru and practice photography, but he hadn't managed to scrape up enough money.
The only Anglo we managed to strike up a conversation with was there with his gay partner. It occurred to me then that Miami wasn't exactly Reagan's America.
I stopped at a nut and lemonade stand run by two handsome, cheerful guys, a Peruvian and a Mexican. The Peruvian was very sorry to be here, but couldn't go back because his father had too many enemies. I asked who was after him, the government or the guerrillas?
"Both," he smiled.
In two days, we hadn't managed to find anyone who was happy living in Miami. People came here to work or be with family, but they'd much rather be somewhere else. It is kind of like Los Angeles.
Our hosts Molly and Warner echoed this theory. Molly finished her PhD at MIT and the best job she could find was at a NOAA lab on Key Biscayne, an island connected by causeway to Miami. Warner hadn't been too enthusiastic about leaving his job at Digital.
"My main problem was that everyone who didn't have a direct interest in our coming here said not to make the move. We went to look at one house and the owner said `Oh, I hate it here. I've lived here for fifteen years and hated every one.' I couldn't find anyone who'd grown up in Miami and I couldn't find anyone who liked it here."
"Well," Molly added, "the people who are happy are those who have some water-based activity that they just love to do, like deep-sea fishing. Most of the people in my lab are like that."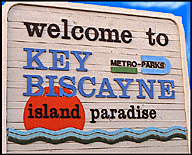 They'd settled down on Key Biscayne, which became famous when President Nixon would come here to his house next to mobster/banker pal Bebe Rebozo (who allegedly kept $100,000 of Howard Hughes's cash for Nixon). The island has changed a bit since then.
"When we moved in," Molly explained, "the Colombian family next door tried their best to be hospitable. `Oh, you'll love this neighborhood. There's an American three houses down Harbor Drive, and an American two blocks up Beechwood, and...' Practically the whole Key is owned by South Americans. Houses go for $500,000 on the interior to a few million dollars on the water, but prices aren't a problem when you collect the wealth of an entire continent."

January 15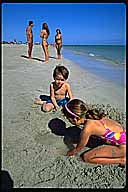 Molly and Warner showed us around the beach clubs, condos, state park, and luxury neighborhoods of "The Island Paradise of Key Biscayne." Hurricane Andrew was two years ago and even a wealthy community like Key Biscayne hasn't managed to rebuild completely. The state park around the old lighthouse at the southern tip of the key was the worst hit. It used to be covered with 30 foot high palm trees, but now is a wasteland of scrub and young trees held up by stakes and guy wires.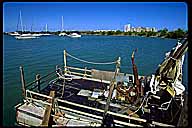 As we rounded the park bike path, we came upon a tiny harbor filled with gleaming white sailboats, power yachts and a strange little catamaran. The catamaran consisted of a plywood deck surrounded by a makeshift wooden railing. A tattered sail and a rusty car engine were the power sources.
"That's a Cuban raft," said Molly. "See the Coast Guard numbers spray-painted on? They did that so they'd know that they already took the guys off the raft and wouldn't worry about them. So these folks didn't make it, although this looks much better than the average raft."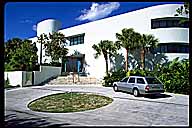 Back in the developed portion of the key, Molly displayed an eye for and knowledge of real estate that would have done a California divorcée proud. We even had to stop into an open house. The canal-front property might have been nice before Andrew, but flood, mildew, standing water, and a warped roof made me think that $1.1 million might be better spent.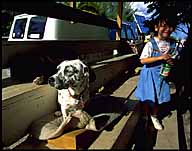 We crossed a bridge onto Virginia Key, passed Molly's lab and a University of Florida lab, then biked down to Jimbo's. Jimbo quietly smokes fish out back with the manatees while the front of the shack hops with activity. Six production companies had been there in the morning and two were still there. A bunch of wooden buildings are done up in Western or Art Deco colors depending upon the shoot. We watched Renee Anderson croon a pop melody in front of a bunch of mounted game fish while the cameras rolled. We also talked to Reuben, a trim production manager, about the beautiful women and ugly clothes on display.
"It's for a German catalog. The models are all hired locally, but the clothes and the photographers come from Germany. I'm here to get permits, pay taxes, and make sure everything runs smoothly."
Reuben grew up in Germany, but has lived in Miami for many years.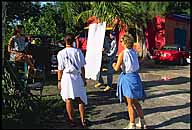 "Really, I don't notice the women. I'm working too hard. Except sometimes," as we both craned our necks toward the beautiful Spanish-boned model 30 feet from the business end of a Nikon 600/4. The photographer behind the camera shouted "I love it" in arty German-accented English and pantomimed poses.

Monday, January 16, 1995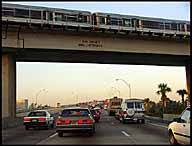 Interstate 95 connects to the Miami airport via a six-lane Dolphin Expressway. Today was Martin Luther King Day, a federal and state holiday, so we expected light traffic at 7 a.m. We didn't count on a fatal accident that completely closed the expressway and left thousands of cars parked with their engines off. It made for decent photography at times, but we got to the American Airlines counter only 15 minutes before our 9 a.m. flight.

"It is too late for an international flight," the Anglo supervisor explained curtly.
"But we sat in traffic for an hour. There was an accident on the Dolphin Expressway. Didn't you hear?"
"There are accidents every day. Tough luck."
By the time we'd worked our way to the front of the huge line, it was about 9:15.
"You know, you've missed your nine o'clock plane," our Ecuadorian ticket agent politely noted.
We explained the situation.
"That's a real shame, because they could have gotten you on. I'm going to give you one of the last seats on the eleven o'clock."
We didn't leave until noon because they were having such a tough time getting all the baggage onto the plane. Miami is the shopping capital of Latin America and every family returning to Central and South America seems to be trying to check through a refrigerator or washing machine.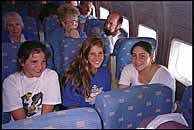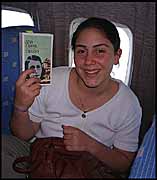 The third Miami inescapable (after the Spanish language and mildew) is the Holocaust. Most of the older Jews who've retired in Florida remember relatives who were killed and the Miami Herald ran a front-page story in their Sunday edition about "Auschwitz Memories 50 Years Later." Once again the reach of Miami culture extends to the airplanes serving the city. Three high school girls from Argentina, fresh from Disneyworld, were sitting behind me and one was reading the Diary of Anne Frank in a Spanish translation [Anne Frank was actually killed in Bergen-Belsen, not Auschwitz].


---
Look at a map of Central America (with our flight's approximate route marked in pink) (85K GIF)
---

Continue on to the Central Valley of Costa Rica
---
philg@mit.edu
Add a comment | Add a link