Arts and Culture
by Christopher Baker

Home : Travel : Costa Rica : CR Handbook : One Article
---
Interest--and excellence--in the arts have been slow to develop. Costa Rica, with its relatively small and heterogeneous pre-Columbian population, had no unique culture with powerful and unusual artforms that could spark a creative synthesis where the modern and the traditional might merge. Costa Rica's postcolonial development, too, was benign and the social tensions (which are often catalysts to artistic expression) felt elsewhere in the isthmus were lacking. And more recently, creativity has been stifled by the Ticos' desire to quedar bien (leave a good impression), praise the conventional lavishly, and criticize rarely.

Hence, Costa Rica is relatively impoverished in native arts and crafts. In Costa Rican literature there has never been anyone of the stature of Latin American writers such as Gabriel García Márquez, Octavio Paz, Jorge Amado, Pablo Neruda, Isabel Allende, or Jorge Luís Borge. And much of the modern art that exists has been patronized by the tourist dollar, so that art and craft shops now overflow with whimsical Woolworth's art: cheap canvas scenes of rural landscapes, rough-hewn macaws gaudily painted, and the inevitable cheap bracelets and earrings sold in market squares the world over.

In recent years, however, artists across the spectrum have found a new confidence and are dismissing rigid social norms to experiment with new paintings and sculptures and movements that metaphorically express the shape of their thoughts. The country's artistic milieu doesn't have the same vibrancy as Argentina's, say, but beneath the patina exciting things are happening for a country long dismissed as a cultural backwater. The performing arts are flourishing. A young breed of woodcarvers and carpenters is transcending the relegation of native-style crafts to mere airport art. Artists are tearing free from a straitjacket of conformity. And the National Symphony Orchestra sets a high standard for other musical troupes to follow. Ticos now speak proudly of their latter-day "cultural revolution."

ART

Santa Ana and neighboring Escazú have long been magnets for artists. Escazú in particular is home to many contemporary artists: Christina Fournier; the brothers Jorge, Manuel, Javier, and Carlos Mena; and Dinorah Bolandi, who was awarded the nation's top cultural prize. Here, in the late 1920s, Teodorico Quiros and a group of contemporaries provided the nation with its own identifiable art style--the Costa Rican "Landscape" movement--which expressed in stylized version the flavor and personality of the drowsy little mountain towns with their cobblestone streets and adobe houses backed by volcanoes. The artists, who called themselves the Group of New Sensibility, began to portray Costa Rica in fresh, vibrant colors.

Quiros had been influenced by the French impressionists. His painting El Porton Rojo ("The Red Gate") hangs in the Museum of Costa Rican Art. The group also included Luisa Gonzales de Saenz, whose paintings evoke the style of Magritte; the expressionist Manuel de la Cruz, the "Costa Rican Picasso;" as well as Enrique Echandi, who brought a Teutonic sensibility following studies in Germany.

One of the finest examples of sculpture from this period, the chiseled stone image of a child suckling his mother's breast, can be seen outside the Maternidad Carit maternity clinic in southern San José. Its creator, Francisco Zuñigo (Costa Rica's most acclaimed sculptor), upped and left for Mexico in a fit of artistic pique in 1936 when the sculpture, titled Maternity, was lampooned by local critics (one said it looked more like a cow than a woman).

By the late 1950s many local artists looked down on the work of the prior generation as the art of casitas (little houses) and were indulging in more abstract styles. The current batch of young artists have broadened their expressive visions and are now gaining increasing international recognition for their "eclectic speculations into modernist and contemporary art."

Many of Costa Rica's new breed of artists have won international acclaim. Isidro Con Wong, from Puntarenas, is known for a style of "magic realism," with works in permanent collections in several U.S. and French museums. Once a poor farmer of Mongolian descent, he started painting with his fingers and achiote, a red paste made from a seed. "Children, drunk bohemians, or the mentally regressed--in other words the innocent chosen by God--are those who understand my works," he says. Imagine the Nicoya landscape seen on LSD! His paintings sell for about $35,000 each.

In Puerto Limón, Leonel González paints images of the Caribbean port with figures reduced to thick black silhouettes against backgrounds of splendid colors, "overtaken if not fully embraced by the design," says art critic Pau Llosa. The most irreverent of contemporary artists is perhaps Roberto Lizano, who collides Delacroix with Picasso and likes to train his eye on the pomposity of ecclesiastics.

The government-subsidized House of Arts helps sponsor art by offering free lessons in painting and sculpture. The Ministry of Culture sponsors art lessons and exhibits on Sundays in city parks. University art galleries, the Museo de Art Costarricense, and the many smaller galleries scattered throughout San José exhibit works of all kinds.

The Center for Creative Arts, opened in 1991 in Santa Ana west of Escazú, offers courses and studio space for local and visiting artists (tel. 282-6556 or 282-8769).

CRAFTS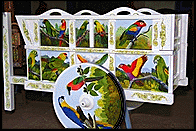 Costa Rica doesn't overflow with native crafts. Apart from a few notable exceptions--the gaily colored wooden carretas (ox-carts) which have become Costa Rica's tourist symbol, for example--you must dig deep to uncover crafts of substance. There are few villages dedicated to a single craft or crafts, as in Mexico or Guatemala. Much that is sold for home decoration or to tourists reflects a mediocre kitsch culture that is imitative rather than creative (frankly, much is cheap junk). And, other than the carretas, there is nothing distinctly and recognizably costarricense.
Still, there are a few worthy exceptions. Guaitil, in Nicoya, retains the Chorotega Indian tradition of pottery. And Santa Ana is also famous for its ceramics: large greenware bowls, urns, vases, coffee mugs, and small tipico adobe houses fired in brick kilns and clay pits on the patios of some 30 independent family workshops, such as Ceramica Santa Ana (see p. 294). In Escazú, master craftsman Barry Biesanz (see p. 289) skillfully handles razor-sharp knives and chisels to craft subtle, delicate images, bowls as hemispherical as turned with a lathe, and decorative boxes with tight dovetailed corners from carefully chosen blocks of tropical woods: lignum vitae (ironwood), narareno (purple heart), rosewood, satinwood, and tigerwood.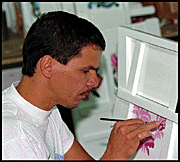 Many of the best crafts in Costa Rica come from Sarchí. Visitors are welcome to enter the fabricas de carretas and watch the families and master artists at work producing exquisitely contoured bowls, serving dishes, and--most notably--miniature versions of the carretas for which the village is now famous worldwide. Although an occasional full-size ox-cart is still made, today most of the carretas made in Sarchí are folding miniature trolleys--like little hot-dog stands--that serve as liquor bars or indoor tables, and half-size carts used as garden ornaments or simply to accent a corner of a home. The carts are painted in dazzling white or burning orange and decorated with geometric mandala designs and floral patterns that have found their way, too, onto wall plaques, kitchen trays, and other craft items. Sarchí and the Moravia suburb of San José are also noted for their leather satchels and purses.
There's not much in the way of clothing. However, the women of Drake Bay are famous for molas, colorful and decorative hand-sewn appliqué used for blouses, dresses, and wall hangings. Of indigenous art there is also little, though the Boruca Indians carve balsa-wood masks--light, living representations of supernatural beings--and decorated gourds, such as used as a resonator in the quijongo, a bowed-string instrument.
LITERATURE
Though the government, private donors, and the leading newspaper La Nacion sponsor literature through annual prizes, only a handful of writers make a living from writing, and Costa Rican literature is often belittled as the most prosaic and anemic in Latin America. Lacking great goals and struggles, Costa Rica was never a breeding ground for the passions and dialectics which spawned the literary geniuses of Argentina, Brazil, Mexico, and Chile, whose works, full of satire and bawdy humor, are "clenched fists which cry out against social injustice."
Costa Rica's early literary figures were mostly essayists and poets (Roberto Brenes Mesen and Joaquin Garcia Monge are the most noteworthy). Even the writing of the 1930s and '40s, whose universal theme was a plea for social progress, lacked the pace and verisimilitude and rich literary delights of other Latin American authors. Carlos Luis Fallas's Mamita Yunai, which depicts the plight of banana workers, is the best and best-known example of this genre. Other examples include Fallas's Gentes y Gentecillas, Joaquín Gutierrez's Puerto Limón and Federica, and Carmen Lyra's Bananos y Hombres.
Much of modern literature still draws largely from the local setting, and though the theme of class struggle has given way to a lighter, more novelistic approach it still largely lacks the mystical, surrealistic, Rabelaisian excesses, the endless layers of experience and meaning, and the wisdom, subtlety, and palpitating romanticism of the best of Brazilian, Argentinean, and Colombian literature. An outstanding exception is Julieta Pinto's El Eco de los Pasos, a striking novel about the 1948 Civil War.
MUSIC AND DANCE
Ticos love to dance. By night San José gets into its stride with discos hotter than the tropical night. On weekends rural folks flock to small-town dance halls, and the Ticos' celebrated reserve gives way to outrageously flirtatious dancing befitting a land of passionate men and women. Says National Geographic: "To watch the viselike clutching of Ticos and Ticas dancing, whether at a San José discotheque or a crossroads cantina, is to marvel that the birthrate in this predominantly Roman Catholic nation is among Central America's lowest." Outside the dance hall, the young prefer to listen to Anglo-American rock, like their counterparts the world over. When it comes to dancing, however, they prefer the hypnotic Latin and rhythmic Caribbean beat and bewildering cadences of cumbia, lambada, marcado, merengue, salsa, soca, and the Costa Rican swing, danced with sure-footed erotic grace.
Many dances and much of the music of Costa Rica reflect African, even pre-Columbian, as well as Spanish roots. The country is one of the southernmost of the "marimba culture" countries, although the African-derived marimba (xylophone) music of Costa Rica is more elusive and restrained than the vigorous native music of Panama and Guatemala, its heartland. The guitar, too, is a popular instrument, especially as an accompaniment to folk dances such as the Punto Guanacaste, a heel-and-toe stomping dance for couples, officially decreed the national dance. (The dance actually only dates back to the turn of the century, when it was composed in jail by Leandro Cabalceta Brau.)
Costa Rica has a strong peña tradition, introduced by Chilean and Argentinian exiles. Literally, "circle of friends," peñas are bohemian, international gatherings--usually in favored cafes--where moving songs are shared, and the wine and tears flow.
On the Caribbean coast music is profoundly Afro-Caribbean in spirit and rhythm, with plentiful drums and banjos, a local rhythm called sinkit, and the cuadrille, a maypole dance in which each dancer holds one of many ribbons tied to the top of a pole: as they dance they braid their brightly colored ribbons. The Caribbean, though, is really the domain of calypso and reggae, whose seductive tempo lures you to dance, reducing life to a simple, joyful response to the most irresistible beat in the world.
Three dance academies can teach you the basics of dancing a la costarricense: Danza Viva (tel. 253-3110) offers courses in salsa and merengue, the two dances most popular at discos, as well as the lambada, the more formal bolero and marcado, the Caribbean mambo, and ballet, jazz, and modern dance. An offshoot of Danza Viva is Merecumbe (tel. 224-3531), which specializes in popular dancing. And the Academia de Bailes Latinos offers more intensive courses in ballroom and formal dancing.
Folkloric Dancing
Guanacaste is the heartland of Costa Rican folkloric music and dancing. Here, even such pre-Columbian instruments as the chirimia (oboe) and quijongo (a single-string bow with gourd resonator) popularized by the Chorotega Indians are still used as backing for traditional Chorotega dances such as the Danza del Sol and Danza de la Luna. The more familiar Cambute and Botijuela Tamborito--blurring flurries of voluminous frilly lace skirts accompanied by tossing of scarves, a fanning of hats, and loud lusty yelps from the men--are usually performed on behalf of tourists rather than at native turnos (fiestas).
A number of folkloric dance troupes tour the country, while others perform year-round at such venues as the Melico Salazar Theater, the Aduana Theater, and the National Dance Workshop headquarters in San José. Of particular note is Fantasía Folklorica, a colorful highlight of the country's folklore and history from pre-Columbian to modern times (see p. 222).
Vestiges of the half-dead Indian folk dancing linger by a hair's breadth elsewhere in the nation. The Borucas still perform their Danza de los Diablitos, and the Talamancas their Danza de los Huelos. But the drums and flutes, including the curious dru mugata, an ocarina (a small potato-shaped instrument with a mouthpiece and finger holes which yields soft, sonorous notes) made of beeswax, are being replaced by guitars and accordions. Even the solemn Indian music is basically Spanish in origin and hints at the typically slow and languid Spanish canción (song) which gives full rein to the romantic, sentimental aspect of the Latin character.
Classical Music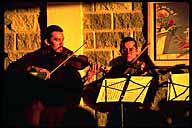 Costa Rica stepped onto the world stage in classical music with the formation, in 1970, of the National Symphony Orchestra under the leadership of an American, Gerald Brown. The orchestra, which performs in the National Theater, often features world-renowned guest soloists and conductors. Its season is April through November, with concerts on Thursday and Friday evenings, plus Saturday matinees. Costa Rica also claims the only state-subsidized youth orchestra in the Western world. The Sura Chamber Choir, founded in 1989 with musicians and vocalists from the country's two state universities, is the first professional choir in Central America, with a repertoire from sacred through Renaissance to contemporary styles. The Goethe Institute, Alliance Française, the Museo de Arte Costarricense, and the Costa Rican-North American Cultural Center (call 253-5527 for information on the Center's U.S. University Music Series) all offer occasional classical music evenings.
Costa Rica holds an International Festival of Music during the last two weeks of August. In 1992, performances included the Costa Rican Chamber Orchestra, a Brazilian chamber orchestra, a string, woodwind, and harpsichord sextet, and Costa Rican music for two guitars.
THEATER
A nation of avid theater lovers, Costa Rica supports a thriving acting community. In fact, Costa Rica supposedly has more theater companies per capita than any other country in the world. The country's early dramatic productions gained impetus and inspiration from Argentinian and Chilean playwrights and actors who settled here at the turn of the century, when drama was established as part of the school curriculum.
The streets of San José are festooned with tiny theaters--everything from comedy to drama, avant-garde, theater-in-the-round, mime, and even puppet theater. Crowds flock every night Tuesday through Sunday. Performances are predominantly in Spanish, although some perform in English. (The English-speaking Little Theater Group is Costa Rica's oldest theatrical troupe; they perform principally in the Centro Cultural's Eugene O'Neill Theater.) And the prices are so cheap--you could go once a week for a year for the same cost as a single Broadway production--that you can enjoy yourself even if your Spanish is poor. Theaters rarely hold more than 100 to 200 people and often sell out early. Shows normally begin at 7:30 or 8 p.m. The Tico Times offers a complete listing of current productionsand notes whether a play is in Spanish or English. Also see the "Viva" section in La Nacion.
---
philg@mit.edu