Costa Rica Next Time
Home : Travel : Costa Rica : One Article
---
Here are the places that we didn't see but where I'd like to go when I return to Costa Rica.
Manuel Antonio National Park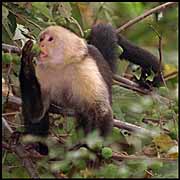 This gets a bad rap from the Ticos who remember it when it was much less crowded, but a good report from all the tourists. The main attractions are a beautiful white sand beach and monkeys that are accustomed to humans. "This is the only place in Costa Rica where you can get a good portrait of a monkey," one guide explained and all the tourists we talked to spoke of close encounters with groups of monkeys. Some of these monkeys were begging for food, but many others were just getting on with their life in the jungle.

Make sure to go Monday through Friday because it is a popular weekend getaway destination for people who live in San Jose. If you go on a hike through the forest, you won't encounter any crowds at any time.
Cano Negro Wildlife Refuge
This is a lowland swamp in the north-central part of the country, close to the border with Nicaragua. Everyone who went there saw lots of wildlife from boats. It sounded similar in many ways to Tortuguero, which we liked very much.
---
philg@mit.edu
Related Links
Add a comment | Add a link