Fantasy Airplane Fleet

by Philip Greenspun; updated May 2011
---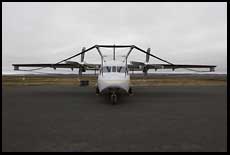 I keep this file around for personal reference, listing all of the airplanes that I would like to own if I had infinite money and a full-time staff to manage the paperwork and maintenance. I'm not listing the obvious stuff that truly require infinite money such as a Gulfstream V or Sikorsky S-76 helicopter. I'm also trying to focus on things that are reasonably efficient and that won't burn tons of fuel thereby (indirectly) funding Al-Qaeda.

This document is split up into the following sections: (1) aircraft for enjoying the view, (2) aircraft for getting from Point A to Point B, and (3) aircraft for getting into the roadless wilderness (generally float planes).
Partenavia Observer
Most piston twin-engine planes have terrible visibility toward the ground due to (1) a low wing, (2) engine nacelles poking out in front of those wings. The Partenavia P68 is a high-wing twin with small (cheap to operate) Lycoming IO-360 engines. The Observer model has a Plexiglas nose like a helicopter. Air conditioning is available to counteract the greenhouse effect. Available from www.vulcanair.com.

The Partenavia has 6 seats and can be ordered with bubble windows in the back to improve downward visibility. It would be perfect for a small sightseeing business.

As of 2008, the Royal Aero Club of Western Australia had a non-observer P68 to rent for $294/hour, www.racwa.asn.au.
Robinson R44
An easy-to-fly and easy-to-maintain 4-place helicopter. www.robinsonheli.com.

About $335,000.
Piper Malibu
Pressurized and quiet inside, able to climb to 25,000 and get above most weather. The early Continental-powered version made through 1988 burns as little as 15-16 gallons per hour and goes 185 knots. For those early planes you really want the vacuum pump STC that makes it cheap to replace the pumps and that, more importantly, provides automatic failover in the event a single pump dies. You also might want the IO-550 conversion (the original planes had 520 cubic inch engines). None of the Malibu engines are as reliable as the simple four-cylinder engines in Cessna 172s and all Malibus are prone to engine failure in flight. Fortunately they glide at 16:1.

The visibility out of a Malibu isn't so bad. The wing is fairly thin and there are no engines poking out in front of it.

Wishlist/checklist for a Malibu: electric flaps rather than hydraulic, windshield with embedded heaters instead of hotplate (can retrofit from Mirage back to Malibu?), vacuum pump STC, IO-550 conversion, insulator blanket (Nomex) for interior, 4-blade MT Prop or maybe the 3-blade composite from Hartzell. Apparently you will be in a world of hurt without the Parker-Hannifin landing gear hydraulics that came out in mid-1986. This makes a late '86 or an '87 or '88 Malibu perhaps the best deal.

Flying magazine's February 2005 issue carried the following: "One pilot, who had been charged with 'lewd and lascivious conduct with a minor,' fell to drinking heavily and spoke of intentionally crashing his Malibu. The next day he did just that, while in radio communication with approach control. He reported descending through 11,000 feet, then through 6,000 just 38 seconds later. He encountered the ground at 4,650 feet."

A Malibu plus a letter from God promising that the engine will never quit is all the airplane that anyone really needs.

[Alternative: Piper Meridian, the same basic airplane with a turboprop engine.]
Cirrus Jet
Unfortunately, God does not like me and won't write me a letter for a Malibu. The interior noise and pilot seat comfort of the Piper Meridian aren't very attractive. So I'll add the Cirrus Jet, which, if it is ever completed and certified, should be the simplest of the very light jets for personal/family use. The HondaJet is also very promising, though at a price of more than $4 million it should be.
Icon A5 amphibious seaplane
The Icon A5, if it ever ships, will be the most stylish small seaplane ever produced. Nearly every American living aviation legend seems to be involved somehow with Icon, so if the company fails it will mean that the U.S. should simply give up on small airplane design.

Alternatives that are flying today: Searey, Zenair CH 701/750 on floats.
Omissions
There are no aerobatic planes on this list because I'm afraid to be upside down in an airplane without an aerobatics instructor in the airplane. So I might as well rent whenever I want to fly aerobatics.
---
Text and photos Copyright 2004-11 Philip Greenspun.
---
philg@mit.edu
Add a comment | Add a link