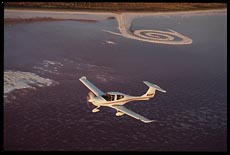 Private Pilot Syllabus and Lesson Plans
by Philip Greenspun; updated March 2006
---
There are many off-the-shelf syllabi and lesson plans for teaching the Private Pilot Airplane Single-Engine Land rating. This is my personal system, customized due to two factors: (1) I teach from Hanscom Field in Bedford, MA (BED), and (2) my students are relatively older and richer than average. The fact that I know we'll be starting at Hanscom means that there must be more emphasis on radio communications. Hanscom has ground control, a tower, and an FBO that must be called for fuel. Hanscom is one of the busiest airports in the northeast with a constant flow of corporate jets, training piston airplanes, a handful of scheduled air carrier flights, and periodic visits from Air Force fighter jets and cargo planes. Also, because I know where we are going to pick up the plane, I have put specific destination airports into the lesson plans.

The fact that my students are older and wealthier means that being comfortable and having fun is more important than spending the absolute minimum number of hours. It also means that we actually go places in the airplane, e.g., islands, art museums, airplane museums, etc.
Summary of Requirements for a Private Pilot's Certificate
The FAA spells it out in FAR 61.109a:
40 hours of flight time of which 20 must be dual instruction, 10 must be solo, and 10 may be either
3 hours cross-country training (a landing more than 50 nautical miles from the departure airport)
3 hours night training, including 10 takeoffs, patterns, and landings at an airport and one cross-country flight (at least 50 n.m. away and then back)
3 hours of instrument training
a three-leg solo of at least 150 n.m. total distance, with one segment being at least 50 n.m. (plus enough additional cross-country flights to total 5 hours)
You must obtain at least a Third Class medical before your first solo flight; this involves a brief visit to an FAA certified Aviation Medical Examiner (usually a local physician who is also a pilot and airplane owner). You must take a computer-based knowledge test before taking your checkride with the FAA or its designated examiner.

As a practical matter, younger students who fly 2-3 times per week require close to 60 hours to complete a certificate. Older students or those who stretch out their training can take 80 or more.
Lesson Plans
Other Stuff
my online copyright statement.
---
Text Copyright 2005-6 Philip Greenspun.
---
philg@mit.edu