Helicopter Instructor Wanted
by Philip Greenspun, East Coast Aero Club, updated June 2019

Site Home : One Job Listing

---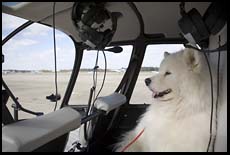 We are looking for exceptional helicopter CFIs for East Coast Aero Club, a 34-year-old flight school based at Hanscom Field (BED) in the Boston area. You should expect to fly at least 550 hours per year, all in the Robinson R44. One of our full-time instructors moved on/up (to Papillon and the EC130 in the Grand Canyon), thus creating an opening.
What You Will Do
instruct Private, Instrument, Commercial, and CFI students in our 2008 Robinson R44 Raven I and 2009 Raven I Instrument Trainer
conduct R44 sightseeing tours over downtown Boston and up and down the shoreline
conduct R44 photo missions
one-on-one ground instruction with students
prepare and preflight helicopters for flights by customers or other instructors as necessary to maximize utilization
work at least 5 days per week, including Saturday and Sunday for the first 12 months
receive competitive compensation for flight and ground instruction
About Us
We have
more than 40 aircraft, including 2 R44 helicopters (no R22s, so you don't have to risk your life and your reputation instructing in a machine that wasn't designed for the mission)
a low price on the R44, thus making it easier to attract students and, as a result, you'll fly more hours
superb no-questions asked maintenance; our school was founded and is run by a retired USAF maintenance commander
a heated hangar for winter operations
roughly 300 days per year with weather good enough for local training
a towered airport that is very accommodating to helicopter training and helps students learn good radio procedures
quick access to all of the cultural, social, and educational assets of New England; just 20 minutes from Harvard University, 30 minutes from downtown Boston
affordable housing near the airport
excellent school systems
access to group health and dental plans
senior instructors with helicopter ATPs, turbine experience, 2500-4200 hours of dual given, and good connections to employers within the region
About You
You should have a Helicopter CFII with an SFAR 73 endorsement to instruct in the R44. (If you're short a few hours, you can build time with us at a reduced rate.)

You should have a strong technical education and be able to explain aerodynamics and maneuvers with authority (see our instructional videos). We have built our reputation on having superior teachers and we would expect you to maintain that, working hard to earn the respect of our students.

If you are an experienced fixed-wing pilot, you can also fly our a fleet of airplanes, which includes air-conditioned Cirrus SR22s an aerobatic Super Decathlon.

This is an ideal job for someone what wants to live in the Boston area and be at an airport where standards are extremely high.
Training (for you)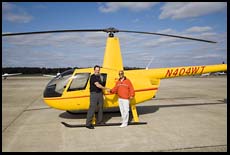 Your recurrent training, provided at no charge to you for instructor or helicopter time, will be flying an R44 with one of our senior instructors doing the kinds of unusual autorotations and throttle chops that you might have done during your Robinson factory safety course flight.
How to Apply
Email a cover letter and your resume (preferably in plain text or HTML format) to our founder and president, mark@ecacbed.com, with a subject line of "helicopter instructor application".