---
Stefan and Klaus drove me to the airport for the 25-minute flight to Wellington. With a VIP Backpacker's Card, the fare was only NZ$90.

Arriving in Wellington, I took possession of a brand new Honda Accord from Avis. Like all the first-tier companies, Avis charges scandalous rates (NZ$88/day) and labors under the misconception that greenhouses do not trap solar warmth: the Honda came with vast expanses of glass to catch the North Island sun and no air conditioning.

I met Brigitte at the Downtown Backpackers, part of what was once the Waterloo Hotel. This was the finest hotel in Wellington when Queen Elizabeth II came to visit in 1953. Now grungy young tourists have the run of the place, including the 100-burner tennis-court-sized kitchen.

January 23

Never able to resist the lure of the Internet, I stopped at Victoria University's computer science department. It was a Saturday and the middle of summer vacation, but we found a graduate student slaving away who let us use his Sun. David's office was wallpapered with photographs of a New Yorker who'd become a Hindu guru in California. It was refreshing to meet someone who didn't attend the Anglican church, but I was beginning to think that New Zealanders were easy pickings for religious cults whose sales techniques had been honed on cynical Americans.

(Brigitte had been here since October and she'd concluded that something was definitely odd about New Zealanders, between their taking refuge in bizarre religious groups to their full complement of traditional British eccentricities. She had several theories, one being that the original emigrants were eccentric and another that the hole in the ozone layer and the concomitant increase in UV light exposure made folks "a bit daft.")

Kleanthes Koniaris has a PhD in physics, a sharp wit, and a stock of Internet trivia sufficient to forge email. I detected his handiwork in an email message "from me" parodying my previous message to my "friends" list. This one was full of lascivious passages involving multiple German women and sheep. There were quite a few responses from people who hadn't noticed anything unusual about the message.

Brigitte and I got into the Honda and cruised north towards Napier. I'd like to say that the Mt. Bruce wildlife center with its display of caged native birds was the high point of the trip, or possibly the blue skies, green hills, and nimble Honda, but the actual high point was a supermarket near Masterton. We'd gotten some beautiful tomatoes at a farm stand and wanted some mozzarella cheese to go with them.

"Do you have any mozzarella cheese?" I asked a girl working in the deli section.

"What's that?" she asked.

"You know, the soft white cheese that you put on top of pizza."

"Sorry, I've never heard of it," she shrugged.

Napier is pleasantly sited by the Pacific in one of the sunnier, drier parts of the North Island. Steady timber and mining operations made it one of the world's richer towns in 1931, a depression year, when the Hawke's Bay earthquake hit and destroyed nearly all the town's structures. The whole town was quickly rebuilt in the finest Art Deco style of the time.

Napier is pleasant enough that Kiri Te Kanawa had come here tonight to sing an outdoor concert for her countrymen, all of whom seemed to have converged on the region's hotels. We were lucky enough to stroll into the beautiful Art Deco Criterion Hotel, right downtown, at 7:00 pm when someone who'd promised to be there at 5:00 pm hadn't shown up. The hotel suffered a fire a few years ago and had been converted into a backpacker's.

January 24

Napier has a long quasi-boardwalk dotted with tourist attractions, but the mood makes it a great place to stroll, sit on the beach, and be idle under the perennially sunny skies.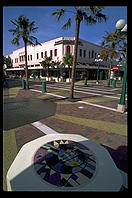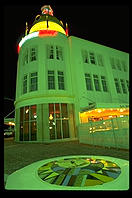 January 25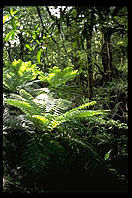 Some kind of devil persuaded us to leave romantic idyllic Napier, whose charms we'd only begun to explore, for Urewera National Park. The guidebook says this is a "vast untamed wilderness where the sounds of running water and melodic birds are ever-present." When we got to the first mountain lake in the park, it looked a bit strange. The surface appeared to be one meter waves with whitecaps. I opened the door and it nearly blew off the car. The steady 50 kph wind would explain the whitecaps nicely.
A hike to Lake Waikareiti wasn't bad when we were sheltered by the bush, but when we got to our destination, it proved uninviting due to the gale. We poked around in a few other parts of the park, looking at waterfalls here, and trails there. The place seemed vast and untamed and wild all right, but not beautiful, especially by comparison with the South Island scenery.
January 26
There are only a few cabins inside the park and they were all booked so we pitched my tent. Brigitte and I clung to each other in primal fear whilst Nature raged outside. The wind was probably only about 60 kph, but it made the tent flap noisily and it seemed that we would be blown away at any time. Brigitte slept four hours and I six, which wasn't adequate preparation for the day.
We packed up the tent in a dreary rain and drove the rest of the way through the park. This winding gravel road would have been challenging had it been paved. Unpaved and in a gray rain, the only thing that saved us from an accident was Providence. I started out cautiously, but after an hour or so wanted to get to pavement as quickly as possible. I pushed the car past 60 kph and drifted around corners while Brigitte slept.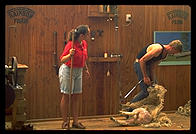 Once we hit the pavement, I asked Brigitte to drive. It was her first experience with an automatic transmission and one would have thought that no adjustment would be required. However, she desperately wanted to use both feet, the right for the accelerator and the left for the brake.
Our first stop was the Waiotapu thermal area, towards Taupo from Rotorua. The guidebook described this as the most colorful of the areas, but it wasn't much to see compared with Yellowstone: foul-smelling pools, bubbling mud holes, and steaming holes all mushed together with green and yellow-stained rocks.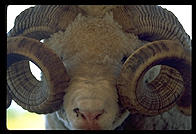 Rotorua is the tourist center of the North Island, but it suffers by comparison with Queenstown. In addition to the thermal attractions, of which we'd had our fill, there are several "agricultural shows" where one sees sheep-herding dogs, cow milking, lamb feeding and, best of all, sheep shearing. We took in the show at the Rainbow Farm then went for a swim at the Kauru Park outdoor Olympic-size pool.
January 27
Traveling with another person is compromise. I wanted to tour the Tasman Pulp and Paper mill, just east of Rotorua, but Brigitte wanted to see the Waitamo Caves so it was back into the Honda for a 150 km trip west. New Zealand basically has no highways or even straight roads, which makes driving very tiring by American standards.
Brigitte and I got to know each other a little better in the car. Cultural differences and language barriers led to frequent misunderstandings between me and Brigitte. My German studies had been limited to a short course on cassette. Brigitte spoke excellent French but she had never formally studied the English language, history, or culture. She'd picked up quite a bit in New Zealand in three months, but getting an idea cross often required redundant use of English, French, and German.
As we drove through a scenic valley along the beautiful wide Waikato River, Brigitte asked me what the highlights of my life had been. I came up with four off the top of my head: (1) getting away from my parents and becoming independent, (2) falling in love for the first time, (3) finding the Lisp Machine, and (4) finding George [my Samoyed, who had died 18 months earlier].
Brigitte's principal highlight was getting into and out of Gymnasium. This was against her parents' wishes and they actively discouraged her from Gymnasium, the most intellectual of the three types of German high schools. Brigitte's siblings had attended the least rigorous type of high school, the Hapschule, from which one does not go on to university.
"Love, of course" was on the list, but she didn't specify which one(s).
Waitamo Caves is a relatively standard limestone cave with pleasant stalactites and stalagmites (growing down and growing up). What causes every bus of tourists from Auckland to stop here is the resident glow worm. This starts as an egg, hatches and spends nine months as a 2 or 3 cm-long worm, goes into a pupae for three weeks, then comes out as a mosquito-sized fly with no mouth that spends its last three days frantically searching for a mate. It is in the worm stage that this animal contributes to New Zealand tourism, for it hangs down sticky poisoned silken "fishing lines", about eight per worm and each one 15 cm long. The worm sets its tiny head alight with a green glow so that sandflies and other unfortunates who are lost in the cave will think of the glow as a way out. Once entangled in the fishing line, the victim is reeled in and eaten.
Brigitte and I were among a few independent tourists who joined a Cathay Pacific group from Hong Kong. We got to hear the story of the caves in both English and Cantonese. For the last part of the tour, we were loaded into boats to silently drift down an underground river. The cave roof overhead was studded with thousands of glow-worms.
"Wie die Milchstrasse," said Brigitte (like the Milky Way).
The moment did remind me of New Year's Eve together at Routeburn Flats, waiting for shooting stars.
Waitamo Caves has more to offer than the bus tours. We poked through Aranui Cave's delicate formations with a powerful Kiwi woman. Our guide's voice and manner were exactly like that of Barbara Woodhouse training dogs--so firm that one didn't dare disobey any command. Brigitte had been saying all day that she wasn't really hungry, but all of a sudden she insisted that we stop in a tea room. It was officially closed, but they were happy to serve us a couple of the standard New Zealand sandwiches. These give new meaning to the phrase "truth in advertising"; a ham sandwich is in fact just ham and bread, perhaps with butter or mayonnaise. None of this lettuce and tomato nonsense.
On the drive to Auckland, Brigitte was horrified to learn that I didn't believe in God.
"Well, at least not in any of the standard religions' Gods. You grew up in a village where everyone is Catholic and that makes it easy to accept a religion. I grew up in Washington, D.C., where a dozen religions compete, each one claiming to have a monopoly on truth. That tends to make one think that maybe there is a better way to explain things. It is no accident that the study of physics and philosophy started on a Greek trading island [Ionia] where every trader brought a new religion and a new cosmogonic myth."
It was one thing to reject dogma, Brigitte said, but another to become an Atheist.
She made me think about whether there might not be a deeper reason for why I didn't believe in God, something I hadn't had occasion to think about for many years in Cambridge. Part of it might have been that adults told me to believe in God and I generally disliked doing anything adults told me to do. However, I decided that being Jewish was a substantial contributing factor.
"Well, it is tough for Jews to believe in God after the Holocaust, especially given that the secular Jews in America who broke every law in Leviticus were spared while the observant Jews of Poland and Russia were killed."
Brigitte gave me a "so what?" look.
"Well, even aside from that paradox, it is tough to believe in a benevolent God when half of your cousins have just been murdered."
Brigitte didn't know why that should turn Jews from God, especially because "Jews are all rich now anyway."
After two months of traveling with Germans, I'd broken them up into three categories on the Jewish question. One category was completely uninterested. They'd heard about the Holocaust in public school but had never met any Jews or thought about what Germany would be like if they hadn't killed their 500,000 Jews (or the 5.5 million Jews they went to kill in other countries). A Jew-free, Communist-free, radical thinker-free Germany was all they'd ever known or contemplated.
The second category was exemplified by Christine, whose immediate reaction to learning that I was Jewish was to ask me how I felt about Germans. Christine had kind of a heartfelt sympathy.
Brigitte exemplified the third category, which held intellectual anti-Semitic ideas of the sort that became fashionable around 1900. (Even the euphemism "anti-Semitism" itself dates from that period, coined by Wilhelm Marr in 1879 because the simpler term "Jew-hatred" sounded too barbaric to middle class Germans and "anti-Semitism" sounded somehow scientific). Thackaray said in Vanity Fair that when you have been cruel to someone for no good reason you have to spend the rest of your life thinking bad thoughts about them so that you don't have to feel guilty.
Although she'd never been to Israel, where presumably the standard of living that is one-third that of Germany would have disabused her of the "Jews are all rich" notion, Brigitte had a fair supply of bad thoughts about Israelis.
Not only were Jews cruelly imposing themselves on defenseless Arabs, Israel was making things much worse by accepting all Jewish immigrants into a country that was too crowded.
Of course, on some high intellectual plane she was right. Israel has the highest population density of any Mediterranean country. Their New Jersey-sized scrap of land is mostly desert and they are running out of what little water they have. On a more pragmatic level, though, it raised the obvious question of where were the surplus Jews to go?
Brigitte was quite sure that Jews would be welcomed in European and American countries. She'd never seen the films of refugee ships being turned away from U.S. shores in the 1930's. She didn't know that the U.S. accepted fewer than 1000 Jewish refugees during all of World War II and placed them in a concentration camp, intending to kick them back to Europe after the war. To her, the Holocaust was ancient history and she couldn't imagine what it would be like to remember relatives who were killed or to personally know people with wrist tattoos from Auschwitz.
January 28
We continued north, through the shimmering city of Auckland where the island narrows to less than 20 kilometers in width, so deep do the harbors on both sides cut in. From the divided highway that carries Route 1 through town one can see two beautiful harbors and a collection of shimmering steel bridges. It is three hours to Whangerei (pronounced "Feng-a-rye"), the only city north of Auckland. This town is famous for its 25m waterfall, its yachts, and its access to the Poor Knights Islands, rated by Jacques Cousteau as one of the five best dives in the world due to the clear water. What struck me was the untidiness of the people and the town. The buttoned-down English character of Christchurch was virtually absent here, having been replaced with a mix of Polynesian and Euroslob culture.
After another hour of driving through pleasant scenery, we reached Paihia where we caught the ferry to the resort town of Russell. The Arcadia backpackers there gets the highest possible rating in every guide. Our room had an old-fashioned bed with iron head and footboards, draped in a diaphanous mosquito net and facing the harbor through big open windows. Paradise for NZ$30/day.
We walked around the little town, swamp in the 22 degree C water of the Bay, and ate dinner outside with the mosquitoes. My favorite experience of the whole day was reading an ad for leather furniture in the New Zealand Herald, an Auckland paper: "UNFORGETTABLE BRONX by KOVACS -- You can afford the unforgettable luxury and just sheer panache of the Bronx."
January 29
This was the day that I was scheduled to go home. Hah! The US$100 I'd parted with a week before in Christchurch had seemed like a fortune, but paying Qantas's return flight change extortion seemed well worth it now.
I went into the kitchen to organize breakfast and the first thing I did was switch off the pop radio station. When Brigitte joined me ten minutes later, the first thing she did was switch it back on. I concluded that the affection Europeans have for American pop music is based upon a limited familiarity with English poetry. The kind of Hallmark card sentiment that makes us choke sounds great to someone who has never read Shakespeare. If these songs were translated into German, they'd lose most of the audience.
Jo, a strapping Kiwi with long blond hair, picked us up in a 4WD Outer Edge van and took us on a wild ride over gravel roads to Parakura Bay where we mounted our six sea kayaks. In addition to me and Brigitte, Jo was shepherding three Londoners today. All of the previous British travelers I'd met had been remarkably well-educated, polished, and polite. These three were cruder and louder than drunk American fraternity boys at a mud-wrestling bar. Fortunately Brigitte's English wasn't good enough to get through their heavy accent and unusual scatological references.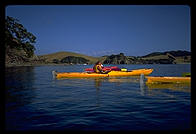 Our kayaks were Sea Sprays, locally made out of red and yellow plastic, with a single hatch in the middle for the paddler and watertight compartments front and rear. From the moment we entered the water, it was a completely different experience from riding the Surf & Ski's in Australia. First of all, steerage was easy with a foot-operated rudder. The craft was much more stable than the Surf & Ski and moved really fast with a little paddling effort. Brigitte looked as comfortable in her kayak as any Eskimo: placid, calm, in control. Jo was very surprised to learn that this was Brigitte's first time in a sea kayak.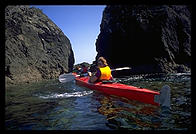 After about a half-hour getting the feel of the boat, we backed into a sea cave. This was like something out of Empire Strikes Back, a terrifying dark place with loud booming noises from the surf striking the far end. One of the English fellows didn't even make it in; he hit the cliff at the cave entrance and got tossed out of his boat.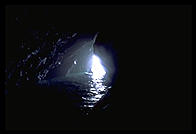 We stopped at about noon on Waiwatoria, a desert island that had attracted a few other pleasure and day cruise boats. Brigitte immediately hopped out of her kayak, stripped to her swimsuit, and swam to another island and back in the 18deg.C water.
"She's keen," said one of the English guys.
Over what the Outer Edge brochure had described as a "light lunch" (an enormous array of quiche, sandwich, apple pie, and an orange), I found out a little more about Jo.
"I'd like to do a little more traveling, but I really want to live in New Zealand," she said. "I actually spent a summer in the U.S., working as a canoe instructor in a Jewish summer camp in Wisconsin. Then I got a car and drove all through the U.S."
Jo was almost done with her first university degree but apparently school alone wasn't enough of an intellectual challenge for her: she had brought along The Bone People. This incomprehensible novel was the actual winner of the 1985 Booker Prize for which the unreadable Illywacker was shortlisted. I didn't understand the book, Jo didn't, none of my friends did, and I even posted on soc.culture.new-zealand and rec.arts.books once to no avail.
After lunch, I hiked to the top of a hill overlooking the Bay of Islands. The scene looked invitingly like the Caribbean: expensive yachts in emerald-green water. Too bad the water is 10 degrees C colder, which I found to be bone-chilling when I came back down and tried to teach Brigitte to snorkel. We found out pretty quickly why Jacques goes to the Poor Knights Islands. Visibility was less than 10m; fish were few, far between, and ugly; rock formations and plants were dull.
The trip back was easy despite a small swell that had been whipped up by the day's wind. When I got going fast enough, I found myself surfing on some of the waves. When I got out on the beach, my lower back and legs were kind of stiff from the sitting position.
"What a great way to go 18 kilometers!" I exclaimed to Brigitte.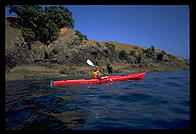 Only then did she tell me how sore and blistered she'd gotten from keeping up with us. By then I'd decided that superior genetics had rendered her indestructible but it made sense that her upper body wouldn't be strong enough to keep up with four men and a professional sea kayaker.
Back to the Arcadia, we nursed our sunburns and ate dinner with a German couple. He had recently finished a Ph.D. in marine biology earned at University of Otago in Dunedin and was still in love with New Zealand. The U.S. hadn't impressed him much, though.
"What I don't like about Americans is that they are so ignorant of world affairs," he said. "They don't even know who is the prime minister of most European countries. We Germans could never live in ignorance like that."
I started to make excuses for my countrymen, talking about how an American could learn about different cultures just by visiting different parts of town and making friends with Chinese, Italian, Irish, Jewish, and Japanese-Americans or immigrants. Then I found a simpler argument: How much did he know about Costa Rica?
"Almost nothing."
Would he expect a Costa Rican to know more than that about German history and current events?
"Of course, Germany is a much bigger and important country..." the marine biologist trailed off. Before we went to bed, though, I figured I'd better just check to see if he'd in fact been to the U.S.
"No, but I'd like to go. Not to meet Americans, though. I just want to see the national parks."
January 30
I wanted to stay in the Bay of Islands and relax; Brigitte wanted to see the kauri trees on the west coast. We drove west at a killing pace under worsening weather over roads that deteriorated into gravel. Despite rain and fog the majesty of the kauri trees was undimmed. We visited Tane Mahuta (Lord of the Forest), a 1200-year-old tree 52 meters high and 13 meters around. The silver-gray trunk is pretty much straight and bare for the first 35 meters and then massive branches curve out to form a massive crown.
Tane Mahuta sits in the middle of dense jungle so that there are no other large objects in sight for reference. This makes it seem much more impressive than the giant sequoia in California which crowd out other plants and therefore grow in open groves. Nonetheless, I wasn't buying the sign in Waipoua State Forest that claimed this was the largest kauri in New Zealand and also the largest tree in the world; the sequoia in Yellowstone and the redwood in Muir Woods loomed much larger in my memory.
[Britannica says the General Sherman Tree in Sequoia National Park is 83m tall and 31m in circumference and, at 6,167 tons, is the heaviest living thing on earth.]
We stopped for the night at the modern welcoming Marco Polo backpackers in Orewa, about 40 minutes north of Auckland.
January 31 (Sunday)
Aucklanders flooded out of the city to fill Wenderholm Regional Park with cricket games and barbecues. Brigitte and I hiked for two hours up to the cliff edge where we were rewarded with views of offshore desert islands, blue-green water, little estuaries, and sheep pastures on hillsides.
Back down on the beach, we read then hid from a sudden rainshower in the cafe. The prices here were another nice consequence of the fact that the New Zealand economy isn't fully rationalized. Anywhere else in the world, the cafe would have taken advantage of its monopoly position and be charging double the city price for everything. Here prices are more or less the same all over the country, dictated not only by supply and demand curves but also by notions of what is fair.
An English man of about 60 served us Devon Tea with scones and clotted cream. He was about the only person we'd met who had regrets about emigrating to New Zealand.
"I came out here when I was 40. I think that was just too old. I miss my friends and life back in England."
After the storm had passed, Brigitte went out over the sandy beach to the long flat tidal zone and swam in the 19 degree water. There were hundreds of people visiting the park, but Brigitte was the only one swimming.
"I think I see a mermaid," I overheard one park ranger say to another.
Brigitte later described the water as "not cold."
Back at the Marco Polo, we talked with Paul, an English guy of about 30. He'd been working at the hostel for three months.
"I got tired of work in England because the business world brings out so much human ugliness," Paul sighed.
Brigitte said she wanted to go work in a Third World country after she finished her agriculture degree but wasn't sure that she could find a job.
I expressed skepticism that there was a great rush by qualified people such as herself who wanted to endure the hardships of Third World life.
"Oh yes," Paul corrected me. "The Voluntary Service Organization outside London has queues all day."
Fortunately a birthday party for a Swiss-German girl broke up what promised to be a mournful discussion about the European employment situation for young people.
February 1 (Monday)
We found downtown Auckland entirely deserted due to a mysterious bank holiday. The art museum was open, however, and we ducked inside to see "the finest collection of art in New Zealand." I expected to see romanticized New Zealand landscapes but there apparently was never any Kiwi equivalent to our Hudson River School. Despite having been given such a beautiful country, the landscapes were plain and descriptive without being evocative.
The pictures that gripped and held my eyes were portraits of wealthy Maori. Tattooed chiefs and strong women sat clothed in fine 19th-century European style. These Maori had made their money by cutting deals with the English, either selling land or fighting other Maori tribes. In addition to soaking up sterling, they had absorbed English middle class values and wanted their portraits done by London's best painters.
The chic suburb of Parnell was a lot livelier than the bleak downtown. This is as close to Greenwich Village as New Zealand gets, with antique shops, souvenir stores, and dozens of cafes and restaurants, mostly Italian. We ate on the sidewalk at the Oak and Whale. Inside, a crowd of beer-soaked fans were clustered around a projection TV. It was the Super Bowl! I figured the fans must all be expatriate Americans, but when I talked to a few, they turned out to be Kiwis who were "keen on gridiron" as they call football here.
Brigitte and I looked at huge Maori war canoes in the War Memorial Museum then drove to One Tree Hill for an overview of Auckland. The city is a combination of suburban sprawl and tropical paradise. About a quarter of the country's total population lives here, spread out among a collection of extinct volcanoes and bays.
Finally it was time to take Brigitte to the airport where I helped her catch a United Airlines flight. I was sorry to see her go but delighted with my new freedom. I drove straight to a McDonald's and ate two excellent hamburgers free from the fear of being called an Ugly American. After dinner, I returned to the International Backpackers in Parnell where I shared a room with Alex, a chartered accountant from England.
"I tried to get a business going back home, but it was too difficult," Alex explained. "The economy there is dead flat so I came out here. I just found a job last week."
February 2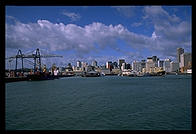 I took a ferry out through Auckland Harbor to Waiheke Island, an artists colony with a permanent population of about 6,000. It was just starting to rain as I got off the ferry and rented my worst bike of the trip. None of the gears were remotely low enough for the island's steep hills and ferocious headwinds. After 10 hard kilometers, I stopped for lunch at the one restaurant/pub in Onetangi. The proprietor was a man old enough to remember World War II and asked me if I didn't think New Zealanders ungrateful for all the protection they'd been given by the American military.
I responded that I was indeed surprised by the lively continuing debate over New Zealand's banning of the U.S. Navy's nuclear-powered fleet, but that I thought young Kiwis were missing the point.
"They spend a lot of time protesting nuclear-powered ships, which have a one in a million chance of killing them. Yet they quietly accept the evils or urbanization, isolation, loss of community and all the other ills of American living and American culture that are filtering over. These are the things that are 100% guaranteed to kill the lifestyle and culture that make New Zealand worth having."
Back in the city, I picked up Christine and we drove to Mission Bay, a strip of shops and restaurants southeast of downtown. I stopped into a bike store and asked if they rented "really good mountain bikes."
"Sorry, but we don't," Ronald, the young shop assistant admitted.
I sighed and said how I'd hoped to spend my last day in New Zealand on a nice ride.
"Well, I'll lend you my bike," Ronald offered.
Christine and I drove back to Parnell and had dinner at Valerio's. She reflected on her three months of living in New Zealand.
"I wouldn't consider emigrating here, but mostly because I'd never feel at home in a country where the native language isn't German. That limits me to Switzerland and Austria."
We looked around the restaurant trying to find the beautiful people that the guidebook said hung out in Parnell. There weren't any.
"It is kind of odd," Christine said, "but I haven't seen any really good-looking Kiwis. I haven't been attracted to any of the men and haven't seen too many beautiful women either, except a few tourists."
After dinner I telephoned Bruce, a Kiwi who'd answered my posting on soc.culture.new-zealand. Did he have any recommendations for where I should bike tomorrow?
"I'll just take the morning off and show you where to ride," Bruce answered.
February 3
I returned to Cycle Action in Mission Bay where I met Bruce and Ronald, who promptly handed over his GT bike with Shimano LX components, probably worth about one month's salary for him. It was a beauty, but the tiny freewheel cluster worried me. After the previous day's bad experience, I wanted a really low granny gear.
Bruce and I drove about twenty minutes out of the city and then rode through the Riverhead forest, pines planted during the 1930's depression. The whole forest has been sold to the Japanese who are logging it extensively and replanting sporadically. I didn't have too much opportunity to look at the trees, though.
First of all, the single tracks were bordered by Scottish gorse, a prolific weed that happens to be sharp and nasty when green and even worse when dry. Thus, any deviation from the track would likely be remembered and even staying on the track involved frequent intimacy with the gorse. Second, the track was largely raw slippery clay with huge rocks. There was to be no relaxing in between rocks and logs, just nonstop terror that you'd fall into a foot-deep rut. Bruce was man enough (and experienced enough with these tracks) that he went through at high speed, which is probably the only way to do it. I was never carrying enough momentum so got kicked off the bike numerous times and simple obstacles hung me up. Third, the trip involved continually losing then gaining altitude. At one point, we were rewarded with a nice view from the Trig Summit, but mostly we climbed for the sake of climbing.
After two hours or so, I was thoroughly "stuffed" as Bruce would say and his white Mazda 323 was a welcome sight. We drove back to his place where I cleaned Ronald's GT bike then coasted downhill to Mission Bay to return it.
After lunch, I stopped at the plush Glen Innis Aquatics Center where one could see how New Zealand is slowly being dragged down by American culture. At all the other pools in New Zealand, I'd been able to borrow swim goggles. The lifeguard just had a stock of goggles that had been left and never claimed. Glen Innis had the same pile of indifferent castoffs, but they were charging $1 to use them. Also, one thing that had been nice about New Zealand pools was that nobody passed me. Here in high-powered Auckland, though, the pool was packed with serious swimmers despite its 28 degrees C temperature.
I stopped into the University of Auckland's CS department where Bruce had already made me an account. I managed to catch up on my email and send a final postcard to my friends before dinner at Christine's house. The table was set for an elegant dinner and Christine's simple evening dress made her look like a different person than the sandfly-bitten casual girl I'd ridden the Flying Kiwi bus with. I admired her for her composure and poise.
After you've been traveling in New Zealand for awhile, it begins to feel like a college reunion because you keep seeing so many familiar faces. The airport departure lounge was no exception, for there was the retired English couple who'd watched my luggage in Brisbane and there was Lisa, an American college student who'd been on the Milford Sound fishing/puking trip.
February 3 (again)
Twelve hours nonstop flying from Auckland to Los Angeles takes you back one day on the calendar as you cross the International Date Line but hurtles you forward at least three decades in culture. I have two cousins in Los Angeles and had sent them letters from New Zealand saying how much I looked forward to catching up with them during my ten-hour layover in LAX. Douglas was sick; Harry was busy; I hopped the courtesy bus to the airport Marriott.
My college friend Barrie had forwarded all four of my email missives from New Zealand to her officemate Karen at Caltech's Jet Propulsion Laboratory. These piqued enough interest in Karen that she drove all the way in from Pasadena to rescue me from the Marriott.
This was my first Internet date. I'd had the same email address for 16 years but never in my wildest dreams imagined that an attractive California blonde could be harvested from anything as ugly as Unix. Life seemed sweet indeed as Karen ushered me into her brand new Honda and whisked me off to Marina Del Ray for dinner.
Karen had grown up in Los Angeles but was no beach girl. Her naturally sharp wit had been polished to a razor's edge at Bryn Mawr. She contradicted everything I said about New Zealand even though I'd just returned from six weeks there and she herself had never been. When I told her about the California girls who thought the environment was safe now because Al Gore was vice president, I mentioned in an aside that I'd actually testified before Al Gore once. He asked the chairman of the subcommittee for permission to speak before any of the witnesses, thus delaying the hearing and keeping everyone waiting for 10 minutes while he gave a speech to the CSPAN cameras. He declared that the legislation (a tax on blank tape and floppy disks) was one of his top issues and that he was really interested in what the witnesses were going to say. When the camera turned away, he left the room and did not return.
I told the story to illustrate how I'd become cynical about politicians, but Karen accused me of pretentiousness for mentioning that I'd testified at the Senate. The only thing that kept me from climbing the restaurant walls was the fact that two months in Australia/New Zealand had mellowed me out.
I was delighted when Karen dropped me off at the American Airlines terminal. At the gate, I ran into Lisa, who was waiting for her flight to Chicago. I abandoned her for my nonstop to Boston in which I scored a three-across row to myself. Despite my good fortune with the seats and one Halcion, I couldn't sleep. I sat up and finished Of Human Bondage. Maugham names his protagonist "Philip" and he suffers quite a bit at the hands of his family and indifferent schoolmasters before escaping to Paris. In Paris he studies painting until he realizes that he doesn't have what it takes to be a great artist, whereupon he returns to London. Despite winning the affections of some women of good character, Philip falls in love with a really wicked woman. She goes off with other men and only ever comes back to him when she needs money, but he somehow can't break himself of her spell for five years. Philip ultimately finishes medical school, settles down to a country practice, and is redeemed by marrying a sweet girl of 18.
Maugham's book clanged around in my head for days afterward. Maybe it was the congruence of names, but there seemed to be a message in it for me. Now that there were 1200 applicants for every job and recent graduates were driving cabs or programming in C, graduate school in electrical engineering and computer science seemed a lot like studying art. Of all my entanglements with women, the only one I regarded one as a real mistake was a recent scar from an MIT graduate student. She seemed to correspond well enough to Maugham's Philip's wicked woman. I wasn't ready to abandon grad school for the security of professional school, but Brigitte seemed like a dead ringer for the 18 year old.
February 4
Boston is a grim city at 6:45 am in February so I was very happy indeed to see my old friend Bruce on the curb outside baggage claim. Over breakfast, Bruce asked me what I'd learned in New Zealand.
"I'm not going to say `Gee, I'd love to but I don't have time' anymore," I vowed. "People in New Zealand don't say that and it makes it a much nicer place. If you ask someone to have lunch with you and they say they'd love to but can't, they'll suggest dinner or lunch the next day. Insincerity is just not in style there."
Epilogue
I was in Wordsworth, my favorite bookstore in Harvard Square, a week after my return. It was 8 pm and the store was deserted because of a heavy cold rain. I suddenly realized that the miserable February night would be bearable in the company of my friend Neil who lives a few blocks away. Still accustomed to New Zealand, I asked a lonely clerk standing next to a telephone if she'd dial Neil's number for me.
"No. You have to go outside and use the pay phone," she said icily.
Outside. Into the 40 degree F downpour. To use a phone that is just stuck on a pole, with no shelter from the rain. That was when I knew that I'd left New Zealand far behind, but if this was the way people treated each other in the United States, I wasn't sure that I wanted to stay.
I spent the next summer driving to Alaska and back, trying to figure out if it was Wordsworth, Boston, the East Coast, the U.S., or North America.
[ Back | Table of Contents | Map | Next ]
---
philg@mit.edu
Add a comment | Add a link