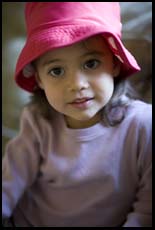 Canon EF 85mm f/1.8 USM Lens Review
by Philip Greenspun; created June 2007
---
The Canon 85/1.8 prime lens is inexpensive and lightweight. It is a very good portrait lens for a film or full-frame Canon digital SLR and a great portrait/telephoto lens for a Canon crop-sensor digital SLR such as the EOS Rebel. The f/1.8 maximum aperture enables capturing scenes, without flash, in light only half as strong as would be required for a professional f/2.8 zoom and light only one quarter to one eighth as strong as would be required for a kit lens. The wide maximum aperture also enables a photographer to throw a distracting background out of focus. Finally, the wide maximum aperture brightens the viewfinder.
If you've been accustomed to the L-series zoom lenses, the 425g (15 oz.) weight of the Canon 85/1.8 lens will come as a relief. This is only about one third the weight of the 70-200/2.8 zooms and not significantly heavier than a 50/1.4 normal lens.
Optics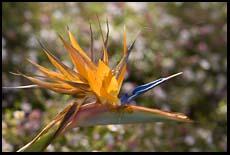 The lens design is simple, with 9 elements of glass arranged in 7 groups. This simplicity means that flare will be minimal and contrast high, especially compared to zoom lenses with 15 or more elements of glass (note the photos above right; despite the strong backlight, the contrast is normal on the faces).
Maximum magnification is 0.13. With a full-frame camera, the smallest object that you can photograph is roughly the size of an 8.5x11" (A4) piece of paper. This is not close/tight enough for a picture of just a child's face.
Construction
The Canon 85/1.8 is simple, plastic, and rugged, with a wide knurled manual focus ring. The ET65III lens hood is sold separately, and snaps onto the front of the lens, just in back of where you'd screw a filter (58mm) in. The lens incorporates a ring USM motor, which enables "full-time manual focus", even when the camera/lens are set to autofocus.
Alternatives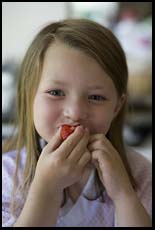 A professional traveling with just a handful of lenses would take portraits with the 70-200/2.8L. This is an excellent lens, but it is five times the cost and three times the weight of the 85/1.8. Due to the more than one f-stop of additional speed, the 85/1.8 will yield a brighter viewfinder and the ability to focus more selectively.
The 85/1.2L, is a superb lens, as you'd expect given that it is both a prime (non-zoom) and an "L" lens. You'll feel a lot lighter in your wallet after buying the 85/1.2, but the burden on your neck will more than compensate; the 85/1.2 weighs 1025g (2.3 lbs), more than twice as much as the 85/1.8. The 85/1.2 is a superior optical performer, especially in the corners of the frame, but (1) that doesn't matter too much for portraits where people look mostly at the face and eyes, and (2) doesn't matter on a small-sensor digital camera where the corners have been cut off.
The Canon 100/2 is so similar to the 85/1.8 that it becomes a question of personal preference. On a small-sensor camera, 100mm is longer than a standard portrait length. Most photographers oriented towards prime lenses would probably end up with the 85/1.8 and the 100 macro (see next paragraph).
The Canon 100/2.8 Macro is usable for portraits, and might be a better portrait length on a full-frame camera, but you lose one f-stop and the lens is heavier and bulkier. If you have the money, it is best to have the right tool for the job. Use the macro lens for macro projects and the 85/1.8 for portraits.
For additional flattening of perspective, consider a 135mm lens, possibly including Canon's unusual soft focus 135/2.8. With a small sensor camera, these are roughly equivalent to a 200mm lens and will have you standing too far back from your subject for most photographers' taste. The soft focus is a fun gimmick, but the lens hasn't been updated for decades and lacks an ultrasonic motor. The 135/2L lens is fantastic and provides more magnification than the 85/1.8, good for taking pictures of features smaller than a human face.
Astrophotography
Russ Arcuri, the author of an older review of this lens, wrote "The best astrophotography lenses are sharp and fast. The 85/1.8 is a truly excellent lens for wide-field astrophotography."
Conclusion
For those who use small-sensor digital SLRs and do portrait projects, this is a "must-own" lens. For those who use full-frame cameras, this is a "probably should own" lens.
More
Examples
| | |
| --- | --- |
| | Kitchen table, diffuse lighting coming in from some windows, kid talking to her grandmother. ISO 400, f/2.8, 1/80th of a second. This is a good example of how the 85/1.8 enables reasonable quality photos in typical household background and lighting conditions. Only one eye and some hair are in sharp focus, but it is better than blasting the scene with on-camera flash. |
| | |
| --- | --- |
| | At f/2.8, the face is sharp but more or less everything else is out of focus. |
| | |
| --- | --- |
| | Leaving the EOS 5D's computer system to choose an autofocus target results in some locks of hair being sharp. At f/1.8, the eyes don't fall within the depth of field and therefore are blurry. |
| | |
| --- | --- |
| | f/2.8 offers enough depth of field that you can take a portrait of two people... as long as their faces are approximately the same distance from the camera. |
| | |
| --- | --- |
| | f/1.8 and 1/20th of a second... At 85mm, you'd expect this image to be ruined by camera shake. A shutter speed of 1/85th of a second or faster should be required. However, I leaned my arms on a bookshelf and that provided a substantial amount of image stabilization. |
| | |
| --- | --- |
| | At f/2.8 the background is still moderately distracting. A longer lens, e.g., 200/2.8, would have been better. |
| | |
| --- | --- |
| | At f/3.2 the father's face is not quite sharp. This could be a plus, if the objective is to concentrate a viewer's attention on the baby. |
| | |
| --- | --- |
| | At f/4, both father and daughter's faces are in focus. |
| | |
| --- | --- |
| | f/4 renders all of the statue in focus. This gives a good illustration of the lens's "bokeh", or rendition of out of focus highlights. |
---
philg@mit.edu