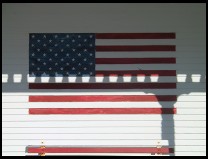 Canon G1
by Philip Greenspun; created December 2000
---
The most interesting feature of the Canon G1 is the hot shoe that accepts Canon EOS flash units. Adding an accessory flash with bounce capability and a Sto-Fen diffuser to the G1 will make a slightly bulky camera much bulkier but it will free your indoor photography from the "deer-in-the-headlights" look of on-camera flash.
If you're not using the camera for flash photographs, it becomes a competent competitor to the Nikon 990. Resolution is 3.3 million pixels (2000x1500). Sensor speeds are equivalent to ISO 50-400 film. The zoom lens provides a 35mm range of 34-102mm (f2.0-2.5; minimum aperture of f/8).
| zoomed out | zoomed in |
| --- | --- |
| | |
The zooming real-image viewfinder provides much more accurate framing than that on the Canon S100. Controls are intuitive and fast to operate even in manual exposure mode, where you choose shutter speeds from 8 seconds to 1/1000th of a second. Battery life is very good, specified to 260 images with the LCD display on. Canon's specification seems to be about right from my experience.
One consistently annoying thing about the camera is the lens cap. You have to remove it manually before turning the camera on. If you forget and turn the camera on first, the top-deck LCD flashes a complaint. If you then remove the lens cap the camera still won't wake up. You have to turn it off and then on again.
Bottom line: A very nice camera, a bit better overall than the Nikon 990, but if you can afford its bulk and $1,000 price tag, you can probably afford a digital SLR.
Fun with panoramas

The included PhotoStitch software with Canon cameras is very easy to use and the panoramic mode on the camera is intuitive and helpful in aligning successive frames.
When making panoramas, be careful about setting exposure for the first frame. Point the camera at a mid-tone object at the correct distance for the panorama then push the shutter release down halfway to lock in the exposure and focus. Now you can move the camera to compose the first image.
Gallery
These represent the best images from a few hours of taking pictures with a borrowed G1.
More
---
philg@mit.edu