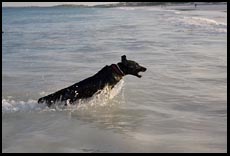 Labs: Painless Printing from RAWs
by Philip Greenspun; created April 2008
---
In the film days, most serious photographers would leave the darkroom work to professionals at a good lab. A technician who works in a darkroom 40 hours per week would have vastly superior skills to a photographer who went into the darkroom one evening per week. With black and white photography, there was some justification for a photographer to do his or her own printing. There were aesthetic decisions to be made, e.g., what shade of gray should the stop sign be? It was sometimes quicker and simpler to print the photo oneself rather than communicate one's aesthetic vision to a lab technician. For a color print, however, if the stop sign appeared in any color other than red, it was probably the result of a technical mistake rather than an aesthetic decision. Photographers were a lot more likely to make mistakes than full-time lab techs.
The digital world has opened up a lot of creative possibilities. With desktop editing software, it is possible to edit the luminance of a portion of the image without affecting the color. It is also possible to change the color of part of the image without shifting colors in the background.
Nearly every digital photographer has a personal computer and most digital cameras include editing software similar to Adobe Photoshop, the pioneer of PC image editing. If our goal as photographers is to produce high quality prints, should we editing our own work and sending a final TIFF file to the lab?
The answer should be "no". Being an expert user of a digital camera does not make someone an expert user of Adobe Photoshop. The people who work in labs are expert users of Adobe Photoshop. The lab has a color-calibrated image processing chain from desktop to final print.
Karl Marx deplored the division of labor inherent in an efficient Capitalist economy. Marx thought workers would be happier if they handled every step of a production process from taking the customer's order to putting the finished good in the customer's hand. Marx had apparently never suffered the frustration of being an incompetent Photoshop user.
This article will explore the possibilities of collaboration with a good lab, dividing the labor between photographer and print maker.
What's wrong with most labs?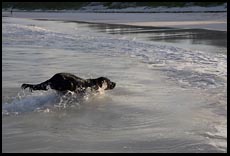 Why not simply send the camera file to Kodak, Mpix, or Snapfish? The mass market services accept only JPEG files, which are limited to 8 bits of luminance information: 256 different levels. A modern digital SLR camera captures 14 bits of luminance information or 16,384 levels. These extra levels translate to more detail in shadows and highlights, especially in higher contrast scenes. The extra detail is available only if the photographer selects RAW format for image capture at exposure time. With a camera RAW file, an expert Photoshop user has a lot of flexibility to correct exposure errors, adjust contrast, change white balance, dodge and burn (selectively lighten or darken some areas), and adjust sharpness.
A RAW file is like a film negative. It contains a lot more information than can be presented in a final print and only an expert can extract the maximum amount of information from the RAW file. A JPEG file is like a color slide. An exposure error is final. Details in black shadows or blown-out highlights are lost forever.
Our challenge as photographers is to find a lab that can accept RAW files and establish a good system of communication with them.
Local Might be Better
Richard Avedon, the great fashion photographer, had a full-time staff of black and white printers working for him. He would sit down with the proofs and circle areas on the prints with a grease pencil, indicating what needed to be adjusted. There is a lot of value to being able to sit down with the folks who are making prints for you. Consequently, collaborating with a local lab with a small reputation might produce better prints than sending everything off to a famous lab in a big city.
For this test, consequently, we tried to find labs that were geographically distributed and likely to be near the homes of photo.net members.
Our Double-Blind Test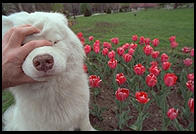 We contacted some of North America's best photo labs, folks we'd worked before and some who were recommended by readers. We gave them a set of RAW files and had them make prints all the same size. The prints were labeled on the back with a letter and we asked a panel of viewers to rate the quality of each print. For each image, the prints were labeled with colored Post-Its ("Post-Its of color"?) and presented simultaneously. Neither the viewers nor the people running the test knew the identity of the labs corresponding to each color.
The prints were evaluated under a low-voltage (incandescent) track light. One could argue that it would be fairer to look at the photos under a 5000K color temperature light source or with diffused sunlight. However, most prints are viewed by most people indoors after work and therefore after dark. Even serious photographers don't tend to rewire their house for 5000K lighting.
We asked each panelist to pick his or her favorite version of an image, a runner-up, and a least favorite.
Pictopia
Founded in 1999 and based in the San Francisco area, Pictopia was one of the first labs in the United States to embrace fully the possibilities of digital. Pictopia's goal was to attain quality comparable to the most expensive hand-crafted labs in the U.S. at a fraction of the price. To a large extent, they have succeeded. Pictopia prints museum shows for, among others, Peter Menzel. Pictopia prints onto Fuji Crystal Archive RA-4 paper with an Oce LightJet 7000/430, which is capable of printing up to 120x50". Pictopia charges roughly $12-25 per image for the RAW conversion, then $49 for the first 20x30" print and $34 for additional prints from the same file.
A&I
Back in the film days, Kodachrome was the best and most archival color film available. Processing Kodachrome was much more complex, hazardous, and environmentally challenging than processing Ektachrome and other E6 materials. Kodak was the only company that offered the K14 process. Rumor has it that Kodak was refusing to return film sent it by Penthouse magazine. The guys at Penthouse financed A&I to set up an independent K14 line, which quickly became the favorite of serious photographers or anyone needing rapid turnaround time. In the 1980s and 1990s the best place to meet the top photojournalists and commercial photographers in Los Angeles was to hang out near the light tables at A&I.
Booksmart Studio
Booksmart Studio was founded in Rochester, New York, by Eric Kunsman, a graduate of the nation's best photography school, Rochester Institute of Technology. The Booksmart prints were made with an inkjet printer, the Canon iPF9000, and had a significant texture from the paper, Hahnemuhle Photo Rag Pearl. Booksmart charges roughly $20 per image for post-processing and the total price from RAW to 20x30" print is about $100.
Boston Imaging
A traditional lab that pushed into digital with New England's first Kodak PhotoCD scanner back in the early 1990s, Boston Imaging has been a pillar of our local photo community. The test prints were made on Lexjet Sunset Photo eSatin paper with an Epson Stylus Pro 9880. Price is roughly $100 per print, including RAW conversion and processing.
New Lab
San Francisco's best film lab, the New Lab, was expected to be a strong competitor in the digital age. We evaluated prints made by a Polielettronica LaserLab onto Kodak Supra Endura RA-4 paper (conventional C-print paper). The price for the first 20x30" print is about $80, which includes a test print and RAW conversion.
Test Results
People apparently love inkjet prints. Booksmart was selected 30 times out of 60 votes as having the best version of an image. Booksmart also picked up 9 second-place votes.
Boston Imaging and Pictopia were the runners-up. Pictopia had 11 first place votes compared to Boston Imaging's 8. Boston Imaging had 22 second-place votes compared to Pictopia's 8.
Want to avoid heartbreak? Booksmart picked up only 2 last-place votes; Boston Imaging only 4. The other labs were about equally distributed in disappointing panelists.
Conclusion
The differences among labs' versions of these images were substantial. Where the image did not contain a large area of neutral gray or white, there was a surprisingly wide range of color and color saturation. Nonetheless, roughly 90 percent of the prints were suitable for framing. Roughly 80 percent were good enough that I would not have asked for any changes in a reprint run. It was only by seeing another lab's interpretation of an image that we were able to see "hey, the dog's fur does look a little yellow". Even budgeting asking for test prints and going back to a lab for some adjustments, the process was vastly easier than printing oneself, especially when one considers the sluggishness of current computers in handling full-resolution images from the latest digital SLRs.
What about doing a RAW to JPEG conversion on your desktop and sending the result to a consumer-oriented lab? The images from the labs reviewed here were much better than what we've seen from those services and, after setting aside a $25 to $100 retouching fee, the cost of individual prints wasn't that different. Certainly if you are having prints professionally framed, the difference in cost will be negligible.
Would you rather be out taking pictures or spending more time sitting in front of your computer? If the answer is "taking pictures", start working with one of these labs.
Contact the labs
More
If you've collaborated successfully with a lab in your town, please click the "add a comment" button at the bottom and tell the rest of the photo.net community about it.
The Images
| | |
| --- | --- |
| | Alex on the dock at Menemsha, where the movie Jaws was filmed. Canon 5D and 85/1.8 lens. f/8 and 1/1000th at ISO 200. The challenge here is to have the white Samoyed fur sparkle while preserving detail. raw file |
| | |
| --- | --- |
| | An easy one from Botswana. Canon 5D with 300/4L lens and 1.4X teleconverter, wide open at f/5.6 (effective). raw file |
| | |
| --- | --- |
| | Also from Botswana, but much tougher to print due to the poorly controlled contrast (not easy to ask a Hyena to move to the other side of the Land Rover so that the sun would fall at a better angle). Canon 5D with 300/4L lens at f/5.6 and 1/160th; ISO 200. raw file |
| | |
| --- | --- |
| | Roxanne. Canon 1Ds Mark III with 50/1.4 lens at f/4.5 and 1/500th; ISO 100. raw file |
| | |
| --- | --- |
| | Dancing in the San Miguel de Allende library. What would Mexicans do for entertainment if they didn't have gringos? Canon 5D with 16-35/2.8L (old design) lens at f/10 and 1/400th; ISO 200. The hideous direct overhead harsh sunlight makes printing a serious challenge. raw file |
| | |
| --- | --- |
| | Canon 5D and 85/1.8 lens at f/2.8 and 1/80th of a second. ISO 400. raw file |
| | |
| --- | --- |
| | Wedding photos look easy to print, but they usually aren't. In the online JPEG, this one is missing a lot of highlight detail. It will be a tough challenge for a lab to preserve a natural skin color while keeping the white dress and flowers from washing out. Canon 5D and 70-200/2.8L IS lens at f/4.5 and 1/200th at ISO 100. raw file |
| | |
| --- | --- |
| | One from Istanbul. Canon 40D and 17-55/2.8 IS lens at 55mm. Exposure was 1/15th of a second and f/2.8 at ISO 400. This one could be a challenge due to the non-standard color temperature of the lighting. raw file |
| | |
| --- | --- |
| | This one of Elsa Dorfman should be an unchallenging image to print because the lighting is very uniform. We'll be able to compare it to the 20x24" Polaroid originals that are made in this same studio. Canon EOS 1Ds Mark III and 50/1.4 lens at f/8 and ISO 50. raw file |
| | |
| --- | --- |
| | Same as preceding but with the 50/2.5 macro lens at f/8. raw file |
| | |
| --- | --- |
| | Same as preceding but with the 85/1.2L lens at f/8. raw file |
---
philg@mit.edu