Site Home : Politics : One Article

---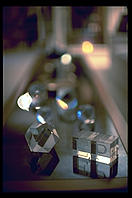 1960s: Philips Compact Cassette introduced. Record companies predict doom as consumers can copy LPs. Attempts to get tax on blank tape fail.
1987: DAT recorders introduced but flop in consumer market.
1989: DAT Bill introduced and sent to Senate Commerce Committee. Bill would hobble consumer DAT units and prevent them from making copies of copies (the SCMS system).
spring 1990: Senate committee holds hearings on DAT Bill. Because the bill is "controversial", CSPAN is there to cover the event and the proceedings are broadcast several times. Testimony by Philip Greenspun and songwriter's expert to committee that SCMS system was easy to bypass helped kill the bill in committee. Mostly the bill died because record companies were lukewarm; they really wanted a tax that would be paid to them.
1991: Senator Dennis DeConcini (D-Ariz. and member of the Keating Five) introduces Audio Home Recording Act of 1991, which provides for the SCMS system PLUS new taxes: initially 3% on media and 2% on digital audio recorders. A new government bureaucracy would be created to collect the tax from media and recorder makers and then pay it back to record companies (40%), music publishers (17%), and artists (the remainder). The bill also creates seven new legal causes of action (predicates for a lawsuit).
spring 1992: hearings held by DeConcini. MTV is the only news organization to cover the event (CSPAN does not show up because the bill is not "controversial"). Most of the witnesses are people who will collect money from the tax and almost all are in favor. The only serious negative testimony comes from Philip Greenspun.
summer 1992: the bill passes the Senate by "unanimous consent." What this means is that at midnight, when the chamber is nearly empty, a Senator stands up and asks "does anyone object to this bill." If nobody does, the bill is passed. This is how most new taxes and special breaks for the well-connected get through Congress. No vote, no CSPAN coverage, no news coverage. The bill passes the House in similar fashion.
November 1992: one day before he is voted out of office by the American people, George "No New Taxes" Bush signs the bill creating a new kind of tax, two new taxes, a new bureaucracy, and seven new legal causes of action.
Photos: from my Big Government road trip.
---
philg@mit.edu