Home : Travel : Sweden : One Article
---
Everywhere we went in Stockholm, people were eating fish. I guess it's not so suprising in city built on 14 islands, part of an archipelago containing thousands of little islands. You've heard of Swedish meatballs. Well, another special Swedish treat is fishballs, or fiskbullar. I first leaned about fiskbullar in Swedish class at Berkeley and they were a popular subject of conversation among students. Unfortunately, you won't find them at any restaurant. If you want fiskbullar, you'll have to go buy a jar of them at the grocery store. We decided not to.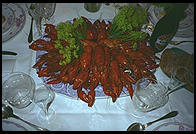 Philip had lobster at a fish restaurant at our hotel, but it turned out that it was imported from the United States. For native Swedish shellfish, you can try crayfish, which Philip says are not as good as lobster (as a vegetarian, I wouldn't know). Evidently, Swedish people love crayfish. One of my earliest memories is of my dad (who's from Sweden) building a crayfish trap so he could catch crayfish in Seattle. That's how much they love crayfish.
Stockholm is, of course, a cosmopolitan city, so you'll find restaurants from all over the world there. I had dinner one night at an Italian restaurant (it was good but not as good as the ones in Boston, as you might expect). Oh, and speaking of cosmopolitan, central Stockholm has not escaped McDonald's, Burger King, 7 Eleven, et. al. They seemed as ubiquitous there as in the middle of an American city.
Swedes apparently have quite a collective sweet tooth. There were candy shops on every block and, despite Sweden's cold weather, ice cream shops were always readily found.
If you're looking for exotic, exciting cuisine, you should be aware that the most unusual thing Philip tried, reindeer, wasn't so good. As a vegetarian, I found myself eating bread and cheese at least once a day, usually more often. But at least every day was brightened with delicious chocolate and marzipan and licorice and little cakes and ....
Gallery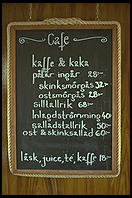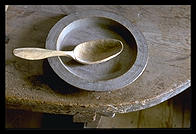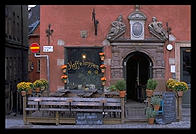 Variety is the spice of life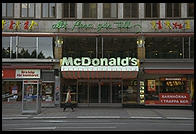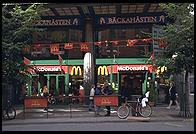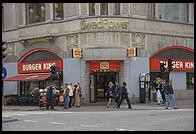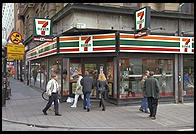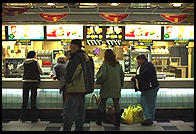 ---
eveander@eveander.com
Add a comment | Add a link