Home : Travel : Sweden : One Article
---
If you're going to be staying in Stockholm, there's really no need to rent a car. Especially if your stay is short, you will easily be able to stay occupied without a vehicle. Not only is the public transportation quite good, but many attractions can be found within short distances of each other.

In central Stockholm, the main shopping street, Drottninggatan, is pedestrian-only. Since Stockholm is built on islands, water is never far away and it is a short walk to the ferry terminal where you can catch boats to Drottningholm or any of the various islands in the archipelago. From central Stockholm, you can take the historic tram to a number of museums, all within a small radius. There are clean busses, an extensive subway, and taxis in Stockholm cost approximately what they would cost here.

On Gotland, however, having a car is absolutely necessary. That isn't true if you intend to stay in Visby; all of visby can be covered on foot (indeed, it was not always fun trying to maneuver a car through the skinny streets, and during some summer months, cars are not allowed inside the city walls).

We did spot some tourist busses touring the roads around the island, but I would not recommend that mode of transportation. The people on the busses were trapped inside listening to the guides and didn't even get out to look closely at the attractions they had stopped to see. There are plenty of car rental agencies on the island.

Despite the wind and rain when we were there in late August, some brave souls were bicycling around the island. Evidently, this is a popular activity in the middle of the summer and there are plenty of places to rent bicyles.

For long-distance travel around Sweden, trains are convenient, as they are in any European country. In Sweden the trains are clean and punctual. If you take the train to northern Sweden, you will enjoy a view of trees. And nothing else.
More Traditional Transportation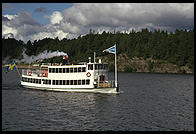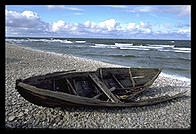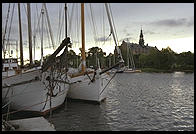 ---
eveander@eveander.com
Add a comment | Add a link