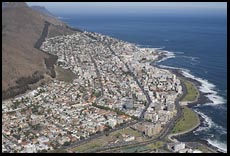 A Photographer's Guide to Cape Town
by Philip Greenspun; created March 2008
---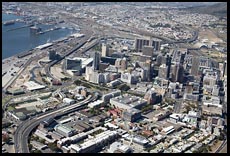 Cape Town is the oldest true city in southern Africa, home to more than 3 million people, most of whom are non-white, and yet it is not conventionally African. Cape Town was founded by the Dutch in 1652 and taken over by the British in the early 19th century. Nearly all of the families who live in Cape Town emigrated from Europe, India, or some other part of Africa.
Like San Francisco and Sydney, Cape Town combines a dramatic oceans-and-mountain physical setting with a vibrant culture and some impressive architecture.
When to Go
Cape Town's climate is very similar to San Diego's. The land is hot and the sea is cold. The nicest months are the African summer, September through early May. The winters tend to be comparatively cloudy and rainy, but the weather can be pleasant at any time of year.
V&A Waterfront
You're probably staying near the V&A Waterfront development, essentially an indoor-outdoor shopping mall with private security guards everywhere. There is no shame in spending a morning taking photos of fellow tourists and locals here. As you're in a comprehensive shopping mall, complete with supermarket, mass market camera shops, and an outdoor adventure store, this is a good place to purchase anything that you might have forgotten. Americans should be forewarned that prices are comparable to Europe; it is best to bring absolutely that you might conceivably need from home. The waterfront remains a working port facility as well, so if you need some barnacles removed from your trawler, you can get that done while visiting the multiplex cinema.
Two Oceans Aquarium
Located at the V&A waterfront, the Two Oceans Aquarium is the largest public aquarium in Africa. The photos below were taken a canon_16-35 on a full-frame camera. If possible, bring a rubber lens hood so that you can place the front of the lens up against the aquarium acrylic and avoid glare. If you left the hood at home, shield the acrylic from glare with your hands.
Get Back Up in the Air
After a 12-hour flight from Heathrow or Amsterdam, the thought of getting back into an aircraft may be daunting, but it is the best way to appreciate the geography of the area. Cape Town is spread out like Southern California. Cape Town is not at the point where the Indian and Atlantic Oceans meet. Nor is Cape Town at the Cape of Good Hope. Only from a helicopter or small airplane can you appreciate how the city is built and how it relates to the stunning geography.
Helicopter tours are available from the V&A Waterfront, probably close to your hotel, and light airplane rides can be obtained from the flight schools at Cape Town International Airport.
Downtown
Downtown Cape Town is architecturally undistinguished, but a pleasant enough place to stroll around and shop for crafts in the central market. People with money prefer to live on the beach or up in the hills. Look for local characters such as the Egg Man.
Cape Point
A classic day trip from Cape Town, covered in every guidebook, takes you to Cape Point, the actual Cape of Good Hope, which happens to be a beautiful and dramatic place to hike. On the way down and back, you'll drive through quaint coastal towns, see penguins, and, if you stop, have your car ransacked by baboons. Stop in Kalk Bay for breakfast or lunch.
Lion's Head Hike
Ready for some exercise? A 15-minute drive from downtown puts you at the trailhead for the hike to the top of Lion's Head, a hill in front of Table Mountain. The guidebook lists this as a 45-minute walk to the top. Carrying a digital SLR and any extra pounds this would qualify as a death march pace. Allow three hours round-trip. There is some scrambling over rocks and climbing with the aid of chains. Locals do the trip in flip flops and stay at the top until sunset. "How do you find your way back down?" I asked a woman. "By taste and smell," she replied.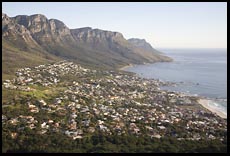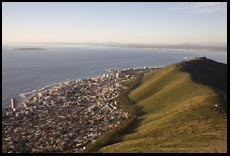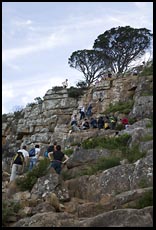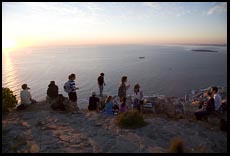 When you're done, come back via the beach road through Camp's Bay, which has some excellent open-air fish restaurants.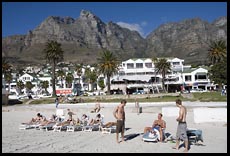 Signal Hill Drive
If after the Lion's Head hike you swear that you will never climb over rocks again, the short drive from downtown to the top of Signal Hill will be a nice contrast.
The classic lazy photographer's trip, of course, is cable car to the top of Table Mountain. Allow a few days and some flexibility with the weather; the mountain is often covered in a cloud (the "table cloth").
Slumming
Part of what tourists coming to South Africa want to see is the black/white economic divide. This is hard to photograph in any part of Cape Town that your hotel concierge would permit you to visit. In fact, if you look around at the V&A Waterfront, within the good restaurants, in the clubs, and along the beaches, you'll see mostly white faces. The solution to seeing a township and not getting mugged or killed is via an organized half-day tour, available from your hotel or the sightseeing booths in the V&A Waterfront. There are white folks who go into the townships regularly to do business. Nonetheless, before you consider leaving the organized tour, do a Google search for Amy Biehl (also read a CNN story that does a bit of follow-up on Amy's killers, who were pardoned after a few years in prison, and were back on the street: "Manqina was found guilty last year of raping a disabled teenager").
West Coast National Park
A 90-minute drive up the coast takes you to West Coast National Park, notable August through September for the wildflower display know as fynbos.
Wine Country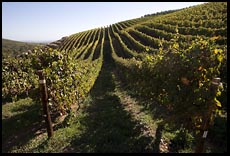 The Stellenbosch wine country starts just a one-hour drive east of Cape Town. The towns of Stellenbosch and Franschoek have some attractive old architecture and the terrain is similar to California's Napa Valley. Unfortunately, the area has been over-photographed and is too similar to wine-growing regions in other parts of the world. A pleasant day trip, but could be skipped if you want to concentrate on more photographically interesting areas.
Equipment Recommendations
Cape Town does not have the reputation for violent crime that Johannesburg does, but statistically it is similar, which makes it one of the most crime-plagued cities in the world. This is not the place to be carrying a big camera bag and changing lenses, unless you have two burly assistants or are intimately familiar with the neighborhoods. Carry a smaller body, such as the canon_cheapest_full_frame_body, and a wide-to-telephoto such as the canon_24-105.
Getting There
Cape Town is in the same time zone, more or less, as Western Europe. There are no direct flights from the U.S. The easiest way to get to Cape Town is plan to spend one or two nights on each end of the trip in London or Amsterdam. The flight to Cape Town will then be an easy overnight non-stop. Expect to pay dearly, unfortunately. Africa is the most heavily regulated air travel market in the world and consequently the most profitable for those lucky carriers who have obtained government permission to fly there.
Getting Around
Plan on renting a car for trips beyond the city center and waterfront. Taxis are efficient and reasonably priced, but the locals all drive themselves everywhere. A quasi-organized parking racket operates in which a person in a bright orange vest, often a recent immigrant from the Congo, will watch your car and collect about US$1 when you're ready to depart.
A rental car will cost roughly double what you would spend in the U.S. for a comparable vehicle.
Getting Around (uh, in the evening)
Cape Town has a lively party scene, especially in the summer, and is known for an abundance of attractive single women. The clubs that are listed in guidebooks will serve a mostly white crowd. The HIV infection rate among South African whites is approximately 1/20th that of South African blacks, but that is still much higher than the prevalence of the disease among middle class Americans. Having sex with an African permanently disqualifies you from donating blood in the U.S.
It isn't particularly safe to be walking or driving around at night in any case. "Remember that all over Africa, the predators come out at night," a local reminded us. Car jackers attempted to prey on him only once in the last few years and it was around midnight. South Africa has the highest rate of violent crime in the world. Robbery and rape are very common. The murder rate in South Africa is approximately five times that of Brazil (source). Statistically, it would be safer to serve a combat tour as a U.S. soldier in Iraq than to live for ten years in Cape Town.
Communications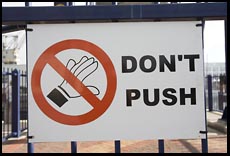 A GSM mobile phone from the U.S., e.g., T-Mobile or AT&T, will work fine in Cape Town. Expect to get charged at least $1 per minute and also to pay handsomely for data services. If you're going to make a lot of calls, it is probably best to purchase a pay-as-you-go SIM card.
South Africa is hooked up to the Internet via a fiber optic cable to London. From a technical point of view, they could have the same Internet speeds and fees as the U.S., China, India, Senegal, Mexico, Singapore, and Western Europe. Some good friends of the government, however, have a monopoly on backbone telecommunications services. These well-connected folks, with whom it would be illegal to compete, have decided to charge literally 100 times the world standard prices for Internet. Your hotel will have a terribly slow connection to the public Internet; it would bankrupt them if you watched a streaming Netflix video. A top university with 30,000 students will have a 500 kbit connection, 1/60th the bankwidth that an American household would get with Verizon FiOS. In 2007, only two percent of the nation's public schools had Internet access.
Don't expect to upload your photos from an Internet cafe; you'd be there for a month if you wanted to transfer a few hundred RAW files. A simple task, such as purchasing an airline ticket, that would take a minute or two on a U.S. broadband link, will take more than half an hour from a typical hard-wired South African connection.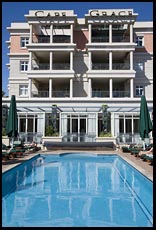 Recommended Hotels
Recommended Restaurants
Cape Town is home to some of the world's better restaurants, at prices about half of what you'd pay in big American cities and one quarter those of Europe. Try to make all of your reservations at least two or three weeks in advance, especially in the peak summer season.
Guidebooks
More
---
philg@mit.edu